People Top 5
LAST UPDATE: Tuesday February 10, 2015 01:10PM EST
PEOPLE Top 5 are the most-viewed stories on the site over the past three days, updated every 60 minutes
Picks and Pans Main: Tube
Television Travesty: the Emmy Whammy


USA (Wed., Aug. 21, 9 P.M. ET)

C-

Isabella Rossellini plays an international cover girl (big stretch there) who falls for her therapist, Aidan Quinn. Then she finds out her gentle lover has a warped mirror image: an identical twin (Quinn again) who is cruel and manipulative.

Costarring in this dull and artlessly acted thriller are Claudia Christian and Iman, the fashion model who is David Bowie's current companion. It's not so much that Lies of the Twins telegraphs its plot. The problem is that it doesn't really have much of a plot. Once Rossellini's attraction/repulsion for the abusive brother is established, the movie has no idea what to do with itself.

The Family Channel (Sat., Aug. 24, 10 P.M. ET)

B+

According to this disturbing documentary, personal bankruptcy filings are spiraling, and the average U.S. household debt amounts to 94 percent of annual after-tax income. Ouch.

In this special, Scott Ross reports on poor fiscal management, uninformed consumerism and runaway credit-card spending. The program includes bruised testimony from men and women on the street, many of whom admit to the ultimate form of borrowing from Peter to pay Paul: using one credit card to settle up bills from another. One woman says sarcastically, "Can you say wage garnishment? Yes, I knew you could."

The program's solutions—hard-headed realism, disciplined spending and patient planning—may not seem palatable, but it's advice worth hearing. Forget Robin Leach and watch this.

ABC (Sun., Aug. 25, 9 P.M. ET)

B

Actors, like baseball pitchers, learn to do more with less as they grow older. George C. Scott, following in the footsteps of such thespian fireballers as Rod Steiger and Anthony Quinn, has mastered the cagey economy of experience. In this movie he plays an elderly hardware-store owner who's despondent over losing his business. Using mostly his eyes, Scott conveys the man's bewilderment and anguish as he watches the world rushing over him like a freight train.

The plot suggests a geriatric version of the theatrical film Regarding Henry as Scott loses his memory but finds serenity as an amnesiac Mr. Fix-It in a Latino migrant-worker camp.

Beverly (My Three Sons) Garland and the always charming Hector Elizondo costar in the film, a delight for melodrama fans.

The Disney Channel (Sun., Aug. 25, 9:30 P.M. ET)

C

Musicians can get away with playing songs by the Rolling Stones, the Who or Motown groups. But only fools rush in to cover the Beatles. The Fab Four defined and possessed their material so thoroughly that, almost without exception, other people sound phony if not downright ridiculous when they try to sing it.

That curious legacy is the fundamental flaw in this lengthy tribute to Lennon, which is made up of pop artists performing songs associated with the slain Beatle. Much of it was taped at the 1990 memorial concert for Lennon in Liverpool.

Good intentions don't make it any less garish when Wet Wet Wet desecrates "I Feel Fine," or when first U2 and then Kylie Minogue abuse "Help." Randy Travis is glumly robotic on "Nowhere Man."

The special, hosted by Michael Douglas, contains some great old footage from the '60s in which you can see Lennon mugging and clowning, his spirit and enthusiasm for life shining through. But Lennon's memory is ill-served by his would-be peers. Instead of mauling "Give Peace a Chance," they should just give it a rest.

Fox (Mon., Aug. 26, 8 P.M. ET)

C-

Three coeds take off for spring break madness in Palm Springs in what initially seems like a giddy remake of Where the Boys Are. But this vehicle for Carrie (The Bold and the Beautiful) Mitchum, Lisanne (Heathers) Falk and Renee Estevez (yet another offspring of Martin Sheen) shifts from high speed to reverse so suddenly that it drops its transmission in the process.

On a tipsy joyride in the desert, the girls get involved in a fatal hit-and-run. For the rest of the movie, the trio must slog through a crisis of morality that immobilizes them as surely as if they had wandered into a giant roach motel. Before it's over, Mitchum gets hired as a reporter by a local Palm Springs TV station and is pressed into investigating guess which story. Well, it ain't Sonny Bono's reelection campaign.

>THE ONE TV AWARDS SHOW I NEVER make predictions about is the Emmys (Fox., Sun., Aug. 25, 8 P.M. ET). That's because the choices always seem to be by a purblind steering committee made up of Eenie, Meenie, Minie and Shemp.

Northern Exposure nominated as a drama series? Do the Emmy voters consider Benny Hill a documentary? Worse, Simpsons is ineligible in the comedy category because it's animated. Forget the fact (and wouldn't Bill Cosby like to) that, week after week, it also happens to be the funniest, best-written series in prime time.

There are also perplexing choices in the acting categories. Peter Falk, up for lead actor in a drama series for Columbo? Just because the Academy overlooked Falk all those years when Columbo really was a series, that's no reason to fawn over him now that it's a biannual special.

Let's see if I have this straight: Patricia Wettig is a lead actress nominee for thirtysomething, but Timothy Bus-field, whose role as her husband was at least as substantial, is a supporting actor? And I'm convinced that The Golden Girls nominations are rotated like a volleyball team. That would explain why Betty White is a lead actress candidate this year and Estelle Getty is a supporting nominee.

As for Delta Burke's being lead actress in a comedy series—in the best of years she had the smallest part of Designing Women's four principals. But this season, battling with the producers, all her lines could have fit in a tersely worded telegram.

Meanwhile, Roseanne Barr Arnold, the most original sitcom star of the last decade, still can't buy a nomination. She should simply announce that she'll be making only occasional cameos on the show from now on. That strategy would make her a shoo-in next year for lead actress. And, needless to say, Roseanne will qualify as a drama series.


This week's episode of Roseanne (ABC, Tues., Aug. 27, 9 P.M. ET), a rerun from May, is memorable not just for the inspired casting that introduced Shelley Winters as Roseanne's wry grandma. A very special moment comes at a barbecue as Roseanne's coffee-shop coworker Bonnie Sheridan breaks into song, a stirringly soulful version of "You Really Got a Hold on Me." You may recognize that dusky contralto; 20 years ago Sheridan (then using her married name, Bramlett) was the better half of Delaney and Bonnie, whose mix of R&B, country, rock and gospel attracted hangers-on such as Eric Clapton and George Harrison. By the way, Sheridan wasn't the only former singer on Roseanne this year. In one episode coffee-shop manager Martin Mull had a gay lover played by Michael Des Barres, a solo act and member of the group Detective in the '70s. He's probably best known, though, as the ex-husband of rock's most famous groupie, Pamela Des Barres, author of the colorful memoir I'm with the Band.
Advertisement
Today's Photos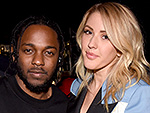 Treat Yourself! 4 Preview Issues
The most buzzed about stars this minute!