People Top 5
LAST UPDATE: Tuesday February 10, 2015 01:10PM EST
PEOPLE Top 5 are the most-viewed stories on the site over the past three days, updated every 60 minutes
Walking on Water
Pop Heaven Is Right Here, Right Now for Jesus Jones
Saddled with all that shame, it's a wonder that the 27-year-old Londoner can haul himself to the recording studio. But a lot of people are glad he does. Last winter, Doubt, the second album by his group, Jesus Jones, debuted at No. 1 on the British pop charts. The single "Right Here Right Now," currently a U.S. hit, has helped sell a million Doubts.
One secret of Edwards's success lies in his talented use of digital sampling, the technology that began reshaping music in the '80s. Doubt brims with recorded bits—samples—of everything from bird songs and chain saws to jet engines. "The sampler is the ultimate instrument to access sounds," says Edwards. With it, "your imagination is not limited by your natural abilities." Without it, "you'd be a boring guitar band like everyone else."
Wink. Like the songs he writes, sings and produces for Jesus Jones, Edwards is witty and winning. And, actually, he does have an ego. "This degree of success is exactly what I intended," he says, during a stroll through his native London (the band's world tour resumes in Miami Beach on Aug. 22). "I'm obsessed by fame myself. We all need to stamp our mark on the world, and if we don't get recognized by people on the street, we feel very little."
Infamy, on the other hand, he can live without. Concerned that the name he chose for his group might be misinterpreted, Edwards says, "It was never meant to be blasphemous." The name Jesus Jones was conceived during a 1988 Spanish beach holiday with childhood chum and drummer Gen (né Simon Matthews), 27, and guitarist Jerry De Borg, 30. (Jones keyboardist Barry D—born Iain Baker—and bassist Al Jaworski, both 25, joined later.) "We were surrounded by people called Jesus," Edwards says. "So we just put it with something very English. We could have followed in Salman Rushdie's footsteps and called ourselves Mohammed Jones."
Edwards's parents, Jill, a nurse, and John, a Shell Oil marketing manager, gave him an "archetypal hippie" upbringing, which, in part, meant listening to the Beatles, Rolling Stones and Hendrix. "At 6, I hated them," Edwards says. When he was 9, Edwards motored through Africa and Asia for three years with his parents and younger brother Tom. "I was happy leaning out the window looking at the Sahara, not wanting to do maths," he says.
Back home, Edwards taught himself to play his father's guitar. At 16, he began playing in bands, much to the detriment of his academic career. "I was going through my teenage rebellion bit and didn't want to go to school and decided I was going to be a rock star anyway," he says. Driven by his "quest for fame," Edwards spent years playing pub gigs before he gathered the Joneses to record a three-song demo that yielded their first Brit hit, "Info Freako."
Married to a Swedish model who "doesn't want to be Mrs. Jesus Jones," Edwards lives in a top-floor flat, shared with Gen and his pregnant girlfriend, in London's gritty Willesden section. Declaring himself a "boring, getting-things-done, early-to-bed" sort, he says he's "very happily married, and I intend to stay that way." Pleased as he is with his success, Edwards jokingly cites loftier goals. Echoing John Lennon's remark that the Beatles were more popular than Jesus, Edwards dreams that Jesus Jones someday will be "bigger than the Beatles."
STEVE DOUGHERTY
LAURA SANDERSON HEALY in London
Contributors:
Laura Sanderson Healy.
THERE HAS TO BE A CATCH. FOR A NEWLY minted rock star, Mike Edwards is just too self-effacing. "I've always been ashamed that I couldn't write guitar parts as well as Sonic Youth and could never make the guitar as interesting as Jimi Hendrix did," he says. "Just to hear Janis Joplin or Chrissie Hynde makes me ashamed of my vocal abilities. And I'm ashamed that [Public Enemy producers] the Bomb Squad have a better understanding of rhythm than I'll probably ever have."
Advertisement
Today's Photos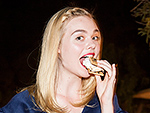 Treat Yourself! 4 Preview Issues
The most buzzed about stars this minute!