People Top 5
LAST UPDATE: Tuesday February 10, 2015 01:10PM EST
PEOPLE Top 5 are the most-viewed stories on the site over the past three days, updated every 60 minutes

Kenneth Branagh, 30, the Irish-born actor-director who made such a splash with Henry V, mastered an American accent for his new movie, Dead Again, which opens this Friday (Aug. 23). "In Los Angeles, when I was preparing, I would go to shopping malls as an American and go up to bookstore clerks and say [using an American accent], 'I'd like to pay for these, please.' The first few times I did it, I was scarlet with embarrassment," says Branagh, adding that he and wife Emma Thompson, the British actress who is his Dead Again costar, never practiced their accents over dinner. "I couldn't think of anything more embarrassing than the two of us pretending to be Americans at home. I find it hard enough to do as a job."

CURSE OF THE CATWOMEN?
What is it with Warren Beatty and Catwoman? First, actress Annette Bening announces that she is relinquishing her part as Catwoman in Batman II because she and Beatty are expecting. Now, actress Julie Newmar, who played the feline fatale on the campy Batman TV series in 1966 and 1967, says that she too was once pursued by Beatty. "He chased me all over Rome. This was a while ago. Thank God, I said no—I'm probably the only one who did!" laughs New-mar, 56, who is also a real estate developer in Los Angeles. "I tell you, though, he is a great charmer, and I can see why women fall for him. He puts his eyes on you as if you are every-thing in the world at the moment." Newmar says she wishes Bening had gotten to lift a paw as Catwoman before getting pregnant. "After all, Warren'll be around for the next 90 years. She should have waited."

UNMARRIED WITH CHILDREN
Get ready to add Married... with Children's Katey Sagal, 35, whose first baby is due in December, to Hollywood's list of unwed mothers. Sagal says that she and boyfriend Jack White, the photographer-musician who is the baby's father, didn't make a conscious decision to remain unmarried. "I mean, we're very committed to each other and we love each other and we're having a child together and we're committed to raising it together, we just didn't do it the legal route," she says. "To tell you the truth, it's just not a big priority right now. We've got enough going on." And how did she tell White about the baby? "This is the '90s. It was just kind of like, 'Well, we're late, let's go figure this out.' "

MR. AND MRS. BRIDGES
Just what is the right formula for ensuring that a Hollywood marriage lasts 52 years? "I think there are a lot of things you have to overlook, from both sides," says veteran actor Lloyd Bridges, 78, who has been married to wife Dorothy since 1939. Bridges, who stars in the new hit comedy Hot Shots!, adds, "My wife is a fine writer, and I think she sometimes wishes she was married to someone more cerebral. I think she'd like to be engaged in more scintillating conversation with me. I have periods where I don't talk much, and I think she'd like me to talk more. I'd like her to be more physical and be able to play tennis. But the important thing is that we realize how much we have together and how important that is. Also," says Bridges, with a laugh, "there are too many things we own to divide."


YOU CAN'T JUDGE A BOOK
Advertisement
Today's Photos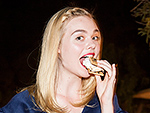 Treat Yourself! 4 Preview Issues
The most buzzed about stars this minute!