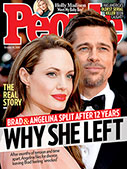 This Week's Issue!
People Top 5
LAST UPDATE: Tuesday February 10, 2015 01:10PM EST
PEOPLE Top 5 are the most-viewed stories on the site over the past three days, updated every 60 minutes
The Fall Bounty
Take Heart, America: The Season in Movies, TV, Music and Books Promises Swooning Excitement from Warren and Annette, a Beauty and a Beast and—Hot Damn!—Rhett and Scarlett. Here's An Inside Look
Robert De Niro, stuporously sweet in Awakenings, returns to raging form for Martin Scorsese's remake of the classic 1962 chiller Cape Fear. De Niro (left) plays vengeful ex-con Max Cady, who cuffs Jessica Lange around and taunts her husband, Nick Nolte, the prosecutor who had put him behind bars. Look for cameo performances by Robert Mitchum and Gregory Peck, who played, respectively, the bad and the good guy in the original. (Nov.)
In the 1940s, gangster Bugsy Siegel fell in love with starlet Virginia Hill. As Bugsy's star-crossed couple, Warren Beatty and Annette Bening "have a lot of fun," says coproducer Mark Johnson. "But their characters have one of those relationships that just shouldn't be." That might make the screen love story as intriguing as the romance of Beatty and Bening, several months pregnant with their child. (Dec.)
Disney's Beauty and the Beast is from the same animating team that made The Little Mermaid a post-feminist hit. This book-loving Beauty learns to love her hairy prince with the help of a teapot (voice by Angela Lansbury), a candlestick (Jerry Orbach) and a mantel clock (David Ogden Stiers). But look for a bully with a bellowing theme—"Gaston"—to stop the show. (The score is by Alan Menken and the late Howard Ashman, who won an Oscar for Mermaid's "Under the Sea.") (Nov.)
In Prince of Tides, based on Pat Conroy's novel, director, producer and star Barbra Streisand (above) is a New York City shrink who has an affair with southerner Nick Nolte while treating his sister (Melinda Dillon). "If you're in a family," says Kate Nelligan, who plays Nolte's mom, "you'll get what the movie's about." (Dec.)
Extraterrestrial director Steven Spielberg is back, and this time he's dangling a shiny Hook. His $40 million updating of Peter Pan stars Robin Williams as the former flying boy, now a sedate family man who has forgotten all about never-never land—until his old pirate nemesis, Dustin Hoffman, makes off with his two children.
Julia Roberts
is a 7"-tall Tinkerbell. Considerably bigger is Captain Hook's ship, which took up an entire studio soundstage. Ready to clap, everyone? (Dec.)
What happens when Frankie and Johnny, the love ballad of a frumpy waitress and a short-order cook, moves from Off Broadway to director Garry (Pretty Woman) Marshall's screen? In place of stage stars Kathy Bates and Kenneth Welsh, we get Michelle Pfeiffer and Al Pacino (below). Marshall's take: "She's convinced Prince Charming got hit by a truck; he's sure Cinderella isn't coming." (Oct.)
The high point's got to be the walk down the aisle, when Steve Martin attaches his happy feet to the character Spencer Tracy created in Father of the Bride (1950). Diane Keaton plays Mom, and newcomer Kimberly Williams (en smooch with George Newbern) slips into the wedding shoes of original bride Elizabeth Taylor. (Dec.)
In the Wall Street comedy Other People's Money, based on the Off-Broadway play, ruthless corporate raider Danny DeVito sets his sights on New England Wire & Cable but finds his dark little heart nearly taken over by the company's equally ruthless attorney, Penelope Ann Miller. "It reminds me of the old battle-of-the-sexes movies," says Miller. "A strange romance brews." We'll drink to that. (Oct.)
Jodie Foster makes her directing debut with Little Man Tate, about a boy genius (Adam Hann-Byrd, who was discovered in a New York City schoolyard) torn between his working-class mom (Foster, below with Hann-Byrd) and a psychologist (Dianne Wiest) who wants to place him in a school for supersmart kids. "It's hard, acting and directing at the same time," says Foster, "but it's not insurmountable. Just tiring." Do you agree with that, Barbra? (Oct.)
In The Fisher King, Robin Williams is—surprise!—a crazy man living on the New York City streets, where he is soon joined by ex—disc jockey Jeff Bridges. Director Terry (Brazil) Gilliam's strange touches include a knight and the Holy Grail. (Sept.)
Da da da dum (click click), da da da dum (click click)...The Addams Family, based on the classic '60s sitcom, makes its big-screen debut with Anjelica Huston, center, as Morticia and Raul Julia as her unearthly mate. Special-effects bonus: Thing, the disembodied hand, hitchhikes. (Nov.)
Advertisement
Treat Yourself! 4 Preview Issues
The most buzzed about stars this minute!