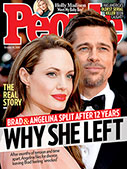 This Week's Issue!
People Top 5
LAST UPDATE: Tuesday February 10, 2015 01:10PM EST
PEOPLE Top 5 are the most-viewed stories on the site over the past three days, updated every 60 minutes
A Candid New Biography Tells of the Shocking Childhood That Destroyed Rita Hayworth


This shocking revelation appears in Leaming's new book. If This Was Happiness. The secret was confessed to her in 1983 by Hay worth's second husband, the late Orson Welles. "I kept hearing stories about how much Rita hated her father," remembers Leaming, who was researching a biography of Welles at the time. "People explained that she resented having to go to work as a young girl and had never gotten over it. But this was a sweet woman who would forgive anything. Then, when Orson started telling me about her rages and personality changes, I knew there had to be something else there. One day it just clicked, and I asked him about incest. That incredible voice broke. And he said, yes, it was true."

Her suspicions confirmed, Leaming decided that Hay worth would be her next subject. It was a choice that suited her, and not merely because of her work with Welles. A film buff since her childhood in Philadelphia, Leaming had settled on writing biographies "as a way to find out how movies worked." Before Orson Welles, published to admiring reviews in 1985, she had produced a biography of Roman Polanski. She felt sure that the glamorous star of Gilda and Miss Sadie Thompson would make an equally compelling subject.

In 1986 Leaming set to work interviewing Hay worth's friends, relatives and associates in the movie business. (Hayworth's daughters—Rebecca Welles, now 44 and living in Washington State, and Princess Yasmin Khan, 39, an advocate for Alzheimer's research in Manhattan—told Leaming they wished her well but refused to be interviewed.) Soon an entire room in Leaming's Litchfield County, Conn., home was crammed with boxes of documents. "Rita was a lady who generated a lot of paper," says Leaming, "because she had been in court most of her life, divorcing people or suing them."

Leaming's research led her to the conclusion that forms her book's thesis: that Hayworth's incestuous relationship with her father—which continued until she left home, although Rita's alcoholic mother, Volga, attempted to intervene—made her adult life a shambles. "Until I knew what had happened between Rita and her father, there were things that she'd done that I blamed her for, such as her behavior with her own kids," says Leaming. "She desperately wanted to be the perfect mother, as many incest victims do. But because their own mothers failed to protect them, they often try to set up an ideal of what a mother should be, which dooms them to failure."

Failure, in Hayworth's case, manifested itself as neglect. Leaming writes that in 1954 Hay worth placed her two daughters with a baby-sitter in a seedy house in New York's Westchester County. There had been recent death threats against Yasmin, mailed from that very area. Yet Hayworth left the children, then 9 and 4, and went oft' to Florida for an open-ended visit with her new husband, singer Dick Haymes. After the baby-sitter's neighbors complained that Rebecca was not in school and that the girls were playing in trash, the Society for the Prevention of Cruelty to Children stepped in. Although Rita was not charged with neglect, the children were placed under court supervision for three months. "Rita was devastated," says Leaming. "Yet what she had done was almost an unconscious cry on her part: 'Yes, I am the bad person I imagine myself to be.' "

Hayworth's relationships with men, Leaming contends, were also doomed because of her past. She married five times, always unwisely, hoping in vain to find love and security. The pattern began when she eloped, at 18, with Eddie Judson, a thrice-married hustler as old as her father. J udson had been trying to get her modeling and acting jobs before their marriage; afterward he encouraged her to sleep with studio executives to promote her film career. Once Hayworth had established herself as an actress, in movies such as The Strawberry Blonde and Blood and Sand, she tried to walk out on Judson; he threatened to throw lye in her face if she did. They finally divorced when Rita turned over their assets to him. "Orson said to me, 'Remember. Rita didn't just have her father to contend with,' " says Leaming. " 'She also had that first husband.' " Welles pursued Rita after seeing a sexy photo of her, and for a year after their 1943 marriage all seemed serene. But Welles had fallen for the sultry screen goddess Hayworth played in films, not the clinging, insecure creature he married. Within two years he began romancing Judy Garland and others. Hayworth finally demanded a divorce, and the marriage ended in 1947. To his dying day, Leaming says, Welles would be haunted by his failure to save Hayworth, who once told him her only happiness in life had been with him. "If this was happiness," Welles told Leaming (unwittingly supplying her with a title for her book), "imagine what the rest of her life must have been."

After the failure of her second marriage, Hayworth did what came naturally and embarked on several new relationships, including one with Howard Hughes. Her sexual appetites, one source told Leaming, were enormous. "If the only way you've been able to elicit affection from your father is by having sex with him," says the writer, "that's what you're going to think is lovable about you."

The Hughes interlude ended when Hayworth became pregnant and fled to Europe after an abortion. There she met the playboy prince Aly Khan, who would become husband No. 3 in 1949. "Khan loved her and tried to be good to her," says Leaming. But Hayworth's terror of abandonment had so intensified by this point that she once threw a tantrum when Aly went out for a haircut.

The inevitable divorce came in 1953. In the midst of a bitter custody battle for Yasmin, Rita entered into her fourth marriage, to Dick Haymes. "I think she gave up and became wildly self-destructive after she divorced Aly," says Leaming, who reports that Haymes beat her and tried to capitalize on her fame in an attempt to revive his own failing career. "Her marriage to him was kind of like a public nervous breakdown."

Freed from Haymes in 1955, Hayworth married her fifth husband, producer James Hill, three years later. By then, the sudden rages that had troubled Welles had become far more frightening. One night at a dinner party in their home, Hayworth hurled a candelabra at Hill, narrowly missing his head. Leaming believes that Hayworth, then in her 40s, was already beginning to suffer from Alzheimer's disease, though it was not diagnosed until 1980.

Hayworth's final decades were bleak. Divorced from Hill in 1961, she struggled to make films for several more years, but as her disease progressed she had difficulty remembering lines. Yasmin became her mother's conservator in 1981. It was she, finally, who provided the loving care Hayworth had always sought. Yasmin was her mother's nurse and constant companion until Hayworth's death in 1987 at age 68.

"Rita Hayworth hated being Rita Hayworth," says Leaming. "She made herself into one of Hollywood's greatest stars, and it never gave her any happiness." Nor was her story an easy one to tell. "It affected me deeply," says Leaming. "In a way, I'm happy to be finished."

She is already moving on. In the basement office of the home she shares with her husband, screenwriter David Parker, Leaming is gathering material on her next subject, Bette Davis. But she will not easily forget Hayworth's pain, and she hopes that the world won't either. "I felt a tremendous sense of responsibility writing this book," Leaming says. "Perhaps it can do something—not only to make Hayworth better understood, but to let us know a bit more about the devastating effects of incest."

—Andrea Chambers, Lee Powell in Litchfield County


With her fiery, seductive eyes and slash of crimson lipstick, the adolescent Margarita Cansino always looked far older than her years. From the time she was 12, in fact, her father and dancing partner, Eduardo Cansino, had no trouble passing her off as his wife. Billing themselves as the Dancing Cansinos, the pair spent the early 1930s performing at sleazy Tijuana casinos and on gambling boats off the California coast. Between shows, the hard-drinking Eduardo saw to it that his young "wife"—who would later shorten her name to Rita and adopt her mother's maiden name, Hay worth—grew up very quickly indeed. According to biographer Barbara Leaming, Rita suffered not only brutal beatings at the hands of her father but sexual abuse as well. "Eduardo raped her in the afternoons," says Leaming, "and danced with her at night."
Advertisement
Treat Yourself! 4 Preview Issues
The most buzzed about stars this minute!