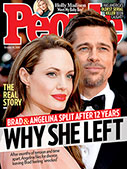 This Week's Issue!
People Top 5
LAST UPDATE: Tuesday February 10, 2015 01:10PM EST
PEOPLE Top 5 are the most-viewed stories on the site over the past three days, updated every 60 minutes
After Riding a Lifetime of Ups and Downs, Kay Lenz Hits Her Stride with a Role in Midnight Caller


For Lenz, 36, who garnered the award for her guest role on NBC's Midnight Caller as an AIDS-afflicted schoolteacher (a role she reprises in the Nov. 14 episode), the vote of confidence from her peers was a precious symbol of her comeback. She had earned their respect before, winning her first Emmy in 1974 but had lost it as she drifted into depression and depressingly low-profile movies, dropping out of sight for a couple of years in the early '80s. Says Lenz: "The Emmy was like welcoming me back into the fold." Unlike the smooth, powdered cheeks of more pampered Hollywood starlets, Lenz's face is weathered, evidence of the strains of her roller-coaster life. Yet throughout her low periods, marked by exploitative roles and a failed marriage to teen idol David Cassidy, which ended in 1981, Lenz has remained adamantly optimistic and free of regrets: "Everything I did, I did because it was the right thing to do at the time."

At the beginning of her career, Lenz did seem to be doing everything right. The daughter of Ted Lenz, an L.A. broadcast producer, and Kay, a radio engineer and sometime model, baby Kay made her acting debut at 6 weeks, cradled in the arms of Betty White on the variety show Hollywood on Television. At 19, she got what promised to be her big break—a part opposite William Holden in Breezy, directed by Clint Eastwood. Though she earned good reviews for the 1973 film and seemed poised for a breakthrough, she settled into a string of forgettable TV parts. "If the role had a big V for victim on it, then they'd hire me," she says. "I was a teenage mother so many times that the only way I could tell them apart was how I delivered—whether it was natural, Lamaze, in vitro, or not of this planet."

The work enabled her to buy a modest home in the Hollywood Hills, where she lives today and where she first resided with David Cassidy when they married in 1977, just 2½ months after meeting on a blind date. Although, Lenz says, "I absolutely adored him," she now sees that her whirlwind romance with Cassidy, who was still immensely popular after quitting The Partridge Family in 1974, may have been doomed from the start. "I wasn't used to that state-of-stardom life-style," says Lenz. "When we eloped it was on the national news. All of a sudden I was getting mail from women telling me that they had three of his children."

The marriage lasted four years. Though it was rumored that Cassidy had problems with drugs, Lenz firmly denies they were a factor in their breakup. "I did drugs, everybody did," says Lenz. "But they were never a problem for us." She remembers being "unhappy, but I wasn't sure why."

The two parted amicably (Cassidy has since remarried), yet Lenz fell into a slump. "Part of it was because of the divorce," she says. "My self-worth was down." Lenz didn't work for more than two years and could barely make ends meet. "On my 30th birthday, all the presents I got were boxes of food. That's what I needed." James Woods, who became friends with Lenz in 1980 while they were shooting the film Fast-Walking, admired her tenacity during this rough stretch. "No matter what difficulties Kay was going through," he says, "she found a way of just girding herself to fight through it." Her goal was to keep working no matter what. She took parts in Death Wish 4: The Crackdown and House and even peeled to a G-string in 1987's cop thriller Stripped to Kill. Typically, she feels no remorse about the latter. "All women, if they are really honest about it, would love to think they could get up onstage and have men sticking dollar bills in their panties. So, in a way, that film was me being able to live a fantasy. And at the time, it was the best that came my way."

After her Midnight Caller performances, Lenz may never have to strip on film again. Even if she isn't showered with scripts, she'll be happy puttering around her house, touching up the woodwork and tending her garden. At heart, she says, "I'm a loner. I like to hide a lot." She occasionally meets friends for a lively game of Pictionary, but says she is seeing "no one special. That's the truth." Relishing her current good fortune, she promises not to lose her head. "I know better than to think it'll last forever." But, she adds, "I also know that the bad times don't last forever either."

—Jeannie Park, Michael Alexander in Los Angeles


At any awards ceremony, it is customary for the winners to drop their jaws in surprise, bury their faces in their hands, stutter and stammer, perhaps shed a few tears. But even by Hollywood's dramatic standards, Kay Lenz's reaction to winning an Emmy this September was exceptionally emotional. "When they said my name," Lenz recalls, "I didn't just cry—I had projectile tears. They just went straight out of my face. I barely could see to get up on the stage."
Advertisement
Treat Yourself! 4 Preview Issues
The most buzzed about stars this minute!