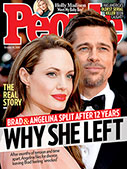 This Week's Issue!
People Top 5
LAST UPDATE: Tuesday February 10, 2015 01:10PM EST
PEOPLE Top 5 are the most-viewed stories on the site over the past three days, updated every 60 minutes
From Prison, Antiabortion Leader Randall Terry Says That God, Not the Law, Is His Judge


By biblical standards, it is not much of a martyrdom. But to the tens of thousands of Operation Rescue supporters, Terry's 24-month prison sentence, handed down last month, represents nothing less than a trial of faith. Terry, 30, was convicted on charges of criminal trespass and unlawful assembly after blocking entrances at an Atlanta abortion clinic last year. Now the lanky Bible college graduate marks the days until he can again lead his troops against the people he calls "baby-killers" who run the "death industry" at the nation's "abortuaries." Terry remains certain that his own tribulations will inspire Operation Rescue's rank and file. "I think the Lord will use this to raise the level of commitment and sacrifice in the rescue movement," he told PEOPLE in an exclusive interview.

In the war to outlaw abortion, Terry is the chief guerrilla leader. The group's principal tactic is to strike without warning, surrounding an abortion clinic. Operation Rescue counselors then confront women patients, pleading with them not to enter. For every woman who approaches a clinic and turns back—no matter what her intentions—Operation Rescue assumes it has "rescued" an unborn child. If police show up, the demonstrators simply go limp and are carted off. In the last 18 months, says Terry, 35,000 Operation Rescue members have gone to jail rather than allow clinics to operate unhindered.

Still, these have not been good times for Terry and the antiabortion movement. In October the pro-choice lobby showed its muscle at a special session of the Florida legislature, beating back Gov. Bob Martinez's efforts to pass restrictive abortion laws. Late last month President Bush did veto federal funding for abortions in cases of rape or incest, but Republican gubernatorial candidates in Virginia and New Jersey backpedaled on strong pro-life platforms in the face of swelling voter sentiment against them, yet still lost. Undeterred, OR plans to counter a pro-choice march in Washington on Nov. 12 with the biggest "rescue" yet. As many as 2,000 antiabortion activists plan to lay siege to the capital's abortion clinics in an effort to close them down.

That battle will have to be fought without Terry. Although state court Judge John Bruner offered Terry a suspended sentence if he would pay a $1,000 fine and stay away from Atlanta for two years, he refused. "Number one," says Terry, who is paid about $31,000 a year by Operation Rescue, "I am not guilty of a crime. It is not a crime to save a child from murder. Two, if at all possible I do not want to give money to a system that is protecting murderers and jailing people trying to save babies."

Terry's conversational style is Christian hip, peppered with expressions of pleasure such as "Oooo, righteous!" Co-workers at Operation Rescue headquarters in Binghamton, N.Y., know him as an incorrigible punster who sometimes squirts colleagues with a water pistol he keeps in his desk.

Terry's easygoing persona hardens, though, when he speaks of his mission. He calls pro-choice advocates "pro-aborts," spitting the word out with venom. Conjuring up an angry prophet's vision of apocalypse, he warns that, for condoning abortion, "we as a nation are going to pay. The blood of these children is crying out from the ground for vengeance, and God is going to avenge them."

Like many born-again Christians, Terry looks back on a sinfully misspent youth. The son of public-school teachers who only last year converted to his brand of Christianity, he grew up in Rochester, N.Y. "I was conceived out of wedlock," he says. "I'm just really glad that, 30 years ago, abortion wasn't even an option. I don't think my parents would have sought an abortion, but God only knows." He lived his adolescence, he says, on the brink of perdition, quitting school at 16 to roam the country. "I listened to a lot of rock and roll music," he recalls. "I smoked marijuana. I did things I shudder to think about."

Salvation came at 17 when, back in Rochester, he was earning his general equivalency degree and working in an ice-cream parlor. One day he sold a cone to a man who was a student at the Elim Bible Institute in Lima, N.Y. The young man and his wife befriended him. "Their countenance made me hungry for more of God," Terry says. In 1978 he entered Elim himself and met his future wife, Cindy; they planned to work as foreign missionaries. Then one day in 1983, a woman walked into his Binghamton prayer group and suggested a prayer to end abortion. He thought to himself, "If we believe this is murder, we'd better act like it's murder." He began to picket abortion clinics, and in 1985 he entered a Binghamton clinic and locked himself in. He was arrested, and his mission began.

Terry has built a religion-based coalition that is 60 percent evangelical Christian and 30 percent Catholic. OR activists have staged "rescues" at abortion clinics nationwide, and they claim to have prevented more than 350 abortions. Pro-choice opponents dismiss that figure. "We have always been able to maintain access to clinics they tried to block," says Carol Sobel, an American Civil Liberties Union attorney who has opposed Operation Rescue in Los Angeles. "They shout 'baby-killer' at any woman they see approaching abortion clinics, regardless of whether they know why she's there. I've seen them scream at women who are going for prenatal care, who want to continue their pregnancy to term."

Prior to his current incarceration, Terry had been arrested more than 30 times and had spent 90 days in various jails around the country, mostly on misdemeanor trespassing charges. "The big price of this is to be separated from my wife and children," says Terry of his imprisonment. He and Cindy have a natural daughter, Faith, age 2½, and three mixed-race foster children. The youngest, says Terry, was one of the first children he rescued when he persuaded her mother not to undergo an abortion. The older two are that child's half siblings, whom the Terrys also took in when their mother became unable to take care of them. Terry says society should support women in the decision not to have abortions, even if that means providing care for 1.6 million additional children born each year. "If abortion ended tomorrow, we'd have our work cut out for us," he concedes. "But we could do it."

Terry has shown himself ready to make sacrifices toward that goal, which he pursues, he says, for the sake of posterity and his own salvation. "I want my life to count for something for God," he says. "I've got to give an account to him, and I want to hear Him say, 'Well done, good and faithful servant.' In my darkest hours, that's what keeps me going."

—Montgomery Brower, Michael Mason in Alpharettu and Maria Eftimiades in Binghamton


Every morning around 6, Randall Terry, the founder of the radical anti-abortion group Operation Rescue, rises and dons his white prison uniform, eats a quick breakfast and falls in with the rest of the inmates in the yard of the Fulton County Correctional and Rehabilitation Center in Alpharetta, Ga. They board a bus and bounce into the woods for a day of sweaty labor digging ditches and laying sewer pipe. Evenings, Terry listens to Christian rock on his Walkman or works on his antiabortion book.
Advertisement
Treat Yourself! 4 Preview Issues
The most buzzed about stars this minute!