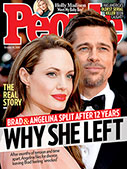 This Week's Issue!
People Top 5
LAST UPDATE: Tuesday February 10, 2015 01:10PM EST
PEOPLE Top 5 are the most-viewed stories on the site over the past three days, updated every 60 minutes
Fighting for Her Own Life, Jill Ireland Now Must Mourn the Loss of Her Son Jason


Nothing, it seemed, could have saved Jason, who was adopted as an infant by Ireland and her first husband, actor David McCallum. A tormented young man, he was plagued by addictions to heroin, alcohol, cocaine and many other drugs. Although the cause of death remained undetermined pending autopsy results, there seemed little doubt that drugs were involved.

Just before his death, McCallum had moved into a small house in Laurel Canyon, rented for him by Bronson. "I talked to Jason two days before, and he was so optimistic," says Ireland. "He had just completed a new drug program, he was very fond of his new girlfriend, Tracy Messina, and he was going to get a job." It was Messina, 22, a recording studio employee, who discovered McCallum's body slumped in the bathroom after he had failed to pick her up from work. Hollywood police said they found prescription drugs nearby, but no needles and no signs of foul play.

If, as Ireland believes, "his poor body just collapsed," it was because McCallum had been mistreating it for years. His first experience with drugs occurred at 7, says Ireland, when "older boys came by and gave him stuff." Encouraged by irresponsible adults, including an older married woman who seduced him when he was 16, Jason developed a taste for all types of illicit pharmaceuticals. Ireland suspected only occasional recreational use, but in early 1985 she learned the truth from a doctor who was treating McCallum for hepatitis B, which is often spread through hypodermic needles. "I found out my son was a heroin addict two months after finishing my chemotherapy," she recalls. "I was fighting my cancer and trying to help Jason fight for his life as well."

For the next four years, Ireland watched helplessly as he shuttled in and out of detox units, giving up one drug only to turn to the next. One doctor familiar with his case claims, "Jason had the most giant habit in toto that I have ever seen." Last year he began seeing L.A. physician Dr. Howard Mark, who prescribed an experimental drug called Buprenex, which, like methadone, can act as a substitute for stronger narcotics. Although McCallum's then girlfriend, Pam Manning, who remains close to Jason's family, says that along with the Buprenex "Jason was also shooting up Demerol and taking a ton of other pills," Dr. Mark believes the cure was working. "I knew he had access to lots of other things, but he was becoming lucid for the first time that people could remember."

Meanwhile, Ireland sought clues to the origins of her son's illness. As she recalled in her recent book, Life Lines, Jason met his birth mother, Judy Brown, in 1987 and discovered that his natural father had died of a heroin overdose. In this revelation, Ireland felt she had found the answer: "It was in the DNA." But Brown, who showed up at the funeral uninvited, blames Jason's problems in part on Ireland's divorce from McCallum in 1967 and remarriage to Bronson the following year, when Jason was 6. "You can't take a baby into a broken home and have it turn out all right," she says.

Others at the funeral, including the Bronsons' six other children and David McCallum, dwelled less on Jason's wounds than on his sense of humor and caring nature. Paul McCallum, 30, Jason's brother, delivered the eulogy. "I remember when I was lying on a bed with a migraine and someone began stroking my head," he said. "I thought it was my mom, but it was 5-year-old Jason saying, 'You'll be all right, Paul.' He had that kind of love."

Sadly, Jason's death is not the last tragic ordeal his family must face. Earlier this year, Ireland, 53, was told by doctors that she has only two or three more years to live. Determined not to lose hope, she has bravely undergone searing hyperthermia treatments (in which metal rods are heated under the skin of her chest), while continuing to appear at cancer fund-raisers and writing the third installment of her autobiography. Her fight is immeasurably more difficult without Jason, with whom she shared a special bond. As she once said, "We both know what pain is."

—Jeannie Park, Eleanor Hoover in Los Angeles


On the carefully trimmed grounds of Los Angeles's Forest Lawn Memorial Park, Jill Ireland clutches her throat and struggles to contain her sorrow. For months she has endured excruciating treatments to battle the cancer that has spread through her body, but now fate has dealt her the most painful suffering a parent can know: Her son, Jason McCallum, has died at age 27. With husband Charles Bronson standing stoically beside her, she shares her grief with the friends who have gathered to mourn her son. Though it is little comfort, she tells herself, "We did everything we could. We helped him in every way. There was nothing more we could do."
Advertisement
Treat Yourself! 4 Preview Issues
The most buzzed about stars this minute!