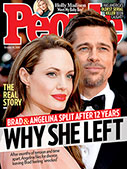 This Week's Issue!
People Top 5
LAST UPDATE: Tuesday February 10, 2015 01:10PM EST
PEOPLE Top 5 are the most-viewed stories on the site over the past three days, updated every 60 minutes
A Loving Father Eases the Recovery of Julio Berumen, the Quake's Littlest Survivor


As the city of San Francisco shakes off the devastating Oct. 17 quake and once more rests its future on the fault line, the Berumens, too, are counting their blessings, as well as mourning their losses. Caught beneath the wreckage of the Nimitz Freeway, Julio's mother, Petra, and a family friend, Yolanda Orozco, were killed; of the 44 people crushed beneath I-880, only Julio and his sister, Cathy, 8, survived.

Their saga has since brought an outpouring of some 5,000 letters, gifts and contributions from around the world. Julio's room is filled with balloons, dozens of stuffed animals and toys and some of the 1,000 origami paper cranes sent from well-wishers in Hiroshima. "There are no words to tell so many people," Pastor told PEOPLE in an exclusive interview. "I wish I could shake hands with all of them. I never expected people to care so much."

"They are an extraordinary family," says Dr. James Betts, the Oakland pediatric surgeon who had to amputate Julio's leg on the spot to extricate him from the wreckage. "I'm sure the love Julio and Cathy have gotten from their family has helped them through this. I don't know if I would have handled a similar situation in my family as well as Pastor has."

On Oct. 17, Pastor had just returned home from his job as a construction worker and switched on the World Series game when the quake struck. One of eight children of Mexican immigrants who came to California in 1974, he had met and married Petra when she was 16, nine years ago. A few months before the quake, the couple used their savings to buy a modest home in the city of Richmond, east of San Francisco. In the first moments after the disaster, Pastor began to worry. He knew that Petra had made a 3:30 P.M. appointment with Cathy's orthodontist in Oakland and was supposed to be home by 5.

"Then I saw [on TV] that they had pulled a little 8-year-old girl out of the collapsed freeway," he recalls. "I had a little girl that age. Then they said a 6-year-old boy was buried in there. And I knew it had to be my boy." With the phone lines down, Pastor waited helplessly for hours before driving to the Children's Hospital in hopes of finding his children. There, Dr. Betts told him that he had been forced to saw through the body of Petra to reach Julio. "He said he did what he had to do. And I knew it was true," says Pastor. "It was the only way to save my son." But two days later, the coroner's office called, and Pastor learned that it was Orozco who had been cut away; Petra's body was still trapped under the freeway, where it remained for a week after the quake.

"I keep thinking, 'Why me? Why me?' " says Pastor. "But I believe in God, and that is the way God does things. I knew I had to be strong for my children." Since that day, Pastor has been at his son's side day and night, cradling Julio in his arms for hours and sleeping in a chair next to his bed. Cathy, who has had 10 hours of reconstructive surgery on her face, is back home, being cared for by Pastor's sister Maria. In addition to some savings and his vacation pay, Pastor has medical insurance, and the Julio and Cathy Berumen Relief Fund (Summit Bank, 2969 Broadway, Oakland, Calif. 94611) has collected $147,000. "Some people sent me money too, but all of it will go for the children, for their education," he says. "I will not touch it. When the children are better, I will go back to work and take care of them."

After fighting to save Julio's life, Dr. Betts says, "I'll never forget him. And I want to see him as he grows up." Julio will probably get an artificial right leg, but he will need extensive physical therapy and a brace to restore use of his other leg. He has already left the hospital once for a cousin's birthday party, and Pastor has arranged a tutor to keep him up with his first-grade lessons. Julio is also receiving counseling to help cope with the loss of his mother. "I know he understands she died in the accident," says Dr. Betts, who believes the youngster has an excellent prognosis. "There are so many children I deal with that never have that [family support]. I think they'll do the best they can do. Children adapt very quickly to handicaps. I think he'll walk out of here."

—Montgomery Brower, Doris Bacon in Oakland


Julio Berumen sits in his pint-size wheelchair in the playroom at Oakland's Children's Hospital, playing a game of carom with his father, Pastor. Wearing an Oakland A's T-shirt and a pair of shorts, the San Francisco earthquake's most famous survivor plays animatedly and unself-consciously, despite, the terrible blows his body has received. His right leg was amputated the night of the earthquake. The other leg, which surgeons were able to save even though it was severely crushed in the rubble of I-880, rests straight out in front of him on a pillow. The fresh-faced 6-year-old seems oblivious to his injuries, concentrating instead on trouncing his father. Pastor, 31, is losing happily, the strain of last month's trauma, which left him a widower with two hospitalized children, melting away into a soft smile as he gazes at his son. "I'm hungry," says Julio, tiring of the game. "I want a hot dog and french fries." With his father in tow, Julio grasps the wheels and rolls himself down the hall to the hospital cafeteria. Neither his injuries nor his memories, it seems, can put the brakes on him.
Advertisement
Treat Yourself! 4 Preview Issues
The most buzzed about stars this minute!