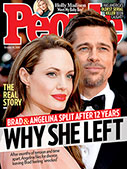 This Week's Issue!
People Top 5
LAST UPDATE: Tuesday February 10, 2015 01:10PM EST
PEOPLE Top 5 are the most-viewed stories on the site over the past three days, updated every 60 minutes
The Ziolkowskis Are Honoring Chief Crazy Horse, by Blasting Out a Mountain of a Sculpture


It has been more than 40 years since Casimir's father, Korczak, saw Thunderhead and decided it would be the perfect spot to carve a massive figure of Chief Crazy Horse, the wily Sioux warrior who in 1876 defeated Gen. George Custer in the Battle of the Little Big Horn. Never one to think small, Korczak envisioned a monument 10 times larger than the one he had helped to carve on nearby Mount Rushmore. By the time he died in 1982 at age 74, the man who called himself a storyteller in stone had blasted more than 8 million tons of rock from Thunderhead. His last words to his family were more an order than a request. "Crazy Horse must be finished," he said. "You must work on the mountain; but go slowly, so you do it right."

While skeptics have long wondered when the task would be completed, most Native Americans have praised Korczak's original vision. "This is the only project of its kind that's ever been done to salute a Native American hero," says Jim Emery, a Sioux who has been an unpaid member of the Crazy Horse Memorial foundation's board of directors for the last 15 years. "Just the fact that something like this is being attempted has given Indians so much pride." And the four decades it has thus far taken? "I've met many Indians who've come to Crazy Horse Mountain to view the carving in progress, and I've never heard a derogatory word," says Emery. "We're anxious to see it completed, but we know it must be done slowly. The family doesn't accept any government funding."

Today all but two of the 10 Ziolkowski children have adopted their father's impossible dream. Inheritors of Korczak's obsession, they plan to live out their days transforming Thunderhead Mountain into a 563-foot-high figure of a bare-chested Indian on horseback. Korczak's 63-year-old widow, Ruth, to whom the sculptor left three books of instructions for completing the project, directs her offspring in their tasks: Mark, 32, clears timber on the land; Dawn, 40, organizes tours for the 1.1 million who visit each year to see the mountain; Anne, 34, manages the Native American museum that Korczak hand-built in 1973; Casimir, 35, oversees the carving of the mountain, assisted by Monique, 29, Adam, 38, Marinka, 26, and Jadwiga, 37. "This is a very spiritual place," says Casimir. "I feel Dad is here to protect and guide me. And I feel Crazy Horse is with him."

Orphaned at 3, when his Polish immigrant parents died in an accident, Korzcak left his Boston foster home at 16 and was on his way to becoming a celebrated sculptor by 1939, when one of his works won a prize at the New York World's Fair. But he rejected several lucrative commissions, choosing instead to accept an invitation from Sioux Chief Henry Standing Bear, who wrote him, "My fellow chiefs and I would like the white man to know the red man has great heroes too." Chief Standing Bear had met Korczak in 1940, after the young artist traveled to South Dakota to serve as an assistant to Gutzon Borglum, the sculptor of the Mount Rushmore memorial. In 1947 Korczak moved West, alone, and went to work. "The treatment of the American Indian is the blackest mark on our nation's history," he declared. "If by carving Crazy Horse, I can give back to the Indians some of their pride, my life will have been worthwhile." Spending all but $174 of his $6,000 life savings to buy 650 acres of land and mining rights to Thunderhead Mountain, Korczak chose to fund his project with private donations and visitors' admissions fees. According to Ruth, he once turned down an offer from a South Dakota Senator who had promised $10 million in government aid. "I have copies of 365 treaties the government made with the Indians," he told officials. "Am I to believe you would keep this one?" Moreover, says Ruth, he feared the Washington, D.C., circus. "Borglum had to spend a lot of time in Washington wining and dining officials," she says. "Korczak found that repulsive."

In 1949 Ruth Ross, a young student from Connecticut, arrived with a group of volunteers to assist Korczak. She became Mrs. Ziolkowski the following year and settled in to raise five boys and five girls. Sent to school in nearby Custer, the Ziolkowski kids had to be thick-skinned. "Some of the people in town thought we were nuts," Casimir says. "Being Polish was reason enough for people to tease us. And having a dad who was carving a monument to Crazy Horse made it even worse, since a lot of folks didn't like Indians." The Ziolkowski children themselves were mystified by their eccentric father. "He was a son of a bitch and an angel," says Anne. "He never cared if we loved him. He just wanted our respect." Since Korczak's death, Ruth Ziolkowski has proudly assumed the role of "benevolent dictator" ' of the clan. "If one of the kids is slouching, I'll read them the riot act. If they're not going to do their share, they can hit the road," she says. "They always come around to my way of seeing things, and they stay." Only Joel, 30, a Baptist minister in Rushville, Neb., and John, 41, a pipe manufacturer in Metamora, Ill., have left the family fold. The rest have been imbued with Korczak's sense of mission. "Daddy said the monument could be done, so it will be done," says Monique. "I'll be here until I die."

The Ziolkowskis hope to complete the head of Crazy Horse before winter sets in and forces them to stop work. But none of them will predict when the monument will be finished. "It may not be done in my lifetime or in my children's lifetime," says Ruth. "But it will be finished. That I guarantee." Then she grows misty-eyed as she muses, "I think Korczak sits up there on that mountain looking over us. I hope he's proud of us."

—David Grogan, Christopher Phillips in the Black Hills


High atop a 600-foot block of granite in the Black Hills of South Dakota, eagles circle overhead as Casimir Ziolkowski begins another morning of Sisyphean labor. A tiny speck against the gray dawn sky, he seems too insignificant to alter the vast, silent landscape. But at sunup, a deafening dynamite blast sends boulders hurtling through space, and Ziolkowski cheers: He has issued the day's first salvo in his lifelong struggle to shape Thunderhead Mountain into the world's biggest sculpture.
Advertisement
Treat Yourself! 4 Preview Issues
The most buzzed about stars this minute!