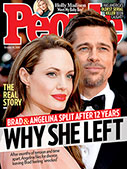 This Week's Issue!
People Top 5
LAST UPDATE: Tuesday February 10, 2015 01:10PM EST
PEOPLE Top 5 are the most-viewed stories on the site over the past three days, updated every 60 minutes
Nancy Cruzan's Parents Want to Let Her Die—and Are Taking the Case to the Supreme Court


Now is also the time, her parents believe, to end Nancy's semblance of a life. Early in December, the U.S. Supreme Court will confront the right-to-die issue for the first time when it begins hearing arguments to decide whether Joe and Joyce may instruct Nancy's doctors to remove her feeding tube, bringing on her death by starvation. Already, dozens of medical associations and disabled rights groups have filed briefs on the case that observers have called the Roe v. Wade of euthanasia. Though many doctors say Nancy's condition will not improve, some staff members who regularly care for her at the Missouri Rehabilitation Center, a state hospital in Mount Vernon, Mo., 150 miles from St. Louis, insist that she responds to some sights and sounds. They think Nancy might be alert, trapped inside her inert body, and they oppose the Cruzans' desire to let her die. So did the Missouri Supreme Court, which in November 1988 reversed a lower court decision in favor of the Cruzans and ruled 4-3 that Nancy's feeding tube could not be removed.

To both Joe, 55, and Joyce, 54, however, Nancy is already dead. "We have lost our daughter, but we can't go through the natural grieving process," says Joe, a sheet-metal worker in Joplin, Mo. "I don't think we are asking more than what is done all the time—that is, to just stop treatment." William Colby, the lawyer who represents the Cruzans, points out that they gave permission for doctors to insert a feeding tube into Nancy's stomach one month after her accident only when it seemed she might recover; when that hope faded, Joe and Joyce could not get the tube withdrawn.

Since 1976, when the New Jersey Supreme Court allowed the parents of a young woman named Karen Ann Quinlan to take their comatose daughter off a respirator (she died 2½ months later), 16 other states have permitted the termination of life support systems in some 50 right-to-die cases. Asserts Colby: "Historically, families have always made [these] decisions for family members."

Missouri Assistant Attorney General Robert Presson, who will argue his state's case before the Supreme Court, counters that Nancy is in a similar situation as a profoundly mentally retarded person who lacks the ability to swallow. Several hospital staffers agree. "I have been taking care of her for so long that it's like taking care of one of your own family," says Joyce Pyle, 33, a nursing assistant. "I have seen her respond laughing to jokes. When her name is mentioned on the radio, I have seen her jerk and lift her head and look toward the radio. I have seen her watch TV when there is something on that catches her interest. There are times when she is totally unresponsive, and there are times when her eyes are crystal clear and you know she is tracking you. She is there." Another nurse told the court that Nancy had cried over a Valentine that was read to her.

The Cruzans, though, have seen no such encouraging signs since their daughter almost died on a deserted country road near Carthage in the early morning hours of Jan. 11, 1983. Nancy, a worker in a nearby cheese-processing plant, and her second husband, Paul Davis, were driving home from a bar in separate cars when her '63 Rambler veered off the road. Nancy, who was not wearing her seat belt, was thrown from the car and landed face down on the frozen ground. The state trooper who first arrived at the scene, thinking she was dead, did not start artificial respiration. By the time paramedics restored her heartbeat and breathing, Nancy's brain had been without oxygen for roughly 14 to 22 minutes. She never regained consciousness.

The belief that Nancy still has some cognitive ability, argues Joe, is merely wishful thinking. "People see what they want to see," he says. "That is why it is so difficult to come to terms with persistent vegetative state—there are times when they act like they respond. They open and close their eyes and they blink, but there has never been any consistency, no pattern that you could pinpoint." Both family and friends also insist that were she able to express her wishes, Nancy would not want to go on living as she is now. "To laugh and play and enjoy life—these were the things that meant a lot to Nancy," says her sister, Christy, 34. Christy also testified in court that during a conversation after the death of their grandmother in 1981, Nancy told her that there are things worse than death. (Davis, who was divorced from Nancy a few years after the accident, is no longer in touch with the Cruzans.)

Doctors say Nancy could live up to 30 years in her present state. Nancy's medical insurance ran out in December 1985, and her care at the rehabilitation center costs the state of Missouri some $75,000 a year, according to hospital administrator Donald Lamkins. Though he could not remove a feeding tube from his own daughter, he says, "The decision should be left to the family and to the doctor and not the courts." Nancy's physician, Dr. James Davis, supports the Cruzans' decision but admits he might agonize over fulfilling their wish. "I might be able to pull [the tube] with no problem, and I might be able to get my hand on there and not be able to," he says. "I won't know until I come to that point."

For now, Joe and Joyce continue to make their weekly 80-mile round-trip from Carterville to visit Nancy, bringing talcum powder in a new fragrance, perhaps a different hair ribbon or clip, and always a stack of freshly cleaned, colorful hospital gowns that Joyce and Christy have made for her. "You can see there is a lot of caring," says Carol Colley, 39, one of the nurses who opposes the removal of Nancy's feeding tube. "You can see the hurt and pain and sorrow in their eyes. There is a lot of love in that family." Too much love, certainly, to regard any verdict in court as a victory. "Why us?" asks Joe Cruzan quietly. "Why Nancy? I just wish I had my daughter back."

—Montgomery Brower, Giovanna Breu in Carterville


On Halloween, Joe and Joyce Cruzan decorate the window of their daughter Nancy's hospital room with jack-o'-lantern faces, a witch and a big black cat. On Thanksgiving, they put up turkeys. At Christmas, she has a tiny tree and plenty of cards and on Valentine's Day they bring in a crocheted heart with flowers and a little stuffed animal. Though they try their best to brighten Nancy's days, the once vivacious 32-year-old Missouri woman lies rigid in her hospital bed, her eyes staring blankly into space. A car accident six years ago left Nancy in what physicians call a persistent vegetative state: Although able to breathe on her own, she cannot swallow and must be fed through a tube inserted into her stomach. "Along with Nancy, we are caught in limbo," says Joe. "It's the time between the death and the funeral."
Advertisement
Treat Yourself! 4 Preview Issues
The most buzzed about stars this minute!