People Top 5
LAST UPDATE: Tuesday February 10, 2015 01:10PM EST
PEOPLE Top 5 are the most-viewed stories on the site over the past three days, updated every 60 minutes
Soap Star Clayton Prince Moonlights on Manhattan's Mean Streets as a Guardian Angel


Name one? Well, as he tells it, actor Clayton Prince is the guy.

"This is going to sound a little sick," he says. "But I really didn't mind it happening. The day before the guy pulled the knife on me, I was studying in my martial-arts class how to take a knife away from someone during a fight. It was drilled into my head. So when he pulled the knife out, it was like, 'Great, pop quiz.'

"I broke out with this big smile. I wasn't at all nervous, but the guy couldn't believe it. I was really grinning from ear to ear, saying, 'Okay, let's go.' And, he's saying, 'But, uh, I have a knife.' I said, 'I know,' and I got an even bigger grin and the guy said, 'But I have a knife.' "

The exchange continued for a block as Prince drew closer and the knife wielder backed away. "Finally," says Clayton, "I ended up doing the technique I learned and took him down. Of course," he adds, "I wouldn't have found it so funny if I'd missed my class the night before."

Prince, 24, one of the stars of Another World, lives in another world, frequently a netherworld, when he's off the set of the NBC soap. He's a member of the Guardian Angels, an unarmed band of 350 volunteer crime busters that patrol the frequently mean streets of New York City.

Why would an actor risk his face—and thus his fortune—and willingly go up against thieves and muggers? For Prince, the answer became clear on the night of the "wilding," when a band of teenagers raped and almost killed a 28-year-old woman runner in New York's Central Park last April. "I just couldn't say, 'Oh, what a shame,' " he remembers. "I knew I had to do something more."

Accordingly, he walked into the Guardian Angels headquarters near his one-bedroom midtown apartment a few days later and signed up. Curtis Sliwa, the founder of the Angels, figured Prince for nothing more than a dilettante researching a role. "I said to myself," reports Sliwa," 'The pretty boy will definitely leave when some of his facial features get rearranged.' But he stayed day after day, week after week and month after month. He came during all his free time and," adds Silwa admiringly, "he started volunteering for the toughest assignments. He has been in some testy situations, and he always knows what he's doing." And he proved as much in last summer's knife incident, when he and the other Angels on patrol took Prince's would-be assailant into police custody.

Prince grew up in suburban Philadelphia. His mother, a special-education teacher, and his father split up when Clayton was a toddler. His childhood, he remembers, consisted of fighting a lot in school and dressing up, standing in front of the mirror and mouthing the words to songs by the Jackson 5. Clayton dropped out of Temple University a few credits short of graduation and dropped into show business with a one-line part in a martial-arts movie. The lack of a degree didn't stop Prince from trying to impress Temple alum Bill Cosby by wearing a Temple sweatshirt to an audition for a guest shot on The Cosby Show. No sweat. Prince got the part as Lisa Bonet's boyfriend, followed by roles in the miniseries George Washington, the film Hairspray and the now defunct Ryan's Hope.

Prince auditioned for Another World a year ago. "He came in to read for a very small role," says Executive Producer Michael Laibson, "but we were so taken with his energy and commitment that I said, 'We have to have this guy.' " Within weeks the producers offered Prince a three-year contract. Another World Executives profess to be unperturbed by the potential danger Prince faces as an Angel. "Clayton strikes me as the kind of person who can take care of himself," says, Laibson. "I don't expect anything bad to happen." To date, the only injury Prince has sustained has been scraping his finger on the sidewalk during his confrontation with the knife wielder.

When Clayton was a kid, his mother had very lofty ambitions for him. "You're going to be the first black President," she would say, and Clayton would say, "Yes, you're right." That routine went on for years, until one day he piped up with, "Mom, I really don't care to be the President anymore, but I am going to be someone you're proud of."

No question about it.

—Joanne Kaufman, Alan Carter in New York City


The street was dark and empty as the man pulled out a knife and hissed, "Come closer, man, and I'll cut you." Many New Yorkers have found themselves at the wrong end of a knife blade. The risk comes with the territory. But name one Big Apple resident who would actually welcome such an event.
Advertisement
Today's Photos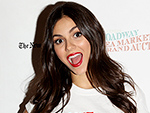 Treat Yourself! 4 Preview Issues
The most buzzed about stars this minute!