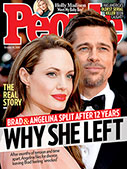 This Week's Issue!
People Top 5
LAST UPDATE: Tuesday February 10, 2015 01:10PM EST
PEOPLE Top 5 are the most-viewed stories on the site over the past three days, updated every 60 minutes
Connoisseur Orville Elton Is Definitely Small-Minded: He Has Amassed 40,000 Tiny Treasures


Elton, in fact, has perhaps the world's finest private collection of miniature memorabilia—or microbilia—about 40,000 tiny items. Many are elaborately detailed, and all are wondrous to behold, although quite a few can be properly beheld only with the help of a powerful magnifying glass.

Consider, for example, the world's smallest playable violin, 1½ inches long; or the pair of fleas, now somewhat mummified, dressed as bride and groom; or the straight pin inscribed with the Lord's Prayer on its head.

How do the Michelangelos of the microcosmic create these wee works of art? For one thing, says Elton, "these artists are blessed with fabulous eyesight." Their tools are extraordinary as well. Elton once watched a micro artist, Manuel Andrada, working on a pinhead painting during the '30s. "He used the fine little hairs on the back of his hand for a brush," says Elton, "or better yet, the hairs off a little girl's hand. He clamped his nose shut so his breathing wouldn't affect his work. And he trained his heart to beat more slowly through yoga. He actually painted between heartbeats."

Like many whose passion dominates their lives, Elton can't explain why he collects microbilia. It all started when he was 5, in Great Falls, Mont., where his father worked in a sporting-goods store. Elton and his older brother were walking to Sunday school when Orville spotted a speck in the snow. It turned out to be a satin-bound book, barely 2 inches square, containing a selection of Wordsworth's poems. His brother read the inscription in the book dedicating it to another little boy, but Orville kept it anyway. He still has it, and even he says if anyone can identify the inscription, he'd be happy to give it back to the rightful owner.

Elton, a lifelong bachelor, added to his collection all through his amazingly varied life. At one time or another he has been a hotel page boy, a physical therapist, an amateur actor and opera singer, a pharmacist's mate in the Navy, a furniture salesman, an antique dealer and an interior designer. And over the years he has acquired parts of every major microbilia assemblage in the world. "I'm a horse trader and a fast talker," says Elton, who refuses to put a dollar value on his collection. "I once paid $200 for a toothpick; it had the seven wonders of the world on it, so you can just guess from there." He plans to will part of his collection to a museum and the rest to a good friend.

One hazard in microbilia collecting is that the objects are easy to overlook or lose unless one is careful. Elton is extremely' careful. Only a small portion of his collection is kept in his one-bedroom apartment; the bulk of it is stashed in vaults in the basement of his apartment building or at 40 bank safety deposit boxes.

Sadly, not all microbiliasts take such extreme pains with their collections. Elton tells the melancholy tale of the 1934 Lincoln pennies with a tiny drawer that pulls out built into the sides of the coins. "There were only seven of these made," says Elton, holding one of them. "A man named David Levine made them all. Well, he made the mistake of leaving one on his dresser, and his daughter took it and spent it." Now, Elton says sadly, "someone out there has it and doesn't even know what he's got."

—Dan Chu, Priscilla Turner in Seattle


For many of his 78 years, Orville Elton of Seattle has pursued a simple philosophy: Think Small. Make that, Think VERY SMALL. That's small as in itsy-bitsy, as in a basket made from the inner core of a cattail that's no bigger than a grain of sand. That's minute, as in the tea set of solid gold that can sit on a thumbnail. That's Lilliputian, as in the full set of ceramic false teeth the size of a button.
Advertisement
Treat Yourself! 4 Preview Issues
The most buzzed about stars this minute!