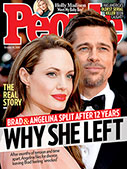 This Week's Issue!
People Top 5
LAST UPDATE: Tuesday February 10, 2015 01:10PM EST
PEOPLE Top 5 are the most-viewed stories on the site over the past three days, updated every 60 minutes
A Man Called Connery
What Women Want Is a Guy Who's Been Around—and Who Still Is. That's Why Sean Connery Is the Sexiest Man Alive, 1989


Fat chance there, Mr. Double-Ought-Seven. Age before beauty? Then how would Connery ever get through a door? Toy boys may come and go with the seasons; Connery endures. Thirty years and 48 films into his career, even with all those miles on his odometer, he's as steamy a presence today as in the days of Goldfinger, still overshadowing the fresh-faced upstarts with that breathtakingly craggy, granite-jawed profile. "He's one of the few men who has stayed sexy with age," says Barbara Carrera, who played a Bond siren in 1983's Never Say Never Again. "All over the world, women ask about Sean Connery. They stare at me with their mouths open: 'What's he like to work with?' "

Shelley Winters, who dated him in the 1950s and between marriages, has likewise stayed a Connery convert through the ages. "He was sexy at 26, and at 60 even more so," she says. "He makes a woman feel sexual chemistry. To be his leading lady, I'd lose 50 lbs. and get my face lifted. As a matter of fact, I'd get everything lifted."

There was a time when Connery's too-good-to-be-true looks could have worked against him. Actress Tippi Hedren, who played a frigid bookkeeper opposite Connery in 1964's Marnie, says that she and director Alfred Hitchcock joked that Sean had been miscast. "Even if Marnie was so screwed up," says Hedren, "how could she not have been interested in such an attractive man?"

Of course, the Connery of today is more than just a pretty, weathered face. "There are only seven genuine movie stars in the world today," said director Steven Spielberg. "And Sean is one of them." His talent continues to burn. Connery stole scenes from heartthrob Kevin Costner in 1987's The Untouchables (and also swiped an Oscar, his first); this week he dwarfs Dustin Hoffman and Matthew Broderick in the affable Family Business; next year he commands a Soviet sub in The Hunt for Red October and plausibly plays Michelle Pfeiffer's love interest in The Russia House.

The secret of Connery's Gibraltar-like survival in a throwaway world is a nearly universal charm, a man's man appeal that KO's women without alienating males. "Connery looks absolutely confident in himself as a man," says New Yorker film critic Pauline Kael. "Women want to meet him, and men want to be him. I don't know any man since Cary Grant that men have wanted to be so much."

At least they think they do. In reality, the actor, born Thomas Connery, son of a truck driver and his charwoman wife, was tenement-raised in the grimier section of working-class Edinburgh. After doing duty in the British Royal Navy from ages 16 to 19, the young 6'2" knockabout worked as an artist's model, entered (unsuccessfully) the 1953 Mr. Universe pageant and finally settled on acting as a permanent path out of the slums. A dropout at age 13, he bolstered his meager education with a remedial diet of Proust, Tolstoy and James Joyce. In the early '50s, after a crash course in song and dance, he landed a chorus spot in a London-based touring company of South Pacific. Confused by his accent, the other actors ignored him. "They thought I was Polish," Connery once recalled.

Fortunately, a decade later, producers Harry Saltzman and Cubby Broccoli didn't make the same mistake. They cast Connery as the lead in a little Ian Fleming-inspired spy picture called Dr. No. "We knew this guy had something," Saltzman would remember. "We all said, 'He's got it.' We signed him without a screen test."

As soon as Connery uttered his signature line, "Bond. James Bond," his character became the Western world's deadliest and most suave spy. And the actor became one of the screen phenoms of the decade, leaving scads of palpitating women wherever he went. Really. "When we walked into a room, it was like the Red Sea had parted," says onetime starlet Carole Mallory, who claims to have dated Connery in the 1970s. Other James Bonds (George Lazenby, Roger Moore and Timothy Dalton) came and went, but in the public mind only Connery held true title. "If I had my druthers, I'd like to be married to Roger Moore—but have Sean Connery as my lover," says Lois Maxwell, the Miss Moneypenny of nearly all Bond films. "He has a cross between menace and humor in his eyes. And he has a chewable bottom lip."

Despite the onscreen fun and fantasy, the seeming lady-killer has spent most of his adult life with a wedding band on his finger. From 1962 to 1973 he was wed to Australian-born actress Diane Cilento, and since 1975 he has been married to French painter Micheline Roquebrune. Connery has one child by Cilento, Jason, 26, an actor who will star in TNT's March airing of—fittingly—The Secret Life of Ian Fleming.

"Sean is what he is," says Micheline. "He's not trying to hide anything. That genuineness by itself is sexy in a man." And there is every indication that Connery will stay genuine—right down to his boots and up to the well-receded hairline he refuses to disguise offscreen. A quarter century ago Connery said, "More than anything else, I'd like to be an old man with a good face, like Hitchcock or Picasso." That wish has been more than exceeded, and wigs, weaves or "letting 18 hairs grow a foot and a half long so they can be wound around your head," he says, aren't his style. Just let your head be, "and you don't have a problem."

Vanity, thy name is not Connery. He is even willing to suggest a better candidate for sexiest man: Mikhail Gorbachev. "I can't answer for women, but I find him very attractive as a man's man"—an appeal Connery attributes to the Soviet leader's "extraordinary combination of intelligence, baldness and serenity. Almost Buddha-like." Nice try, Connery, but you're still it.

—Susan Schindehette, Fred Hauptfuhrer in London, Sue Carswell in New York, Jacqueline Savaiano in Los Angeles


Advertisement
Treat Yourself! 4 Preview Issues
The most buzzed about stars this minute!