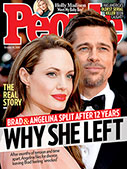 This Week's Issue!
People Top 5
LAST UPDATE: Tuesday February 10, 2015 01:10PM EST
PEOPLE Top 5 are the most-viewed stories on the site over the past three days, updated every 60 minutes
No High-Pollutin' Actor, Ed Begley Jr. Successfully Recycles His Love Life and Career


Though the movie is a box office disappointment, Begley's part is an enviable one for any actor, especially a moderately successful TV star who, at 40, has only one other major film role to his name—the 1985 horror turkey Transylvania 6-5000. Begley is still awed that he got the juicy She-Devil part. "Everything from then on has been heaven," he says.

Or maybe purgatory, caught as he is between Streep and Barr. Does being the object of their desires mean the bumbling Dr. Victor Ehrlich of TV's St. Elsewhere has metamorphosed into a big screen sex symbol? Damned if he knows. Or cares. "I have no idea if I appeal to anyone other than my daughter," protests the gangly blond. "I'm just the guy in the Nike shirt and shorts here. I'm just me."

But let's rewind—to the actor's entrance. "Sorry I'm late," Begley says, pedaling his clunky mountain bike up to his two-bedroom house in L.A.'s Studio City. A dedicated environmentalist, Begley is heavy into saving energy. He rides his bike to and from appointments. He recently took his son, Nick, 10, to a nearby department store on a bus. "The trip took two hours," says Begley. "But I told Nick that, as a group, we were getting 273 miles per gallon."

Chez Begley should be praised by the Environmental Protection Agency. The thermostat is computer regulated so that the house is rarely warmer than 65°F, and there's a room for recycling trash. Yet the atmosphere is certainly not austere. Begley's office holds a set of drums (he played a drummer in the 1984 feature This Is Spinal Tap), photos of his two kids, Nick and Amanda, 12, and the 1962 Best Supporting Oscar his father won for Sweet Bird of Youth.

So what's missing in this homey picture? His family. After nearly 13 years of marriage, Ed and his wife, Ingrid, divorced in October. Ingrid lives outside Santa Barbara with the children. It's an old story, the co-respondent being Ed's career. "I don't know if St. Elsewhere accounts for or added to the breakup," he says.

After almost a year of not speaking, Ed and Ingrid hashed things out in London last July. Ed was there filming the forthcoming USA Network movie Not a Penny More, Not a Penny Less, based on a book by novelist and former House of Commons member Jeffrey (Kane & Abel) Archer. "She cried and I cried. Now she's happy, and I'm happy, and the kids are happy." Ed spent part of the holidays with Ingrid, the kids and her boyfriend.

Begley has had plenty of practice resolving emotional difficulties. In 1978 he began steps to stop drinking. As a youngster he had an uneasy relationship with his famous father. When, at 16, Ed Jr. got his birth certificate to apply for his driver's license, he discovered his mother wasn't Ed Sr.'s first wife, Amanda, as he had been told. She was an NBC page with whom Ed Sr. had a long-term relationship. Since then he has periodically visited his mother, a retired schoolteacher in upstate New York.

The last time Ed saw his father was in 1970, when they dined together at his dad's L. A. club, shortly before Ed Sr. died. "He was at a Hollywood party, at agent Jay Bernstein's house," recalls Ed. "My father put his head back to laugh and had a heart attack. Neither of us has been asked to a Jay Bernstein party since. It's really cast a pall on the Begley name in the party circuit."

Beyond the black humor, Ed, a former cameraman, says he wishes his father had lived long enough to witness his success in front of the lens. "I don't want to go into a Shirley MacLaine spin-off, but I think his DNA or something is listening. There's some part of him around here somewhere." For his own part, Begley says that 1990 looks great because:

1. He has a starring role in another feature film, a comedy with an environmental message called Meet the Applegates, scheduled for spring release. "I play a cockroach who tries to stop the human race from destroying the planet."

2. He has a new romance with aspiring opera singer Rita Allan, begun while he was filming Not a Penny More. Is the romance serious? "All romance is serious."

3. After a year of abstinence, Ed's ex-wife has started recycling again. "She thought it was silly, that it was my idea and my cause. I felt bad that I tried to force my ideas on her," he explains. "But now she's doing it for all the right reasons."

—John Stark, Kristina Johnson in Los Angeles


He's a two-faced guy, this Ed Begley Jr. Dress him up, put a fancy babe on his arm, and he's as handsome as a silent-screen star. But rumple his clothes, stick him with a frumpy frau, and you got a humanoid version of Roger Rabbit. This Janus-like quality has often proved disconcerting to casting agents who can't decide whether Begley's a character actor or a leading man. But it's what convinced director Susan Seidelman to cast him in her movie She-Devil. "What's great about Ed," she says, "is that he can play a nerd—or Prince Charming." Abracadabra! Begley gets to rush from the rotund arms of Roseanne Barr into the silken embrace of Meryl Streep. In She-Devil, a comedy of revenge, the two stars are at war with each other, desperate for his affections.
Advertisement
Treat Yourself! 4 Preview Issues
The most buzzed about stars this minute!