People Top 5
LAST UPDATE: Tuesday February 10, 2015 01:10PM EST
PEOPLE Top 5 are the most-viewed stories on the site over the past three days, updated every 60 minutes
How Do You Spell Love and Bliss?
For Wheel of Fortune Host Pat Sajak, the Answer's Easy. Just Buy a Vow and Say L-E-S-L-Y B-R-O-W-N
Wheel of Fortune's Pat Sajak, 43, stood at the altar of a candle-lit church in Annapolis, Md., solemnly pronouncing his marriage vows. Serenaded by a 21-piece orchestra playing Greensleeves, the cherub-faced groom needed only one consonant and two vowels to complete the key phrase and win his bride, Maryland model Lesly Brown, 24, who radiated happiness as her new husband said the magic words, "I do."

Last September, when the groom revealed his engagement to some 5 million viewers of his late-night Pat Sajak Show, many of his far larger audience of 20 million Wheel of Fortune devotees were surprised to discover there was a woman in his life other than his on-air letter turner, Vanna. Indeed, for Sajak, whose friendly, clean-cut manners made him the kind of boy any mother-in-law would love—and helped make Wheel the highest rated syndicated show on TV—this trip down the aisle had been wholly unexpected. Divorced in 1986 after a seven-year marriage to his first wife, Sherrill, Sajak says that just over a year ago he gave Brown this blunt response to the question of a second try: "No, no, no, no, no, no, no!"

But that was when Sajak was sharing only a platonic friendship with the aspiring actress who once posed for a Playboy pictorial titled "Women of Washington," skimpily clad in sheer red lingerie. In fact, the beginning of their relationship was anything but auspicious. When they were introduced at the opening of a mutual friend's California sports bar in the summer of 1988, "There was no electricity in the air," says Sajak, remembering the meeting. Turning to Brown, he adds, "The subject of you didn't come up in my car ride home."

Still, over the next few months they went out a few times and talked regularly long distance whenever Brown returned home to Maryland. "He was fun and easy to talk to," she says. "But it wasn't romantic." Adds Sajak: "Often the calls were, 'Well, I have to hang up now. I'm going out on a date.'" By the spring of 1989, "It was obvious that there was something more going on," he says, but neither of them would make the first overt move.

Ironically, their relationship might have remained forever stalled at that stage if a game show hadn't supplied the necessary momentum. Before meeting Sajak, Brown had appeared on The Dating Game, and last June she collected her winnings by traveling to Mexico—under chaperon—with the handsome bachelor who had chosen her on the show. "Frankly, I was a little annoyed at that," says Sajak with a smile.

"There was definitely borderline jealousy," teases Brown. "That was good."

It was. When Brown returned, Sajak hurriedly flew east to check things out, and suddenly, he says, "I knew she was the woman I wanted to spend the rest of my life with." Back in L.A., he confided his plans for marriage to his longtime pal and talk show sidekick, Dan Miller, who, says Sajak, promptly replied, " 'Are you Pat's evil twin?' He was taking my temperature." By Labor Day, Sajak had slipped a three-carat-plus marquise-shaped diamond on Lesly's finger, and four months later, with Miller as his best man, he was making his match official in a 19th-century Catholic church.

When his tall, brunet bride appeared at the church doorway in a close-fitting white taffeta gown trimmed with sequins, lace and pearls, the waiting groom lifted his eyebrows in awe. So old-fashioned was the ceremony that the priest extolled the blessings of a wife who is silent and keeps a clean house. Afterward, Sajak cracked, "Lesly swore to keep quiet and clean the toilet every day. I thought he should say a word about Mop & Glo."

The mood remained light as the guests proceeded to the reception, held under a white tent behind Lesly's parents' two-story home outside Annapolis. Ignoring the frigid winds, which blew in beneath the canvas and made trips to the Porta Potties rather daunting, the guests danced in the new decade while snacking on ham and biscuits and egg rolls.

Despite the couple's 19-year age difference, all the Browns, including Lesly's sisters Wendy, 27, and Kelly, 21, were thrilled by the new member of the clan. "I finally have a boy in the family," said Lesly's father, Michael, a dentist, who then joked, "I gave him a littie car for Christmas and next year I am going to give him an electric train." And, he added, "He has gorgeous teeth."

Lesly's mother, Maria, is also fond of Sajak but confessed, "This might be horrible to say, but we don't watch TV that often, and that is not going to change even if Pat is our son-in-law. We prefer reading and decorating the house."

Vanna White, accompanied by boyfriend George Santo Pietro, owner of several Italian restaurants in L.A., clutched a tearstained handkerchief throughout the wedding and laughed at the suggestion that she and Sajak would have made a good twosome. "Pat and I have such a good relationship on a platonic level. The fact that he got married isn't going to change that. We will continue to see each other. Lesly can even join us. She isn't jealous."

Another thing Lesly isn't, says Sajak, is extravagant. Although he can certainly support her in style (he reportedly earns $60,000 a week from the talk show, and much more from Wheel), his bride is no material girl. Their first fight occurred when Sajak insisted on hiring a limousine to ferry people from St. Mary's Church to the rehearsal dinner. "It was only five blocks, and there was no need," Brown says. When Sajak refused to drop the idea, she put her foot down (unsuccessfully) by asking him, "Why don't we just take $50 and burn it?"

As the last of the champagne bottles was emptied, the new couple kicked back for a few minutes before taking off on a brief Caribbean honeymoon. Although his late-night ratings have been sinking since last year's debut, prompting talk of imminent cancellation, an optimistic Sajak says, "I have had a good career. When the current phase sort of fades out, I don't have to charge into something else. I would like to step back from it a little bit and raise a family." (Sajak is not completely inexperienced in such matters, having adopted his first wife's son, who is now 22.) Lesly, who graduated from the University of Maryland in 1986 with a degree in television production, once planned to go to law school but now wants to stay home in L.A. and take care of what her husband calls "a little Sajakian."

Sighing like lovesick adolescents, both agreed they couldn't be happier. "It is frightening," says Sajak. "We are already doing the thing where you start a sentence and the other person finishes it for you."

On Wheel of Fortune, of course, that's just the idea.

—Jeannie Park, Vicki Sheff in Annapolis


Advertisement
Today's Photos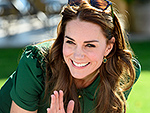 Treat Yourself! 4 Preview Issues
The most buzzed about stars this minute!