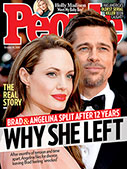 This Week's Issue!
People Top 5
LAST UPDATE: Tuesday February 10, 2015 01:10PM EST
PEOPLE Top 5 are the most-viewed stories on the site over the past three days, updated every 60 minutes
Trendy Aspen Warms Up for a Showdown in the Bitter Cold War Over Furs


Pacheco may be right. Animal rights has become the nation's latest life-or-death issue—as emotionally charged for some as abortion and capital punishment. Across the country, antifur activists have gone on the offensive—heckling strangers on the street, spray-painting their coats, even torching fur stores. The tactics have had their effect: After more than tripling from 1979 to 1987, annual fur sales have stagnated, and public awareness of the issue is on the rise. Both L.A. Law and Designing Women recently screened episodes involving the controversy, and Hollywood stars including Kim Basinger, Candice Bergen, Daryl Hannah and Golden Girls Betty White and Rue McClanahan have taken a stand against wearing fur. "When I see a woman wearing a fur," says McClanahan, "it looks primitive to me. I want to go up to her and say, 'Why don't you put a bone through your nose too?' "

Tempers are running especially high in Aspen, which, despite its idyllic setting, has turned into a kind of war zone. On the one side is Stirling, 47, and his wife, bookshop owner Katherine Thalberg, 54, the daughter of Hollywood producer Irving Thalberg and actress Norma Shearer, who head the Aspen Society for Animal Rights (ASAR). On the other side there are two groups for locals to choose from: the Aspen Concerned Citizens Coalition (ACCC), which formed in part to oppose the fur ordinance, and the Aspen Recall Coalition (ARC), which is mounting a campaign to oust the four-term Mayor.

Stirling contends that only four fur shops in Aspen, as well as 25 or so other stores with "a limited inventory of fur-related items"—such as fur-lined gloves and earmuffs—would be affected by the ban, which would take effect in February 1991. Nor is he worried about the tax revenues that would be lost as a result of closing the shops. "I would say it's a minor percentage," says the Mayor. "But that's not what's important here. What is important is the animals we save."

The ACCC disputes the Mayor's numbers and is incensed by his priorities. The coalition says that more than 100 stores would be affected by the ban, including clothing and shoe shops, even cosmetic shops that sell fur brushes. "We would be impacted because we have lots of Indian artifacts," says Joel Lapin, vice president of Curious George Collectibles, pointing to a deerskin dress. The ACCC also believes that Stirling is economically naive. "The indirect message of this ordinance is anyone wearing furs is persona non grata," says Terry Butler, owner of a gym where celebrity clients from around the world pay $75 an hour for individual weight training. "This affects tourism, and Aspen has only one economy—tourism."

Cath Zupancis, co-owner with her husband, Bob, of Ozzie's Shoes, says she is getting calls from well-heeled customers in L.A. and New York City, asking if they can even bring furs to Aspen. Mark Kirkland, manager of Revillon's, a fancy Aspen furrier, points out that other ski areas are already queueing up to exploit what he regards as Aspen's public relations disaster. He produces a recent ad from a local paper: "Wanted: Fur coats in Vail. Tired of Aspen's anti-everything? Consider moving to Vail, where fur coats are in and property is affordable."

Both the Mayor's business, a real estate management office, and his wife's bookstore have been targeted for boycott by the coalitions. But Stirling, a longtime environmentalist, is undeterred; he has championed unpopular causes before. Stirling equates the current we'll-lose-business scare to the attitude of restaurant owners in 1985, when Aspen passed the nation's first citywide no-smoking ordinance. "We were threatened with lawsuits. We were told that people would no longer come to town," says the Mayor. "It just didn't happen."

Meanwhile, the battle rages on—with both sides using emotionally freighted images to capture the hearts and minds of the townspeople. Since last spring, Thalberg and the ASAR have been running full-page ads in the two Aspen papers showing graphic pictures of fur-bearing animals with their legs caught in steel traps. "Fur," say the ads. "It's Not a Pretty Business." Another advertisement shows a house cat caught in a fur trap and carries the headline, IS SHE YOUR CAT? Local furriers have been returning fire with ads produced by the New York City public relations firm Burson Marsteller that say, "Today fur. Tomorrow leather. Then wool. Then meat..."

Despite the harsh words and the boycotts, both sides insist they've suffered no casualties. The Mayor and his wife say their businesses have not been affected, and furrier Kirkland says his store is enjoying its "best season ever." These days most Aspenites seem to be waiting to take sides in the voting booth. No one has taken a survey, but if attitudes haven't shifted since a poll taken by the Aspen Times following city elections last May, the anti-fur ordinance might be a loser: At the time, 46 percent opposed the ban and 36 percent were for it.

But even if the furriers fight off the ban, says Thalberg, their victory is bound to be Pyrrhic. "I think we've already won," she says. "No matter what happens with the vote, no one in Aspen will ever look at a fur coat in the same way again."

—William Plummer, Vickie Bane in Aspen, Eleanor Hoover in Los Angeles and Veronica Burns in New York


Aspen, one might think, would be the last place where war would be waged over one of life's little luxuries. Nestled in the Colorado Rockies, the old silver-mining town—now a ski-resort glitterdome—is a place where Hollywood's brightest stars schuss the moguls by day and sip Dom Perignon at night. Yet more fur than snow is flying in Aspen this season, thanks to a controversial ordinance proposed by Mayor Bill Stirling. On Feb. 13 nearly 3,500 registered voters will go to the polls to decide if Aspen is to become the first city in the U.S. to prohibit the sale of wild-animal furs. "It's incredible it's happening there above all places, where it's so cold and so wealthy," says Alex Pacheco, chairman of PETA (People for the Ethical Treatment of Animals). "But I think it's a sign of the times, the beginning of a new wave."
Advertisement
Treat Yourself! 4 Preview Issues
The most buzzed about stars this minute!