People Top 5
LAST UPDATE: Tuesday February 10, 2015 01:10PM EST
PEOPLE Top 5 are the most-viewed stories on the site over the past three days, updated every 60 minutes
Blair Underwood Sheds His L.A. Law Chic to Play Slain Civil Rights Activist James Chaney
People will again be taking note of the crime on Monday, Feb. 5, when NBC airs Murder in Mississippi. Underwood stars as the doomed Chaney, a 21-year-old small town Southerner with limited formal education but a wide knowledge about what ugliness life had in store for those born black. "James was a young man who had very little," his mother, Fannie, told Underwood when he researched the role. "All I ask is that you be honest for him."
Murder in Mississippi Is something of a prequel to the 1988 feature movie Mississippi Burning, and families of the slain civil rights workers say it is far more realistic than the Oscar-nominated film. "Unlike Mississippi Burning," says Chaney's younger brother, Ben, "this movie really tells the truth about what took place in the South at that time."
Underwood badly wanted to play Chaney when the TV film started casting last spring, but the producers responded to his ardor the same way some have responded to his arrogant, abrasive character, Jonathan, on L.A. Law: with disapproval. That Murder's co-executive producer Bernard Sofronski is married to Susan Dey, one of Underwood's colleagues on the show, cut no ice at all. "We didn't want him," Murder's producer Mark Wolper says bluntly. "We didn't feel he could get out of his L.A. Law persona—clean-cut and uptown. We didn't believe he could be down-home."
To prove beyond reasonable doubt that he could, Underwood showed up for the audition wearing sneakers, sweat pants and a T-shirt—"which is usually me, anyway," he laughs. For good measure, he topped off the ensemble with a baseball cap. He got the part after reading barely three lines.
While never a victim of violence, Underwood has had encounters with racism. Moving to L.A. in 1986, he was stopped by police because he was still driving with his Virginia plates. "They assumed my car was stolen," says Blair, adding that when he asked why he was being pulled over, one of L.A.'s finest said, "This is no B.S.," and pulled out a gun.
Still, the incident didn't fully prepare Underwood for shooting Murder on location in Griffin, Ga. On one occasion a middle-aged white male, asking what the movie was about, was told it concerned some white men who'd killed three civil rights workers. "You mean they killed some niggers?" queried the spectator. "We used to be able to do that around here." And actress Jennifer Grey, who plays Schwerner's wife, says, "It was a little disturbing when we did the Klan scene and some of the extras asked if they could bring their own robes."
The second of four children, Underwood was born far from the South—in Tacoma, Wash., the son of an Army colonel, now retired, and an interior decorator. Blair had a peripatetic upbringing—Germany, Colorado and Michigan—before his family finally settled in Petersburg, Va., where Blair began acting in school plays and theater productions.
After almost three years at Carnegie-Mellon University in Pittsburgh, he decided that his education was too much of a strain on the family's resources and dropped out, immediately dropping into a guest shot on Cosby. He followed up with a stint on One Life to Live and a guest appearance as a punk rocker on Knight Rider, before auditioning for L.A. Law, then in its second season.
"Blair came in a very solid person," says Michele Greene, who plays fellow associate Abby Perkins on the series. "He plays a pompous, brash guy who's full of himself. Blair himself is so unlike that. He's unassuming and sweet."
And single. And planning to keep it that way for the foreseeable future. "I'd like to get married one day very much," says Blair, who's currently involved with a San Francisco-based sales manager for I. Magnin. "But I'm not thinking about it right now." Because his own parents have been married nearly 30 years, Underwood has a tough act to follow. "Coming from a household with two people still very much in love, I want my marriage to be absolutely right."
Except on those weekends when a girlfriend comes to visit, he and his German shepherd puppy, Kinga, have their light, airy, three-bedroom Hollywood Hills house all to themselves. Not that Blair is home all that much. He and his brother, Frank, are starting a production company, and the first item on their docket is a miniseries inspired by 19th-century black cowboy Nat Love. "At home, our history as black people in America was always instilled in us," says Blair, who wants to pass that knowledge on. "If you know where you come from, no one can shake your tree."
—Joanne Kaufman, Lois Armstrong in Los Angeles, Maria Speidel in New York
Contributors:
Lois Armstrong,
Maria Speidel.
Two months before L.A. Law's Blair Underwood was born, James Chaney and fellow civil rights workers Andrew Goodman and Mickey Schwerner were murdered by the Ku Klux Klan while attempting to register black voters in Mississippi during 1964's Freedom Summer. Underwood, 25, first heard about the tragedy as a teenager and remembers being "appalled and angered. And I realized if Chaney had been killed by himself, people would not have taken note."
Advertisement
Today's Photos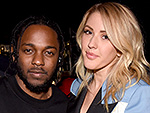 Treat Yourself! 4 Preview Issues
The most buzzed about stars this minute!