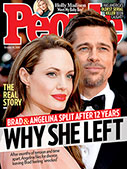 This Week's Issue!
People Top 5
LAST UPDATE: Tuesday February 10, 2015 01:10PM EST
PEOPLE Top 5 are the most-viewed stories on the site over the past three days, updated every 60 minutes
Using the Time He Has Left, Newsman Paul Wynne Reports on a Case of AIDS—His Own


For better than a decade, Wynne was a high-profile figure on the San Francisco entertainment beat. Then six years ago the Emmy award-winning broadcaster's life began to disintegrate. He lost his job, then his house and virtually everything he owned. Finally, two years ago, he learned he had AIDS. Now, in a story full of ironies, Wynne is back on the air at KGO-TV, the station that let him go. He is doing his best work ever, telling the audience about the disease that will one day take his life. His weekly segment on the Thursday evening news is the talk of the city. "I never thought I'd work again," says Wynne. "It's like I've been reborn."

Even in San Francisco, where AIDS has claimed more than 5,000 lives and received exhaustive news coverage, Wynne's Journal has had enormous impact. It is an intimate view of a sick man's daily struggle, touching on matters as disparate as homophobia and the simple physical challenge of making it across a city street crowded with traffic. "This is potent stuff," says KGO news director Harry Fuller. "AIDS is one of those stories that we in the media have covered from the outside. I don't think it has ever been done on TV from the first-person point of view. But I knew Paul would understand how to make it work."

Reared on a mountaintop in Hillsboro, Ore., Wynne wanted to be in the camera's eye most of his life—ever since he stole the show in a high school production of Arsenic and Old Lace. After graduating from Willamette University in Salem, Ore., and serving a stint in the Army, he moved to San Francisco in 1969 and worked in regional theater. By 1972 Wynne's five-year marriage to his college sweetheart had ended, and he had gone into broadcasting, working at several stations, ending up at KGO. In 1984, after three years, the news director who preceded Harry Fuller did not renew Wynne's contract. "I was canned, dismissed, fired," says Wynne.

Although he was happy to be leaving a difficult situation at KGO, Wynne didn't expect his career to implode. "I was sure something would come along," he says now. "I waited for the phone to ring. I had a fancy agent who sent my tapes to every major market in the country." But the phone never rang. Then in September 1987 he was diagnosed positive for AIDS. (Wynne will not discuss his sexuality and says he doesn't know exactly how he contracted the disease.) "I'd been tired all the time," he says. "So, frankly, it didn't come as that big a surprise. I was healthy until May of last year. Then the wasting started." Wynne, who had worked out with weights regularly for years, says he couldn't face being "this pale, shuffling, sick AIDS person." So he hid in his studio apartment for months. It was there that he got the idea for his journal. "Everybody said, 'It's a wonderful idea, Paul. If there's one thing you need, it's a reason to get out of bed in the morning.' A friend who's a cameraman at KGO told the news director, and we did a few segments. I certainly didn't expect this."

Judging from the reviews, the flood of calls and the 300-odd letters that have arrived at the station since the segment's Jan. 11 premiere, Wynne's Journal has touched the hearts of gay and straight people alike. "Thank you for taking your sorrows and translating them into something lovely and fine," one woman wrote. Noted another viewer: "It is so important to show people that most of us with HIV are choosing to spend whatever time we have living instead of dying."

In future segments Wynne will do just that. He plans to examine the contents of his medicine cabinet, chart the expected progress from cane to walker to wheelchair and list the 10 most insensitive comments he has heard about his illness. In all, Wynne says, he has about 50 Journal episodes outlined, an ambitious schedule that gives his father, Harold, 74, cause for both pride and concern. "[The journal] has certainly done him a world of good," says the retired auto-parts dealer. "I worry that he may overextend his energy level. But I recognize that the quality of his life is as important as the length."

Just now, quality is paramount for Wynne, who is still able to look after himself. "It's a cliché," he says, "but this is the most important work I've ever done. Six years ago I was very slick and funny. I thought I was the Tony Randall of San Francisco, getting off the bon mot and pronouncing the Italian tenor's name right. Now I hear time's winged messenger hovering near. I don't want to fool around. I want this journal to be my legacy."

—William Plummer, Dianna Waggoner in San Francisco


The camera pans the face of a handsome, red-haired man in the prime of life. "Golly, I had hair," says the jaunty voice-over. "I had a tan." Then the video cuts to Paul Wynne as he looks today: pale, balding, gaunt with disease, his intense blue eyes peering out of the hollows of his face. "This," says Wynne, 47, a San Francisco TV reporter, "is the face of AIDS." Wrapping up the premiere of his new show, Paul Wynne's Journal, he stares into the camera. "Maybe you think you didn't know anyone with AIDS," he says. "You do now."
Advertisement
Treat Yourself! 4 Preview Issues
The most buzzed about stars this minute!