People Top 5
LAST UPDATE: Tuesday February 10, 2015 01:10PM EST
PEOPLE Top 5 are the most-viewed stories on the site over the past three days, updated every 60 minutes
Esther Rolle's Maid-with-Sass Trades Good Times for Hard Times in Driving Miss Daisy


You believe her. In a 45-year career she began as a dancer, Rolle, 67, has proved a force to be reckoned with. Right now, it's her Miss Daisy part that annoys her. "Idella answers in one-word sentences and then doesn't have anything to say for the next 40 years," she complains. "It's a pretty superficial character." Despite the near-cameo size of the part—which was not in the Pulitzer Prize-winning play—Esther gets noticed. "Idella isn't anybody's mammy," wrote Peter Rainer in the Los Angeles Times, "and her sass gives the movie a much-needed jolt of rage."

Best known as Florida Evans, hired by Maude (CBS, 1972-74), then spun off to her own Good Times (1974-79), Rolle has indeed been typecast as the maid, but it's a part she has reinvented with pride. "I'm glad to take on the role of a domestic," she explains, "because many of your black leaders, your educators, your professionals came from domestic parents who made sacrifices to see that their children didn't go through what they did." But, she adds, "I don't play Hollywood maids, the hee-hee kind of people who are so in love with their madam's children they have no time for their own."

Whether playing a servant—or Lady Macbeth, as she did onstage a decade ago—she has consistently found herself in quality productions with meaty parts. She scored raves for her performance of the rock-solid mother in A Raisin in the Sun on PBS last year and won an Emmy for the 1978 NBC movie Summer of My German Soldier. "A lot of people are stars," says Miss Daisy co-star Morgan Freeman. "Esther's a working actress. She is a strong person, straight ahead." Says Rolle: "I'm not so in love with material things that I'll do anything for money. That allows me the luxury of doing things of value."

Lighting up a cigarette in the two-story stucco house that looks out over downtown L.A., the majestic, sometimes imperious Rolle softens. She longs to tend her withered garden, but a full schedule that includes tours of schools has kept her away from home. Married once but without children, Rolle has nevertheless played mother offstage: The 10th of 18 children who grew up on a 10-acre farm in Pompano Beach, Fla., she helped care for her younger siblings, a practice that continued into adulthood. "Everyone under me has lived with me at one time or another," she says. Now, unfortunately, only six siblings remain. "Cancer has dogged us," she laments. "Lord have mercy, you don't know what to do. You take care of yourself as best you can." Four years ago the family gathered in the Bahamas, her late parents' birthplace, for a reunion.

When worried or anxious, Rolle turns to her pots and pans. "Your mind flashes back to your childhood. You remember what Mama used to bake and you do that. Then you call some relatives over and you have a ball eating." Would she marry again? "If I found somebody I could tolerate—or who could tolerate me. But I don't walk behind no man."

Still she credits her acting genes to her father, Jonathan Rolle, a vegetable farmer who was the deacon of the family's Baptist church. "If my daddy hadn't lived in a society that rejected his color, he would have been an actor or a lawyer," she says pointedly. Inspired by Jonathan, a noted storyteller, her older siblings formed a drama group, which toured Florida. At 18, Esther followed her two actress sisters (the late Estelle Evans, who appeared in To Kill a Mockingbird, and Rosanna Carter, who played the judge in She-Devil) to New York, with designs on being a writer; ironically it was a writing teacher who talked her into acting classes instead. Because of her tall, lithe body, she was recruited by the Asadata Dafora troupe and danced with the company for 12 years before joining the Calypso Carousel.

In 1955 Esther married a pants presser in a dry-cleaning shop. "Being the great housewife, I was cooking and eating," she recalls. "Mama and Papa applauded me. Oh, dear! I didn't know how to stop enjoying the compliments until it was too late—until I am the big buffalo I am today." The marriage ended in 1960, and Esther, a member of the Negro Ensemble Company, eventually went on to Broadway and such hits as Blues for Mister Charlie and Purlie Victorious. The weight gain helped. "The image of a black woman," she says, "was always a fat black woman."

Though she rolled with the clichés, eventually they became a burden. In 1977 Esther walked out of the still high-rated Good Times series because she felt the popular character J.J., played by Jimmy Walker, was tailored into a buffoon. "I told the producers, 'I did not agree to do a clown show for you to degrade young black men,' " she says. CBS won her back, but only for one more season. Rolle says it's the kind of battle she'll fight again if she has to. "I ruffle a lot of feathers," she admits. "And I'm also selective—that makes you a troublemaker. But so be it. I laid a cornerstone for black actors, and that makes me happy."

—Tim Allis, Lois Armstrong in Los Angeles


The hard part was dying. As Idella, the long-suffering housekeeper in Driving Miss Daisy, Esther Rolle played her last scene lying in a casket. "The director says, 'Esther, I see you breathing,' " Esther reports, "and I said, 'Don't holler at me. You don't need a close-up on my face nohow.' " Rolle laughs—a deep, rich chuckle. "That's my last time in a casket until I don't know about it."
Advertisement
Today's Photos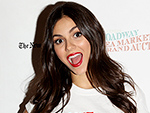 Treat Yourself! 4 Preview Issues
The most buzzed about stars this minute!