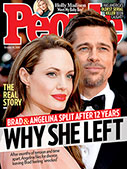 This Week's Issue!
People Top 5
LAST UPDATE: Tuesday February 10, 2015 01:10PM EST
PEOPLE Top 5 are the most-viewed stories on the site over the past three days, updated every 60 minutes
After Their Daughter Is Murdered at College, Her Grieving Parents Mount a Crusade for Campus Safety


There was no mystery about who Jeanne Ann Clery's killer was. Josoph M. Henry, then 20, had boasted to friends about the murder and had some of the girl's property in his possession when the police came for him. Nor was there any mystery about how Henry, who lived off campus, managed to enter the girl's Stoughton Hall dorm. Three doors, each equipped with automatic locks, had been propped open with empty pizza boxes for the convenience of the resident students. They were equally convenient for Henry, who had been on an all-night drinking binge after losing a close student election to head the Black Student Union. Convicted in April 1987 after two hours and 15 minutes of jury deliberation, he was sentenced to the electric chair and is now appealing. "I hope I live long enough, because I'm going to be at his execution," vows Howard Clery, 60. "I ask God to help me with it, but I have enormous rage."

Clery's anger, however, soon extended further than his daughter's killer. During the trial, he and his wife learned about the lapses in security at Lehigh, and shortly after the verdict was announced, they filed a $25 million suit against the college for negligence. It was to be the first round in a campaign that would touch state legislatures, colleges and concerned parents across the country. The Clerys had lost a daughter, but the loss ignited a cause.

The suit was settled out of court (the family is prohibited from disclosing the amount), but the Clerys were not ready to close the book. They used the cash, as well as their own money, to launch Security on Campus, Inc., a nonprofit clearing house for information and advice. They began lobbying state lawmakers for statutes requiring colleges to publicize their crime statistics—not a detail generally found in cheery recruitment brochures—and in May 1988, Pennsylvania Gov. Robert Casey signed the first such bill mandating that all state colleges and universities publish three-year campus-crime reports. In addition, schools are required to have clear policies regarding alcohol and drug consumption on campus. Three more states have followed Pennsylvania's lead, 21 others have statutes in the works, and the Clerys have already begun campaigning for a federal bill as well.

In their own case, they had thought they were acting prudently when they selected a college for their only daughter. Jeanne's older brothers, Benjamin, 28, and Howard III, 31, had both graduated from Tulane University in New Orleans, and she had been accepted there as well. But the Clerys learned that a Tulane coed had been murdered off campus, and they decided to look for some place safer. They picked Lehigh, located in the rolling countryside of Bethlehem, Pa., about 60 miles from their Bryn Mawr, Pa., home. "It was so green-looking, and the people were very warm," says Connie. "Jeanne and I fell in love with it."

They assumed that Lehigh was as safe as it looked. They didn't know about the crimes that had occurred there recently. And they didn't know about Josoph Henry, a sophomore who had lost his restaurant job because of his violent behavior and who had once thrown a rock through a coed's window. Only later did they learn of the increase in crime that had taken place on the idyllic university campus.

With only 12 security guards and 5,400 students, Lehigh had been the site of 38 violent offenses—including rape, robbery and assault—in a three-year period. "Penn State, with six times as many students, had just 24 violent crimes," says Howard. "So you can see which school has the better security system." Yet making such comparisons is often impossible since "what citizen gets the FBI crime report when they're trying to decide where their children should go to college? Who would even think about doing that?"

Clery, the now retired founder of Rapidforms, a direct-mail business forms company, began by preparing a questionnaire for parents and prospective students to give to schools. It requests information on campus-crime rates, security procedures, dormitory guards, alarm and lock systems, drug and alcohol policies and more. "Eighty percent of the crimes committed on college campuses are committed by students," says Howard. "Schools have got to do something."

So far, more than 150,000 requests for Clery's questionnaire have been received at the Security on Campus headquarters in Gulph Mills, Pa. The organization, which has three paid staff members and five full-time volunteers, had been based in the Clery's home but moved last December to its present offices, five miles away. "It was just too hard, always seeing those grim headlines every time we turned around," says Connie, recalling the newspaper clippings the group had begun to collect.

At home, of course, there are reminders enough of their daughter. In the courtyard is the statue of a slaughtered lamb, a memorial to Jeanne. There are pictures of her on the mantel, on the desks and on the walls of the four-bedroom home. Her room remains untouched; tennis trophies remain on the shelf above her bed, and nearby sits a framed Prayer of St. Francis of Assisi, a crucifix and the dingy Snoopy doll that was her favorite.

"She was one of the first girls on the Radnor Little League team," boasts Howard, a stocky man given to cigars and verbal bluntness. Clery contracted polio at 15 and still walks with the aid of two metal canes. He is obviously a scrapper, but like the soft-spoken Barnard graduate he married 33 years ago, he speaks haltingly of his daughter now, fighting back emotion. "Most Americans saw [the space shuttle] Challenger splinter into a billion pieces," Connie says. "That's what happened to our hearts."

Calling Jeanne's death "a terrible tragedy," Lehigh spokesman Dr. John Smeaton says the school has instituted a number of changes. There are now three more security guards, 24-hour-a-day patrols in the residence halls, a new emergency phone system, an evening shuttle service and, says Smeaton, "a major commitment to combat underage drinking." As a result, he says, campus assaults have diminished by about half in the past three years. Though the tragedy of their daughter "has torn me apart," says Connie sadly, "in one sense it's been good, because we're helping so many others. And it deadens you. Nothing can hurt me now, and I have no fear. In a way, Jeanne's death has freed me."

—Ken Gross, Andrea Fine in Bryn Mawr


The last time Constance and Howard Clery saw their daughter, a sunny Lehigh University freshman, was on an April morning in 1986 when they dropped her off at her Pennsylvania campus after spring break. Five days later Jeanne Ann Clery, 19, was found dead in her third-floor dorm, murdered by a fellow student. She had been raped, sodomized, beaten, bitten, strangled with a metal coil and mutilated with a broken bottle during the attack. At the mortuary, her distraught parents asked other family members to precede them into the viewing room because "unless she was normal, we knew we couldn't go in there. We knew we'd never be able to survive it," says Connie Clery. Recalls Howard: "They looked at her, then came to us and said, 'Jeanne's not there.' "
Advertisement
Treat Yourself! 4 Preview Issues
The most buzzed about stars this minute!