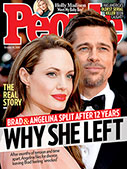 This Week's Issue!
People Top 5
LAST UPDATE: Tuesday February 10, 2015 01:10PM EST
PEOPLE Top 5 are the most-viewed stories on the site over the past three days, updated every 60 minutes
An Ex-Marlboro Man Who Can Really Ride, Brad Johnson Adds Sigh Appeal to Always


The very model of a modern macho man, Johnson rode out of a 1987 Marlboro commercial into print ads for Calvin Klein. Before that, he was hoisting brew-skis for Busch—and wrestling steers as a rodeo cowboy. "He's certainly got a different quality than the guys today," says John Milius, who directed Brad in Flight of the Intruder, due this summer. "He has a real strong presence."

But gosh, ma'am, "I don't know what the allure is," the budding star protested, as he finished a grueling Intruder rescue scene in the mountains of Hawaii's Kauai. "And maybe I don't want to know." For one thing, he's got a little woman back home in Texas—and a newborn son, Shane. Stuck filming in L.A. in November, Johnson, 30, got a lucky break and made it home to wife Laurie, 27, for the delivery. And he wasn't nervous at all. "There's nothing you can do about it," he says. "So you get your catcher's glove out and get ready."

A day after the birth, he was flying back to L.A. "Laurie's really put up with some crap being with me," he allows. He met the former model while he was on the rodeo circuit in 1983. "I had to beg her to go out with me," he recalls. She succumbed to his subtle strategy: "I stayed on the far side of the table and tried not to be in the attack mode."

Six months later, he took her home to his folks. "If we had searched the state of Texas, we could not have found a nicer girl," says Grove Johnson, 69. Grove, a retired cowboy, and his wife, Virginia, 67, raised Brad and his older sister, Beth (now an artist in Oregon), on a cattle ranch outside Tucson. "You could take that man, strip him down and drop him anywhere, and he could make a living," says Brad, "and he taught me the same thing." Brad learned to drive a car at age 7 and pilot a plane at 8. "We were never afraid to do anything," he says. He entered Southern Oregon State University on a baseball scholarship.

Just 16 credit hours short of his business degree, though, Johnson dropped out. Later he accepted a rodeo scholarship to the College of Southern Idaho. In 1982 he took to the professional rodeo circuit full-time. "There's no other life like it," he says wistfully. "It's the last real American sport." He was forced out of the saddle in 1986, after injuring his knee.

Fortunately he made Laurie his bride soon after. She suggested he consider acting. His first role was in a 1989 Roger Corman flick called Nam Angels. His second was opposite Hunter and Richard Dreyfuss in Always. "From Roger Corman to Steven Spielberg," he says, shaking his head. One of the hardest parts of filming the latter, he adds, was playing against Dreyfuss's ghost. "He'd be whispering things in my ear and poking me."

As if that didn't cut the 6'3" newcomer down to size, there was his next filmmaking experience, co-starring with Danny Glover in Flight of the Intruder, based on Stephen Coonts's 1986 novel about naval aviators in Vietnam. "When we went out, people would look at me, go 'Naaaah'—and run to Danny." A good sport, Johnson pretended to be Glover's bodyguard. "This may be my best time," he says, "because I can do good projects, but I can still go out and eat by myself."

Lately, however, he's been hanging in, not out, settling his family into a new four-bedroom home near Dallas and spending time with Shane. "It kind of does something to you to see this little tiny thing, holding on to you," says Johnson of his son. Holding on to ordinary life, he wants to keep this Texas base. "If things work out in Hollywood, great," he says, "but if something happens that I don't like, adios." Then he smiles. "It's kind of like my dad says: You only go this way once, and if you do it right, then once is enough."

—Cynthia Sanz, Kristina Johnson on Kauai


Maybe it's that chiseled jaw. Those sparkling brown eyes. Or that awshucks charm. Whatever the attraction, Brad Johnson is winning comparisons with such legends of the rugged-but-bashful school as Gary Cooper. "All twisted steel and sex appeal" is how Holly Hunter's character describes him in Steven Spielberg's high-flying, fire-fighting romance, Always. And then she balks: "I can't be with a guy who looks like I won him in a raffle."
Advertisement
Treat Yourself! 4 Preview Issues
The most buzzed about stars this minute!