People Top 5
LAST UPDATE: Tuesday February 10, 2015 01:10PM EST
PEOPLE Top 5 are the most-viewed stories on the site over the past three days, updated every 60 minutes
A Paladin of Publicity Bows Out in Grand Style
Malcolm Forbes Owned Castles and Yachts, Ran with Bikers and Movie Stars, and Almost Proved His Maxim: "He Who Dies with the Most Toys, Wins"
The memorial service was really the last of Malcolm's legendary parties—a land-locked yacht ride for dignitaries, titans of industry and show-business celebrities. Where else would former President Richard Nixon find himself stuffed into a pew cheek-by-jewel with Forbes's frequent escort of recent years, Elizabeth Taylor? Many of the 2,000 who gathered to praise Malcolm, not to bury him, later streamed through the limestone Forbes Building on lower Fifth Avenue for a New Society-style wake featuring cocktails, pate and smoked salmon. On display were selections from Forbes's vast collections of art and artifacts, including antique model boats, toy soldiers and manuscripts. At the time of his death, estimates of Malcolm's wealth ranged from $400 million to $1.25 billion, though Forbes magazine itself coyly declined to pin down the exact total in its annual list of richest Americans. He owned eight homes, including Timberfield, the 40-acre Far Hills, N.J., estate where he died in his sleep on Feb. 24; a palace in Tangier, Morocco; a chateau in Normandy; and the island of Lauthala in Fiji, where Forbes had directed his ashes be buried under a marker with the epitaph WHILE ALIVE, HE LIVED. In addition to the family's feisty business magazine, which media analysts estimate may be worth as much as $600 million, Forbes also held 400 square miles of real estate, 2,200 paintings and 12 Russian Imperial Faberge eggs, more than even the Soviet government.
Still, it was not money that made Forbes a household name, but the way he flaunted what it could buy. He entertained royalty on his 151-foot, helicopter-equipped yacht, The Highlander, and jetted around the world in his private 727 (named Capitalist Tool). He set six world records in hot-air ballooning—he was the first person to fly coast-to-coast in a single balloon—and led "goodwill" motorcycle and ballooning tours to unlikely destinations including the Soviet Union, Thailand, China and Pakistan. Only last August, his $2 million 70th-birthday bash in Morocco sparked an acrimonious debate about the morality of such conspicuous presumption.
Though he appeared to be a natural extrovert, Forbes's expansive personality was late in developing. Not until middle-age did he make the metamorphosis from financial duckling to the flamboyant media prince the public came to know. "He was originally and basically a very shy person, uncomfortable with people," says James W. Michaels, the editor of Forbes and a 36-year associate of its publisher. "Over the years, he more or less remade his persona. He realized that in both business and politics, it was very useful to have a public image before making a call and trying to sell something."
A Princeton graduate, Forbes received a Bronze Star and a Purple Heart after the Battle of Aachen, then, at the end of World War II, joined the family publishing business run by his taciturn Scottish immigrant father, B.C. "Bertie" Forbes. He also tried his hand at politics, winning the Republican nomination for Governor of New Jersey in 1957, but was soundly defeated in the general election by Democrat Robert Meyner. The loss marked one of the few times his children remember seeing Forbes downcast. "What struck me was when something went wrong, he looked as if you had punched him in the face," remembers his eldest son, Malcolm S. Forbes Jr., 42, known as Steve. "But he very quickly went on to the next thing." After the death from cancer of his older brother Bruce, in 1964, Malcolm put politics out of his mind for good and took on the top job at Forbes, Inc.
It was then that his personal transformation began. Far from engaging in the lavish entertaining that became his trademark, Forbes was known at the time mainly for his conservative politics and solitary habits. His daily custom was to withdraw to a luncheonette across the street from the Forbes offices in Manhattan, accompanied only by a book. Then gradually he discovered a flair for self-promotion and warmed to the spotlight. When, by the early '80s, Wall Street was booming, Forbes was ready to present his magazine—and himself—as the very embodiment of the limitless success possible in America.
The Forbes trappings—the yacht, the plane, the parties, the giant balloons bearing the magazine's logo—were all part of a strategy of megapromotion. Wherever he went, much of Malcolm's entourage consisted of potential Forbes advertisers, and the boss was known to sell a sizable percentage of the magazine's ads himself. Revenues increased enormously under his guidance. But Forbes editorial staffers complained that Malcolm sometimes overused the prerogative of ownership, engaging in the journalistically suspect practice of softening or killing stories to protect friends or advertisers. And there was persistent speculation—officially denied by the magazine—that Forbes's widely read "Fact and Comment" column was produced by a ghostwriter.
Majority control of the Forbes empire now falls to son Steve, who will receive 51 percent of the estate. The rest will be divided among the four other children: Robert, 41, who oversees the family real estate properties; Christopher (Kip), 40, who is curator of the many Forbes family collections; Timothy, 37, the president of the Forbes-owned American Heritage Magazine, and Moira Forbes Mumma, 34, who works with the physically handicapped. While alive, Malcolm had discussed his will freely. He said he feared that dividing his estate equally among the children would lead to infighting and leave the company rudderless. His offspring now insist they are all pleased with the way the pie has been cut, though some observers worry that the cerebral Steve may lack the panache necessary to fill his zestful father's shoes. Others take comfort from the fact that similar criticisms were once directed at Malcolm. And Malcolm's father had himself developed his more pronounced eccentricities—including growing his hair long—only later in life, suggesting perhaps that Forbes men become more interesting with age.
Naturally, Malcolm Forbes's wealth and relentless self-promoting ways made his personal life the object of considerable attention. In 1985 he and his wife of 39 years, Roberta Laidlaw Forbes, divorced. She now divides her time between a small New Jersey house and a ranch in Colorado. Sources close to the family say the split was due primarily to Mrs. Forbes's longtime disdain for publicity and Malcolm's increasing hunger for it. (At the memorial, Liz Taylor took the place of honor—the aisle seat on the first row. Mrs. Forbes ended up buried in the middle of the row.) Forbes's subsequent friendship with Taylor was a source of endless fascination to the tabloid press, though the two announced often—and persuasively—that they were simply good friends. Some suspected Forbes's relationship with Taylor was one of mutual convenience. Getting onto the gossip pages helped Malcolm sell magazines and Liz her perfume, Elizabeth Taylor's Passion.
In recent years, Forbes's exuberant nightlife generated persistent if unproven rumors of his homosexuality, especially on the New York City club scene and in the magazine publishing world. In a soon-to-be-released unauthorized biography of Forbes, Wall Street Journal reporter Christopher Winans will reportedly substantiate stories that Forbes, father of five and grandfather of eight, was at least bisexual. "There are going to be some very startling details in this book," says Winans's agent, Jane Dystel. Meanwhile, Out Week, a New York magazine published for gays, was scheduled to feature Forbes on its cover this week and to name at least one former lover.
For their part, family members have either denied such rumors or declined comment. Asked about the rumors, Robert Forbes told PEOPLE, "Well, I don't like to see things about people's private lives in print. I don't really have any comment."
Rather than speculate about reported relationships, the Forbes heirs preferred last week to recall their own bond with their father. "He not only enjoyed us, but he was really interested in us being happy," says Moira Forbes Mumma, who, unlike her brothers, has never worked for the family company. "He had an intuitive sense of allowing us to find our own lives." (Before his death, Malcolm and author Jeff Bloch completed the manuscript for What Happened to Their Kids, a book about the unhappy adult lives of the children of the rich and famous. In 1988 they shared credit for They Went That-a-way, a collection of anecdotes about how the famous and infamous died.)
At Forbes's memorial service, the five children took turns sharing their memories of the man who raised them. Timothy, who is in charge of the company's new pop-culture magazine, egg, described his father's unauthorized balloon flight over Beijing in 1982, which ended unexpectedly in the middle of a Red Army installation. Christopher spoke about his father's love of his Scottish heritage and his insistence on sharing it with his children. "If you and your siblings had had to go to church dressed in kilts, your friends snickering at the sight of you all in skirts... you could begin to understand why all of us are close," he observed. Son called some of his father's set-backs, including the painful divorce and his previously undisclosed cancer in the early 1980s. "These, and other experiences he had can harden people," he said. "But with Pop they simply deepened his already considerable empathy for others."
The most widely shared sentiments about Malcolm Forbes, though, were probably expressed by his son Robert. "It's been a hell of a party, Pop, my special friend, and such fun," he said, his voice breaking. "Thanks for the trip."
—Charles E. Cohen, with Robin Micheli, Sam Mead and Mary Huzinec in New York City
Contributors:
Robin Micheli,
Sam Mead,
Mary Huzinec.
In a way, it was a fitting salute to a clamorous life. As mourners gathered in the hushed sanctuary of St. Bartholomew's Episcopal Church in New York City, and gawkers and photographers clawed for position on the steps outside, the haunting screel of a lone bagpiper gave way to a rising thunder of motorcycle engines. Incongruously, deafeningly, some three dozen leather-swathed bikers gunned their hogs in an impromptu procession up Park Avenue. The discordant moment elicited little surprise from the arriving luminaries. For those who had passed through the orbit of Malcolm Stevenson Forbes, cultural clashes were commonplace. And what could make a more appropriate funeral dirge for this self-styled Leader of the Pack than the wail of bagpipes and Harley engines throbbing through the Byzantine-style church in New York City's silk-stocking neighborhood?
Advertisement
Today's Photos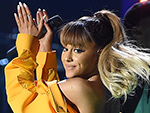 Treat Yourself! 4 Preview Issues
The most buzzed about stars this minute!