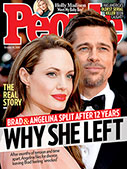 This Week's Issue!
People Top 5
LAST UPDATE: Tuesday February 10, 2015 01:10PM EST
PEOPLE Top 5 are the most-viewed stories on the site over the past three days, updated every 60 minutes
Testing Guam's Tough New Abortion Law, Janet Benshoof Is Arraigned for Giving Advice


With that simple advice, proffered along with the telephone number and address of a Planned Parenthood clinic in Honolulu, Benshoof, 42, allegedly broke the law she had come to protest, which prohibits abortions unless two doctors conclude that the mother's life or health is in imminent danger. The next day Benshoof was arraigned under a provision of the law that prohibits "soliciting" women to have abortions. She may face a possible $1,000 fine and a year in jail.

It's the kind of fight Benshoof has become familiar with in her 13 years as director of the ACLU's Reproductive Freedom Project, based in Manhattan. Guam's law, she says, poses an open challenge not only to the landmark Roe v. Wade decision protecting a woman's right to an abortion but also to the First Amendment guarantee of freedom of speech. "Never have I seen a statute anywhere in the world where to talk about abortion to pregnant women is a crime," Benshoof said.

Tough talk and pit-bull determination are Benshoof trademarks. She grew up in rural Minnesota, the daughter of a county prosecutor and a housewife. With top grades at the University of Minnesota in Minneapolis, she won a full scholarship to the University of Chicago Law School but was determined to study law at Harvard, which had accepted her but offered no financial help. Her father, annoyed that she was throwing away her scholarship, told her she would have to pay her own way—which is just what she did. She paid tuition with the money she had earned summers at an A&W root beer stand, and covered room and board as a cook for the dean of the Harvard Divinity School—until her father came around. At Harvard she met future husband Richard Klein. They now live in Greenwich Village with their twin sons.

After a stint at a legal-aid office in Brooklyn, N.Y., she joined the ACLU national office in New York City. Today she is considered one of the nation's top authorities on reproductive law. Yet her burdensome caseload hasn't hidden her light side. Prior to one of her two appearances before the Supreme Court, an associate recalls, Benshoof sat in the Court's august waiting room listening to the Supremes on her Walkman. Away from the job, she is known as an eagle-eyed bargain hunter. Says former colleague Suzanne Lynn: "After meetings or court arguments in Washington, we'd fly back to New York as early as possible, take a cab to the Lower East Side and basically shop till we dropped."

Benshoof hadn't expected to find herself at the business end of a judge's gavel when she got to Guam, a U.S. Territory of 130,000 mostly Catholic residents in the Western Pacific, 1,560 miles east of Tokyo. Though the abortion law had passed the territorial legislature unanimously (the island's archbishop threatened to excommunicate Catholic legislators who voted against it), Benshoof thought she had an appointment to discuss the bill with Gov. Joseph F. Ada. It turned out she had merely been invited to the bill-signing ceremony. "I had a naive idea that if I explained to the Governor how bad this law was, he would not sign it," she says. "I had no idea he was in bed with the archbishop." Retorts Ada: "It's her right to question it, but she's making a mockery of our abortion law. That's not nice."

Ironically, Benshoofs defense attorney, Anita Arriola, 33, is the daughter of Guam legislator Elizabeth Arriola, who sponsored the disputed law. (Anita is being touted as a possible prochoice candidate for Governor, but relations between mother and daughter remain warm. "She washes her clothes every weekend at my house," said Mom.) Since being released on her own recognizance—her next court appearance is scheduled for April 2—Arriola's client has become a local celebrity. "A mailman stopped me on the street and said, 'I'm prochoice,' " Benshoof reports gleefully, "and the police pulled me over when I was driving and said, 'Right on!' " Such unsolicited support is encouraging to Benshoof, who intends to see her case through, then continue fighting the law in the courts. (For the moment there will be no more prosecutions under the law, which was stayed last week pending a review of its constitutionality by a federal court.) Guam's voters could put an end to the battle by repealing the law in a referendum Nov. 6. If they don't, they'll be hearing more from Benshoof. "The women in Guam are in a very tragic situation," she says. "I never intend to be quiet about that."

—Charles E. Cohen, Jay Lin in Guam, Maria Speidel in New York City


She had come to stop a law, not to break it. But when Janet Benshoof, an American Civil Liberties Union lawyer, was denied a chance to lobby Guam's Governor against a harsh antiabortion measure awaiting his signature, she decided to force the issue. The day after the controversial bill was signed into law, Benshoof, who had flown in a couple of days earlier, told the Guam Press Club: "Women who are pregnant, seeking an abortion, should leave the island. I encourage them to go to Honolulu."
Advertisement
Treat Yourself! 4 Preview Issues
The most buzzed about stars this minute!