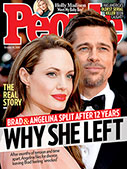 This Week's Issue!
People Top 5
LAST UPDATE: Tuesday February 10, 2015 01:10PM EST
PEOPLE Top 5 are the most-viewed stories on the site over the past three days, updated every 60 minutes
Mark-Paul Gosselaar, Teen Star of Nbc's Saved by the Bell Learns That Fame Takes a Toll


On the other hand, maybe being grounded isn't such a terrible thing. After all, it does protect Gosselaar from the onslaught of hormonally unbalanced preteens who mill outside the Burbank studio where Saved by the Bell is taped, waiting to tear his shirt off. It's enough to make a guy consider joining the witness-protection program. "This is still all new for me," says Gosselaar, sitting in the three-bedroom Valencia, Calif., house he shares with his Dutch émigré parents. "I don't know if being a teen idol is something I want."

Well, kid, it's a little too late now. Saved by the Bell, the first Saturday morning live-action sitcom for kids, debuted Sept. 9, featuring Gosselaar as a kind of juvenile Gary Shandling who talks to the camera about his high school love life. By the time the show was on the air two weeks, young girls were mobbing the studio; the program now ranks No. 1 in total teen audience for Saturday morning programs. "He's up there with the New Kids on the Block," lauds Gina Inhelder, 12, of Stanton, Calif., who has attended a taping. "Even my aunt, who's older, thinks he's cute." "He's really fine," seconds Shannin Lewis, 13, of Orange County. "I think he has a totally good future ahead of him."

Brandon Tartikoff sounds a similar note. "This is just the beginning for Mark-Paul," predicts the NBC entertainment chief, whose 7-year-old daughter, Calla, is a Saved by the Bell devotee. "The show could platform him for bigger roles, just like Family Ties did for Michael J. Fox."

But does Gosselaar want bigger roles, or any roles at all? He isn't completely sure. "There are so many things I want to do besides act," he says. "I want to be a motocross-bike racer. Football, skiing, surfing—those are the things I want to do."

Though he might not be certain about this performing stuff, he has been acting or modeling most of his life. He was 5 when a family friend suggested his parents get in touch with modeling agencies. Reluctantly, Paula, now 51, a hostess for KLM-Royal Dutch Airlines, and Hans, 56, a plant supervisor at Anheuser-Busch, took Mark-Paul to commercial auditions. He got immediate work pitching Smurf paraphernalia and Oreo cookies. Bit parts on various series were followed by feature roles on the Disney Channel sitcom Good Morning, Miss Bliss and the PBS drama Necessary Parties. Now, in his biggest role, Gosselaar is playing Zack, a charming high school schemer à la Ferris Bueller, who'd rather stay up all night figuring out how to get out of an exam than studying for it. Unlike Mark-Paul, who dreads the come-hither glances tossed his way by female fans, Zack would return the glances and press matters further. "I could never do the things he does," says Gosselaar. "You know, like having everybody flush the toilets to flood the bathrooms during midterms. I don't want to get in trouble."

Of course he already is in trouble. Don't forget those blue marks on the calendar. Then there is his reluctance to hit the books for his independent study program at the Learning Post, where he tries to make the A's and B's required by his no-nonsense mom. Paula, who lets Mark-Paul keep only $20 of his weekly income (the rest goes into a trust), is trying to prepare her son for college, though he's still undecided about his future. "It's been two weeks he's been grounded, and that good work pattern is still not there," says Paula. "But I think he's getting the message."

Mark-Paul looks at his mother as if about to argue the point, then thinks better of it, mindful that he could earn more time under house arrest. "I guess I deserved to get busted," he acknowledges.

Did Kirk Cameron have it this tough? Probably so. Even when you're famous, Mom knows best.

—Joanne Kaufman, Craig Tomashoff in Los Angeles


From the looks of the family calendar, several days of which are coated with ominous blue marks, Mark-Paul Gosselaar has been grounded more times than a Phil Niekro knuckleball. "I'm grounded right now," admits the 16-year-old blond, star of NBC's Saturday morning hit Saved by the Bell and the latest heir to the Great Teen Throb mantle once worn by Kirk Cameron and Corey Haim. "This check mark here," Gosselaar says with a Grand Canyon-deep sigh, "is for coming home late. And that one is for playing Nintendo when I wasn't allowed to. And it's my mom's birthday. Great. I'm grounded for my mom's birthday."
Advertisement
Treat Yourself! 4 Preview Issues
The most buzzed about stars this minute!