People Top 5
LAST UPDATE: Tuesday February 10, 2015 01:10PM EST
PEOPLE Top 5 are the most-viewed stories on the site over the past three days, updated every 60 minutes
Novelist Martin Amis Carries on a Family Tradition: Scathing Wit and Supreme Self-Confidence


At the scruffy West London flat that serves as his writing space, Amis, 40, concedes nothing other than a lack of false modesty. "In terms of how good I think my work is," he says, "I would still claim to be hugely underrated. But like all novelists, my ego is really boundless."

Amis does, at least, have plenty to justify his large self-regard. His first five novels—The Rachel Papers, Dead Babies, Success, Other People and Money—were praised for dazzling language and skewering wit even as some critics winced at their cynicism. Now his sixth, London Fields, a darkly comic murder mystery set in decaying, end-of-the-millennium Britain, is earning his best reviews ever.

That would seem to make him a chip off the old writer's block. Yet one of the few people to see something amiss about Amis is his famous father, Kingsley, author of 19 novels and a well-known scourge of his own generation. Though Amis and his son are close, they share a clamorously public rivalry. Amis Sr., 68—as staunch a political conservative as Martin is a liberal—takes the position that while his son is "the only young writer I think is any good," his books are unreadable. He considers Martin's latest effort no exception. "In parts I found it difficult," says the elder Amis. "I suppose I should have tried to read every page, but it was beyond me."

Indeed, London Fields is not for the faint of heart. In dense, layered prose, Amis describes an England in grimy decline, mired in postimperial poverty and hurtling inexorably toward nuclear or environmental annihilation. His characters are inept or morally corrupt, his view of the world beyond Britain, in the words of one reviewer, "as desolate as any in recent fiction." Says Amis: "Our planet does have a sense of an end through self-poisoning at the moment." Still, he insists he writes more "to delight" than instruct, and he is mildly dismayed that reviewers are taking him so seriously. "I feel a terrible misemphasis on this novel, in that what I keep wanting to be stressed is the comedy," he says. As for his father's critique, he shrugs and says, "I'm inured."

Kingsley insists, however, that Martin "is one of my best friends, because he is one of the few people I can discuss literature with. If you go into your club and say, 'I was thinking about that interesting bit in Paradise Lost, and if you'll hold on, I'll get my copy,' the fellow will look at his watch and say, 'I'd better be pushing off.' "

Amis was born in Oxford five years before his father, a postgraduate student, made his literary reputation with Lucky Jim. The second of three children, Martin was a bright, happy boy who adjusted easily to the family's frequent moves between university towns. His world was shaken, however, the day his mother, Hilary Bardwell, announced that she and Kingsley were divorcing. "I remember a terrible numbness and incredulity, and with it a kind of childish stoicism," says Amis, then 12. "It was my first conviction that life was going to be tough."

It was his father's second wife, writer Elizabeth Jane Howard, who encouraged Martin to forsake his beloved comic books in favor of serious reading. He studied English at Oxford and began writing, he says, because "I realized I could make people laugh. Also, having a father as a writer made it not seem so outlandish." Says Kingsley: "I didn't encourage him to become a writer, and I didn't discourage him. He was terrifically secretive about his first book. I remember entering the bedroom where I had heard the typewriter going for days and saying, 'Come on, it's time for the pub.' He put his hands over the typewriter so I couldn't see those few lines. I think I understand that."

Those few lines ultimately grew into The Rachel Papers, a well-received novel about a young man's quest for sexual fulfillment. It was a subject the author knew firsthand. As Amis's professional reputation grew, fueled by his work as literary editor of the leftist weekly New Statesman as well as by his novels, his reputation as a roué was growing apace. Yet Amis contends that his bad-boy image was greatly exaggerated. "I put quite a lot of energy and thought into seducing women, but nothing like a true satyromaniac," he says. "I would be near the middle of any statistical rendering of bachelorhood."

In 1984 Amis married American philosophy teacher Antonia Phillips, now 38. Today they live a settled, middle-class life in Ladbroke Grove with their sons, Louis, 5, and Jacob, 3. Fatherhood, Amis says, inspired two of the more appealing characters in London Fields: Kim, a baby of angelic mien, and Marmaduke, a hulking toddler capable of massive destruction. "Babies can be heaven and hell wrapped in the same package, as every parent knows," he says.

As for the wickedly downbeat scenario of sexual manipulation and depraved venality in which these two tykes make their cameos, Amis says, "Since tragedy and the heroic have disappeared, comedy is having to do it all, and you get comedies that have child abuse and rape and nuclear holocausts. If nuclear weapons were really history and a huge effort were being made about the environment, I could imagine literature being heroic again, casting man as a splendid figure. But for the time being, the uneasy mix is there."

And who better to exploit it than he? Amis would be stumped for an answer.

—Kim Hubbard, Jonathan Cooper in London


From the moment he announced his precocious presence on the British literary scene with a debut novel at age 24, Martin Amis has garnered the kind of reputation that gives arrogance a bad name. In an interview with a British newspaper, he once dismissed the works of Charles Dickens and Emily Brontë as "therapy, not art." He has been called by various acquaintances and members of the press everything from "a horrid little oik" to "Smarty Anus."
Advertisement
Today's Photos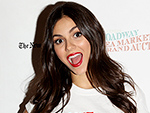 Treat Yourself! 4 Preview Issues
The most buzzed about stars this minute!