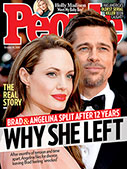 This Week's Issue!
People Top 5
LAST UPDATE: Tuesday February 10, 2015 01:10PM EST
PEOPLE Top 5 are the most-viewed stories on the site over the past three days, updated every 60 minutes
In the Heat of the Night's Eerie Parallels to Her Sister's Murder Allow Actress Denise Nicholas to Finally Conquer Her Grief


For nearly a decade after her sister's unsolved 1980 slaying, Nicholas—best known as counselor Liz McIntyre in the 1969-74 hit series Room 222—had been too anguished to work, and her once-promising career sank into oblivion. But with her turn in Heat and a co-starring role with Bill Cosby in the upcoming movie Ghost Dad, Nicholas, 45, has finally rebuilt her shattered life. Filming the two-part murder episode of Heat, which begins airing May 1, was therapeutic. "I knew I would have to dredge up all that stuff," says Nicholas. "It was a kind of relief, a cleansing."

Sitting in the rose-toned living room of her L.A. home, Nicholas gestures toward a brown velour couch, tucked beside a picture window. Beyond the window lies a tidy backyard, filled with apricot, peach and pomegranate trees and a well-tended flower garden. "I lay on that sofa and looked at that yard for months and months, thinking and thinking," she remembers. "It was part of my grieving."

At the time of her death, Nicholas's sister, Michele Burgen, 26, was one of the youngest editors of Ebony magazine. In February 1980, Burgen had flown from Chicago, where she worked, to New York City, planning to see a newspaper editor, then head to L.A. to visit her parents and Denise. Two days later her body was found in a locked rental car at New York City's La Guardia airport. Denise and her brother, Otto, a Chrysler manager in Detroit, crisscrossed the country searching desperately for clues, but no suspect was ever taken to trial, and no convincing motive for the killing was ever found (though her purse was missing, Burgen was still wearing expensive jewelry). "It was so irrational," says Nicholas, staring down at her shoes, her voice growing shaky. "So crazy."

Suddenly, says Nicholas, "little things" became insurmountable. "Like how do you get up in the morning? How do you walk out your front door? There was life before Michele's death, and there was life after Michele's death—and they are two different things."

A marriage contributed to the difference. In June 1980, while battling her depression, Nicholas met Jim Hill, an L.A. sportscaster, at a Sacramento poetry reading. "I'm sure I gave him my come-hither look," she recalls. It worked: In February the handsome couple were wed in a lavish ceremony. With hindsight, Nicholas believes that the union was destined to fail. "I wanted some protection and hoped I could, through the marriage, find a way through some of the pain," she explains. But it did little to allay her despair. " 'Dark Shadow' was my middle name," she recalls. When she and Hill separated in 1984, " 'I was really at ground zero," says Nicholas. "The marriage was over, my career was in the toilet, and I was adrift."

Nicholas withdrew to her mourning sofa and delved into self-help books. She attempted a few auditions but now admits. "I was a joke." She found some solace in writing—TV treatments and a novel—then registered at the University of Southern California as a full-time undergraduate, earning a theater degree in 1987. "I was a studying fool," says Nicholas, who made the dean's list and intends to complete her master's degree. "All those children in my classes wanted to party, but I knew exactly what I was there for."

Even as a child in Milan, Mich., Denise was academically competitive, graduating from high school with honors. The daughter of Otto Nicholas, now a retired bar owner, and Louise, a housewife (her parents later divorced and her mother remarried), Denise wanted to become a lawyer, à la Spencer Tracy in Inherit the Wind. She began political science studies at the University of Michigan, but the civil rights movement swept her into a new career. In 1964 she moved to Mississippi to perform with the Free Southern Theater, a target of the Ku Klux Klan. Her marriage to company co-founder Gil Moses lasted less than a year, but her love of acting endured. In 1969, after joining the Negro Ensemble Company in New York City, she was spotted by casting agents for Room 222.

When the series ended, Nicholas came face to face with a mid-'70s manifestation of inequality: Legitimate roles for blacks were scarce. She flatly refused to consider black exploitation films. "My father always told me, 'Don't have me walking into the theater with one of my buddies and seeing your naked self up on that screen.' " In 1975 she hooked up with Cosby and Poitier, who cast her in Let's Do lt Again and 1977's A Piece of the Action. "If it weren't for them," she says, "it would have been a dead stop for me." Next she starred in the 1978 sitcom Baby, I'm Back. (In the '70s, she also had a brief marriage to singer Bill Withers.) Then came Michele's death and years of psychic turmoil for Nicholas. In 1988 she finally got back on track with guest shots on such shows as Amen, 227 and The Cosby Show. Even her writing has gotten a boost: Her play Buses will be mounted in New Brunswick, N.J., this fall.

Ironically, the tragedy of the past decade has freed her comedic skills. "My scenes with Bill are some of the funniest I have ever done," she says of her appearance with Cosby in the Poitier-directed Ghost Dad. "It may be lack of any fear to lake risks. I'm perfectly willing to make a total fool of myself. Now I think, what have I got to lose?"

Self-confident again, Nicholas has no more need for that brown grieving couch. "Its taken nine years to go through that whole cycle of life and repair. It was no easy trip," she says. "My friends tell me they're going to put that sofa in the Smithsonian. Or they're going to put it on wheels and roll it down Sunset Boulevard, with me on it."

—Jeannie Park, Lois Armstrong in Los Angeles


When Carroll O'Connor, star and executive producer of In the Heat of the Night, called Denise Nicholas early this year to describe a story idea for the NBC police drama, he had no intention of upsetting her. Nicholas, playing city council member Harriet Delong, had already appeared in several programs. But as O'Connor outlined this episode, which called for Delong's sister to be murdered, the actress felt a tremor pass through her body. "I was so shocked," she recalls, "I didn't say anything." After they hung up, however, Nicholas sat down and explained her stunned reaction in a note: Ten years ago her own half-sister had been shot to death. O'Connor, who had been unaware of the tragedy, asked whether she would rather not appear in the episode, but Nicholas had made up her mind to push ahead. The show, she decided, would be "a memorial to my sister."
Advertisement
Treat Yourself! 4 Preview Issues
The most buzzed about stars this minute!