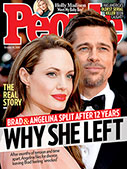 This Week's Issue!
People Top 5
LAST UPDATE: Tuesday February 10, 2015 01:10PM EST
PEOPLE Top 5 are the most-viewed stories on the site over the past three days, updated every 60 minutes
Pleading Poverty and Demanding Money, Johnny Carson's First Wife Tells the Sad Secrets of Her Troubled Marriage
The hair is done in an unglamorous bob, and the face is lined and weary. At 63, Jody Wolcott Carson looks like anything but a former wife of one of America's highest-paid celebrities. A nomad who reckons that she has lived in 28 places in the last 30 years, she owns little save two knit dresses, a handful of books and three shopping bags crammed with flotsam from former lives. In one is a squirrel's nest of tabloid clippings sent by her 87-year-old mother in Nebraska—stories about the man whom Jody married at 22, the father of her three sons, and whom she has not seen—except on television—since the mid-'60s. [P] Sitting in the small one-bedroom apartment she is renting temporarily in New York City, she allows that people are usually skeptical when she says she is the first of Johnny Carson's four wives. "Nobody ever really believes me," she says. "They think I'm quite loony—I'm obviously a very suspicious character." [P] A recluse who says that she loathes talking about herself, Jody is speaking out these days on the advice of Raoul Felder, the high-profile New York City divorce lawyer who is suing Carson on her behalf. Claiming that she can't live on the $13,500 yearly stipend that she now receives from Carson, she is petitioning him to up the ante to $120,000—a modest sum, she says, given his $40 million a year income. "I'm just so worried about my future," she says. "Women live a long time in my family, and I have to do something about it while I still have the energy. It's something I've put off for a very long time." [P] Felder—who has represented such exes as Robin Givens and Lisa Gastineau—is banking that public sympathy will be with Jody. "If Carson wins this case, he's going to lose," he says. "There's nothing attractive about paying the mother of his three children $13,500 a year." [P] Carson, whose lawyers will square off against Felder in a Manhattan court on Tuesday (May 1), has given no sign whether he will wage a full-dress battle against Jody. Legal entanglements with his exes are nothing new, of course, and take-my-wife jokes have become a Tonight Show standard. Both his 1972 split from Joanne Copeland and his 1985 divorce from Joanna Holland were attended by heated negotiations; reportedly, Joanne received a lump sum of $160,000, a valuable art collection and $75,000 a year; Joanna walked away with more than $20 million in cash and property. [P] Carson refuses to speak about the suit. Soon after Felder contacted his lawyers, he issued a statement saying "I will not discuss my personal life through trash TV or tabloid journalism." When a television crew stopped him recently in an L.A. parking lot, he swore at the reporter. For their part, exes Joanne and Joanna have been notably restrained in their comments. "Johnny has a very Midwestern attitude about [LB]financial obligations), and he is a generous man," says Joanne. Adds Joanna: "Jody has always had problems with Johnny that she hasn't resolved, but I think he will do the right thing by her. After all, she was his first love." [P] The daughter of a civil engineer and a housewife, Jody Wolcott was 21 and an art major at the University of Nebraska when she met John Carson. On their first date in 1948, she recalls, "he was cold, aloof and distant." Still, she was captivated by the senior from Norfolk. Nebr., and she soon began working as an assistant in the magic act that he took to milkmen's conventions and American Legion halls. [P] In 1949 John and Jody were married and settled in Omaha, where the ambitious Carson plugged away as a disc jockey and talk show host. "He wasn't really around that much," remembers Jody. "He was always working." The pace (and the marital tensions) stepped up in 1951, when the two moved to Los Angeles with their year-old son, Chris: Johnny worked long hours as an announcer at a local CBS affiliate, and the pregnant Jody began to suspect that he was seeing other women. At one point, she later told journalist Laurence Learner (author of the 1989 Carson biography King of the Night), "he told me he had slept with [a fellow employee in Omaha[RB]. I couldn't imagine why he would tell me." [P] After second son Rick was born in June 1952, Jody says she tried desperately to recapture Carson's attention. "I even dyed my hair blond," she remembers. By her account, her only mission during their years together was to please Johnny. "That's the way marriages were in Nebraska," she says. "Men were very dominating." Jody charges in her recent court filing that Carson engaged in repeated physical violence against her beginning in 1952. (Carson refuses to comment.) "John was violent; he drank," she claims. "It was mostly at night when the kids were in bed. In the morning he would wake up and leave the house, and I wouldn't see him for a couple of days. We never discussed it." [P] By 1957, she says, the two were completely at odds. Carson had become the host of ABC's Who Do You Trust?, and the couple had moved with their three boys to a palatial house in Harrison, N.Y. But the abuse and the infidelity continued, she claims, and her psychiatrist advised divorce. She says Carson flew into a rage when she suggested that they separate; in September 1959, however, he moved out, and their lawyers went to work. [P] Jody obtained a Mexican divorce in 1963, and she was granted $15,000 a year in alimony, $7,500 in child support and 15 percent of Carson's gross earnings over $100,000, But she claims that Carson continued to threaten to seek full custody of their children, and she was beset by anxiety attacks. After contemplating suicide, Jody spent three weeks at a psychiatric hospital, then moved to a halfway house in Warren, Conn., for one year. In 1970, she wed New York City art director Don Buckley—in part, she says, to strengthen her case if Carson sued for custody. [P] Although she allows that Carson continued to pay alimony, Jody claims that he fell behind in handing over a percentage of his income. Shortly before her remarriage, she contacted her lawyer, who struck a deal with Carson's attorneys. Though there is now some confusion about the terms, it appears that she agreed to give up her claim on his earnings in return for $160.000 plus $13,500 a year until 1999. Says Felder, whose attempts to modify this arrangement are based on the fact that the Carsons were divorced in Mexico: "She gave up millions and millions of dollars." [P] According to Jody, the years since her 1973 split from Buckley have been lonely. She is long since estranged from sons Cory, 36 (a guitar player who lives in Hawaii), Rick, 37 (who has worked in TV) and Chris, 39 (an erstwhile golf pro who lives in Florida). "We've sort of lost touch," she says of the boys, who reportedly each receive $50,000 a year from Carson. "Boys often treat their mothers the way their fathers treat their wives." [P] Just getting by on her stipend and some savings, Jody says, "I'm in limbo right now, but I'm also probably a lot happier than most of the people I know. I'm not married to a man I don't like. I don't have a job I don't like. I'm pretty free.... I just hate to look back on all this—it makes me so sad." As for her ex, she says, "It isn't really going to matter at this point what anybody says about him. What stars do in their private lives is curious, but it doesn't affect how people like them on television." [P] —Michelle Green, Sue Carswell in New York City and Eleanor Hoover in L.A. [P]
Advertisement
Treat Yourself! 4 Preview Issues
The most buzzed about stars this minute!