People Top 5
LAST UPDATE: Tuesday February 10, 2015 01:10PM EST
PEOPLE Top 5 are the most-viewed stories on the site over the past three days, updated every 60 minutes
Prizes Bring Double Exposure for Globe-Trotting News Photographer Twins Peter and David Turnley


"Mikhail Gorbachev came over and extended his hand, and the bodyguards cleared the crowd so I could take pictures," says David with a laugh. "Of course, I took advantage."

It would have been a good picture in any case. For not only are the 34-year-old Turnley brothers almost identical physically, there are striking professional similarities as well. Both are based in Paris but spend 70 percent of their time traveling the world. Both are regarded as rising stars of photojournalism: David, a staff photographer for the Detroit Free Press, just won the feature photography Pulitzer prize for his portfolio documenting the 1989 upheavals in China and Eastern Europe; Peter's work regularly appears on the cover of Newsweek. And both Turnleys will receive awards from the Overseas Press Club this month.

Often, they end up covering the same stories. But are they competitive with one another? "We have a chance to witness events that make history," says Peter. "The challenge of communicating them through photography is just so superior to competition with anybody else." During the Tiananmen Square massacre in Beijing, he stood on David's shoulders to get a picture of a makeshift morgue.

In fact, the tumultuous events in China inspired the twins' first collaboration. A collection of their photos of the student protest and its bloody aftermath, called Beijing Spring, was published last year to critical acclaim.

The Turnleys were born in Fort Wayne, Ind., the youngest, collectively, of four children of William, a dentist, and Elizabeth Ann, a pianist turned music teacher. As children, the twins were serious about sports. Then at age 16, Peter broke both wrists playing football. To divert him while he was recovering, his parents gave him a camera and a book by French photographer Henri Cartier-Bresson. Peter was soon taking pictures for the school newspaper. David started to share his brother's passion, and afterward both boys took a course with a local portrait artist.

"I used to see photographers at football games and wonder, 'Why don't they want to play?' " says David. "Then I realized that photography was a means to [capture] elements of life that I thought were important and were often passed over."

At age 17, still with only one camera between them, David and Peter sold their first pictures: an essay on McClellan Street in Fort Wayne's inner city. Published in a photo magazine, it brought them enough to buy a Nikon.

Both twins earned degrees in French literature at the University of Michigan, and both dropped out briefly—at different times—for sojourns in Paris. Then they embarked on independent careers that have followed strangely parallel paths.

Peter returned to Paris after college and worked as a printer and a photographer's assistant before moving out on his own as a free lance; since '84, he has worked for Newsweek—and shot 22 covers. Peter may have photographed Gorbachev more than any other Western photographer, but some of his strongest images are of ordinary people: faces of grief in Armenia, starvation in Somalia and dislocation among Afghan refugees in Pakistan.

David, meanwhile, hired on in 1980 with the Detroit Free Press. Two years later he convinced the paper to let him document the plight of refugee Palestinians around the world. It won him an Overseas Press Club Award and launched his career in foreign news. In 1985 he moved to Johannesburg—the only American newspaper photographer, he believes, based full-time in South Africa. His photos, many of which were shot in defiance of government regulations, captured the anguish of that volatile country and were collected in his widely praised 1988 book, Why Are They Weeping? By that time, however, the South African authorities had refused to renew his work permit, and David was forced to leave South Africa in late 1987. Shortly before he left, he met Karin Louw, now 30, a marketing director for a photo lab. They were married in April 1989 in Paris.

The brothers were in East Berlin last fall to cover the fall of the Wall; then they spent Christmas in Romania. In February they were both dispatched to South Africa to await the release of Nelson Mandela. David was still there when he got news of his Pulitzer. Just as the phone call came in from Detroit, two AP colleagues banged on his hotel door, armed with champagne. David poured one bottle on his head, then invited the hotel staff, whom he has known for many years, up for an impromptu celebration. They sang Beatles songs and drank until 4 A.M.—but not before David had shared the news with Peter, who retired to their favorite Paris restaurant and celebrated with the waiters. "I want to dedicate the award to the people I photographed in the revolutions around the world," says David. "What happened last year was a very moving piece of history, and the award celebrates that as much as my photography."

—Joyce Wadler, Cathy Nolan in Paris


There was a moment in Paris, during the Bastille Day bicentennial celebrations last summer, when Raisa Gorbachev, on a well-guarded walking tour of the Place de la Bastille, thought she spotted Peter Turnley, the young American who has so often photographed her husband. Raisa nudged Gorbachev and indicated the young man—who was, in fact, Peter Turnley's twin brother, David, also a photographer.
Advertisement
Today's Photos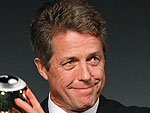 Treat Yourself! 4 Preview Issues
The most buzzed about stars this minute!