People Top 5
LAST UPDATE: Tuesday February 10, 2015 01:10PM EST
PEOPLE Top 5 are the most-viewed stories on the site over the past three days, updated every 60 minutes
As Fans Rally with Cards and Sympathy, Elizabeth Taylor Once Again Battles for Her Life


It was only the latest scare in 47 years of health crises for the Oscar-winning actress, but it was by far her gravest illness since she suffered a near-fatal bout of pneumonia while filming Cleopatra in 1961. Coming after more than 30 years of drug and alcohol abuse and aggravated by persistent, if apparently unfounded, rumors of AIDS, it was also the most alarmingly mysterious. As her family gathered by her bedside, concern for the star escalated.

The new decade certainly did not begin happily for Taylor, who lost two close friends in rapid succession. On Feb. 24, billionaire Malcolm Forbes, her frequent escort since his divorce in 1985, died of a reported heart attack at home in Far Hills, N.J. Then, on March 26, designer Halston, a Taylor buddy for nearly two decades, died in San Francisco of AIDS.

Taylor, 58, settled in with her grief. As so often in the past, the sad news seemed to trigger ill health. On April 9, she entered L.A.'s Daniel Freeman Marina Hospital in Marina del Rey. Seven days later, the deteriorating Taylor was transferred to the larger St. John's, where she registered under the alias of Beth Warner, the last name of her sixth and most recent husband, Virginia Sen. John Warner. There, breathing with the aid of a respirator, fed intravenously and hooked up to a heart monitor, she was put under 24-hour watch. Her children, Maria Burton-Carson, Liza Todd-Tivey and Christopher and Michael Wilding, kept vigil along with current boyfriend Larry Fortensky, the 38-year-old construction worker Taylor had met at the Betty Ford Center in 1988.

"She's not on her deathbed or anything," Taylor's publicist, Chen Sam, gamely told the press on April 17. But Sam had been bluffing. Eight days later, pulmonary specialist Bernard Weintraub admitted, "I believe her life was in jeopardy over the weekend, and I believe that has now passed." On April 28, Taylor was taken off the ventilator and moved to a private luxury suite.

Just what was the matter with Liz? A lung biopsy, CAT-scan, bronchial washing and renal and liver tests proved reassuring. There was no sign of irreparable damage, said Dr. Weintraub, and "absolutely no evidence" of cancer or AIDS.

That the question of AIDS should arise at all in the case of a much-married, middle-aged superstar might seem odd. But a series of coincidences fueled speculation that Taylor might have the disease: Her personal doctor, Michael Roth, happens to be an AIDS specialist; she helped form the American Foundation for AIDS Research; her close friends Rock Hudson and Halston died of the disease; and, following his sudden death, it was revealed that Forbes had been involved in homosexual activities. Through Sam, the ailing Taylor issued a statement: "I would like to dispel the plethora of rumors...that I have an AIDS-related condition," she said. "I feel it is important that people should not be afraid to be tested for AIDS. I have an annual physical and have been tested for the disease, and the test results are negative."

Other conjecture focused on the role of alcohol and drug abuse in Taylor's latest illness. Though Weintraub denied that Taylor was addicted at the time of this hospitalization, the extent of her previous dependency was apparent in a report issued April 20 by the Los Angeles County District Attorney's Office. That document, which followed a more than year-long investigation of three Taylor doctors, did not clear them of charges of overprescribing during 1987 and 1988, but because the inquiry found that they had acted to end her addictions, the matter was referred to a state medical board. According to Dr. David Smith, the San Francisco drug addiction expert who reviewed the investigation, "the drug and alcohol addiction could have been contributing factors" to Taylor's three decades of medical problems. Adds Smith, founder and director of the Haight Ashbury Free Medical Clinic: "There are alcoholics and drug addicts dying of pneumonia all the time at San Francisco General."

Yet after two stints at Betty Ford, as well as 20 operations and more than 30 hospitalizations over the years, Taylor has refused to succumb to substance abuse—or any other malady. The star of the 1958 movie Cat on a Hot Tin Roof has hung onto her nine lives by repeatedly seeking medical help. "It's good that Betty Ford exists," says Dr. Smith. "For Marilyn Monroe, there was no intervention and no drug dependency treatment."

Marilyn also privately nursed her pain; Elizabeth's has been played out on an all-too-public stage. Even with the height of her film career long past, fans have rallied around Taylor in staggering numbers, sending her as many as 400 get well cards each day and floral arrangements so numerous that they have outgrown her room and been passed on to other patients. By early May, she was said to be steadily improving. Though she still was too drained by her current affliction to speak, she had commented eloquently on her similar ordeal in 1961. "I have never known nor do I think there can be," Taylor recalled of that experience on the brink of death, "a greater loneliness."

—Elizabeth Sporkin, with bureau reports


It started, as so many of her illnesses did, with something quite ordinary—in this case, a mild sinus infection. Soon she had developed a 104-degree fever, signaling virulent pneumonia. Within two weeks, Elizabeth Taylor was fighting for her life in the intensive care unit of St. John's Hospital in Santa Monica, the same hospital where, 17 years before, Richard Burton struggled to overcome complications rising from alcohol abuse.
Advertisement
Today's Photos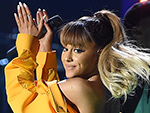 Treat Yourself! 4 Preview Issues
The most buzzed about stars this minute!