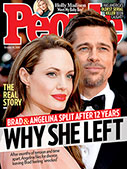 This Week's Issue!
People Top 5
LAST UPDATE: Tuesday February 10, 2015 01:10PM EST
PEOPLE Top 5 are the most-viewed stories on the site over the past three days, updated every 60 minutes
An Angry Professor Vows Not to Teach Until Harvard Law School Gives a Minority Woman Tenure


Today, Bell, 59, a veteran Harvard Law School professor who specializes in civil rights law, is demanding that his colleagues fix what he sees as a broken rung on the ladder of success. Two weeks ago, following student protests in support of hiring more women and minority teachers, Bell announced he would take an unpaid leave of absence—which he conceded he can ill afford—until the law school agreed to hire and grant tenure to at least one minority woman professor. Of Harvard Law's 61 tenured faculty members, only three are black and only five are women. Well regarded by his colleagues and popular with students, Bell, who became the law school's first black professor in 1969, says he is fed up with mere talk about affirmative action. He feels that only a woman of color can serve as a role model for women minority students. "I like being a nice guy," he says. "But there comes a point when I won't take it anymore."

Bell hopes to shame Harvard into action. But Law School Dean Robert C. Clark, while expressing his own high regard for Bell, says he considers the protest "inappropriate." He insists that the school "should make appointments based on the merits, not because of protests. We do have high standards, and we aren't going to compromise them."

Bell says, "We disagree on how to evaluate standards—I would not have met their standards, but I have had a successful career here." He complains that in the past, whenever he has urged the faculty to "hire other people like me, they say I am an exception." In some respects, perhaps, he is. The eldest of four children, Bell graduated from Duquesne University in Pittsburgh. He served in the Korean War, then entered the University of Pittsburgh Law School, living at home and keeping the books for his father, Derrick Sr., who ran a trash-collection business. Editor of his law review, Bell finished fourth in his otherwise all-white class. When a top local law firm asked the school to send its best students, Bell was among them. "When I walked in, there were all these gasps," he says. "It was like a line of heart attacks down the hall." Bell was not hired.

Bell went on to become one of only three black staff attorneys at the U.S. Justice Department, quitting in protest in 1959 after he was told to drop his membership in the NAACP, which he says the department considered too radical. For five years, he lawyered for the NAACP Legal Defense Fund, handling school desegregation cases. He joined the University of Southern California Law School's Western Center on Law and Poverty in 1967, and two years later moved on to Harvard when the law school there was faced with massive student protests demanding the appointment of a black professor.

Married for 30 years to his childhood friend Jewel Hairston, Bell has three grown sons. Preparing for a "financial fast" from his six-figure annual salary, Bell figures he can get by for a year without a paycheck. Meanwhile he plans to stay at Harvard, supporting himself with book royalties and lecture fees. "I'm not going anywhere," he says. "I'm just not taking any pay." Jewel teases him "that I do this every couple of years and here we go again." In fact, he has a history of protests—some successful, some not. In 1971, he challenged Harvard to vote on his tenure as promised and was voted in. Three years ago he staged a four-day, round-the-clock sit-in on behalf of two professors who were refused tenure, he says, because of their "political views."

Bell's supporters believe his latest gesture will eventually prod Harvard to act. "It's a very dramatic personal sacrifice that stems from deep convictions," says Cincinnati Federal Circuit Court Judge Nathaniel R. Jones, a part-time Harvard Law instructor. "And for that reason it will definitely have an impact." Bell sees his protest as consistent with Harvard's tradition of excellence. "This is the so-called best law school in the country," he says. "What I'm doing is helping to make that boast true."

—Montgomery Brower, S. Avery Brown in Cambridge


When Derrick Bell was 5 years old, his mother, Ada, taught him a lesson in dealing with injustice. After the family's landlord failed for months to fix the rotted back stairs of their Pittsburgh apartment, Ada took her son by the hand and marched to the man's office. "She walked in, reached into her bag for the rent and waved it at him," recalls Bell. "She said, 'I have the money, and you will get it when you fix my back stairs so my kids won't fall.' I'll never forget it. We were this little, poor, black family and we could have been evicted, but she stood up to him. A few days later he not only fixed our steps but all the ones up and down our road."
Advertisement
Treat Yourself! 4 Preview Issues
The most buzzed about stars this minute!