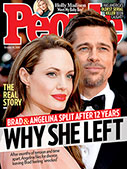 This Week's Issue!
People Top 5
LAST UPDATE: Tuesday February 10, 2015 01:10PM EST
PEOPLE Top 5 are the most-viewed stories on the site over the past three days, updated every 60 minutes
Kinetic Comic Jeff Altman Wants to Flip You Like a Cheese Omelette


Yes, Altman was that Jeff. On the strangely conceived series, he played American buddy and emcee to two kittenish Japanese pop stars, Mie and Kei, who were not especially bilingual and who at the end of some episodes retreated to a hot tub. When the series ended after five shows, Altman, stung by failure, retreated to therapy. "It was just a terribly miserable, horrible show," he says now.

Pink Lady has faded into legend, but the 38-year-old Altman is in the pink, with a Showtime comedy special this month, a TV pilot in the works, a new album—I'll Flip You Like a Cheese Omelette—and more than 30 appearances on his buddy Letterman's talk show.

"He and I have spent a lot of time together over the years," says Letterman, "and he makes me laugh harder just kind of goofing around in the afternoon than any other comedian I've ever spent any time with. He's best when he's just performing in the community at large."

"The essence of being funny is not necessarily material," says Altman, who relies for his laughs less on punch lines than on wildly unpredictable behavior. "It's just who you are. I get out there and sing and dance and fall down and smack my head"—smashing his head against a stool has become a staple of his act—"and at some point it becomes entertaining."

He's the first to admit that his manic energy has sometimes driven his career in odd directions. "I've probably done more work than just about any comic around," says Altman, who has hawked motor oil and cookie dough in commercials and appeared as Hughie Hogg, Boss Hogg's nephew, on The Dukes of Hazzard. "I mean, I've done everything."

Including legerdemain. Altman grew up in Syracuse, N.Y., the only child of Genelle, a housewife, and Arthur, a sales manager and semipro magician. By the time Altman graduated from high school, he had mastered sleight of hand as well as less subtle means of getting noticed. "I got all the attention at home as an only child, and I wanted to get all the attention in school too," he says. "For instance, a teacher would hand out an exam. I would look at it and then run across the room and jump out the window."

He landed, eventually, at Johns Hopkins University in Baltimore, where he earned a B.A. in social science in 1974. Shortly thereafter, he went west to prospect for a career in showbiz. "I thought I could combine my magic skill with my funny, pleasing personality into an act that would be entertaining," he says. "I was very nearsighted."

Slowly he worked his way up the food chain: car salesman, waiter, comedy-club performer, Merv Griffin guest. Appropriately he met his future wife, actress Leslie Ackerman, in line at the unemployment office. Leslie, now 33, says: "I used to say to myself, 'I cannot end up with this person; he's too crazy.' " They married in 1979. "I browbeat her," says Altman.

More television work followed. Then came Pink Lady. When it collapsed, he says, "I went from $19,000 a week, with guys bringing me coffee and straightening my pant legs for me, to being back on the street at square one." The resulting depression helped send him into therapy for seven years. The big lesson? "You have to keep re-creating your own destiny," says Altman.

The latest addition to Jeff and Leslie's destiny is their aforementioned 1-year-old daughter, Faith. Altman is smitten. "He's maybe a year older than her, mentally," says Leslie. "He gets on the floor, he makes faces. When he can't make her laugh, it upsets him." Says comedian Jerry Seinfeld, a longtime friend: "Jeff is probably the only person who could get a baby to say, 'Okay, that's enough. Let's get serious.' "

Will Faith mellow Jeff Altman? "I keep waiting, but he's still goofy," says Letterman, who is one of Faith's biggest fans. "She is so sweet, she's unbelievable," he says. "She as a terrific personality. I've never really seen a cuter baby. That's why we're doubtful it's Jeff's."

—Tom Gliatto, Michael Alexander in Los Angeles


Comedian Jeff Altman is many things to many people. To his 1-year-old daughter, Faith, he is a goo-gooing father. To his wife, Leslie, he is a goo-gooing and affectionate husband. To his friend and sometime employer, David Letterman, he is a goo-gooing, deeply wacko favorite talk-show guest. But the 5'8" Altman attains his greatest stature as something else. To TV arcana buffs he is the correct answer to one of television's greatest trivia questions: In the heroically moronic 1980 NBC variety show often known as Pink Lady—and Jeff, who was Jeff?
Advertisement
Treat Yourself! 4 Preview Issues
The most buzzed about stars this minute!