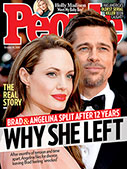 This Week's Issue!
People Top 5
LAST UPDATE: Tuesday February 10, 2015 01:10PM EST
PEOPLE Top 5 are the most-viewed stories on the site over the past three days, updated every 60 minutes
Lost Too Soon
A Wave of Teen Suicides Leaves a Tiny Southern Town Shattered, Wondering Why Its Sons Chose Death Over Life


Sure enough, after parking his Maverick in the parking lot, Tommy showed up at his American history class wearing a black T-shirt. Teacher Rick Ward was lecturing his class of 24 kids about the Great Depression when Tommy asked if he could speak. Then, says Rhonda, "he got up in front of the class and told them he had two things to say. One was that he loved me." The other thing, he said, reaching into his blue jeans and pulling out a .22 pistol, " 'is this.' " "No, Tommy, no," pleaded the teacher, edging closer. Then Tommy put the muzzle between his eyes and pulled the trigger.

A sign on the Sheridan Pentecostal Church says, GOD NEVER PROMISES SUNSHINE WITHOUT RAIN. But though the town's 3,200 souls have endured storms, fires and tornadoes, nothing could have prepared them for the blows of this spring. Tommy Smith was the second of four Sheridan High School teenagers who killed themselves in the tiny community in a span of five weeks. It began when Raymond Dale Wilkinson, a 17-year-old senior, took his life on March 28. Smith was next. That same evening, Thomas Chidester, 19, turned a gun on himself in his bedroom. The next day, 17-year-old Jerry Paul McCool also put a bullet in his head. The four stunning fatalities added to the nationwide toll of teen suicides that claims some 5,000 lives a year. As elsewhere, the victims were bright youths who, despite adolescent traumas, seemed to have much to live for.

The young men's families, friends and neighbors, many of them deeply religious Christians, were left to grope for an explanation. The 50 professional counselors who descended on Sheridan High School could offer soothing words but little enlightenment. Rumors flew, as people blamed heavy metal music or drugs or Satanism for driving the children to take their own lives. Others suggested that broken homes and the waning of traditional values had bred a sense of hopelessness. "We don't know what happened," concedes 79-year-old Harlan Walker, co-publisher of the weekly Sheridan Headlight. "What can make a 17-year-old put a gun to his head and pull the trigger? I don't know."

Raymond Dale Wilkinson had threatened to kill himself in the past, according to Police Chief David Hooks, but the threats had been viewed as teenage histrionics. His father was a car salesman and a deacon at the First Landmark Missionary Baptist Church; his mother was a secretary. Raymond Dale was considered an extremely bright young man—although he had a drinking problem. Arrested last fall for drunk driving, he was sent to a rehab center in Little Rock, where he spent several weeks. But prior to his death the boy had seemed on the upswing; he was planning to get an apartment and go to college in Little Rock.

None of that mattered on the night he killed himself. His parents were out, and for some reason Raymond Dale went on a rampage, knocking pictures from the walls, sweeping decorative glassware from the tables and slamming a golf club through the wall of his bedroom into the adjacent den. A shotgun was found with its barrel bent—evidently from being hammered against the freezer—and its stock splintered. Stuck with a knife to the windowsill near his bed was a note to his girlfriend. It read, "Don't blame yourself. It's nobody's fault." Raymond Dale had placed a .22 rifle under his chin and put a bullet in his brain. "Raymond Dale's problem was his frustration," says his pastor, Dennis Moon. "He really fought his drinking. He'd get off, slip, get off and slip. Raymond Dale was just fought out trying to whip his problem."

A similar feeling of defeat seems to have overcome Thomas Chidester. "Where shall I begin?" said his note, neatly penned on a sheet of spiral notebook paper and left on his bed. "I really don't know. It's hard to say what's going on anymore. A long time now I have felt like I am on the edge and slipping fast. I guess I've finally slipped over the edge." Chidester and Tommy Smith had been friends, says Thomas's mother, Ura, who works as a custodian in local state parks. But if Smith's death affected her son, he never let on. A straight-A student who liked to read, listen to '50s and '60s oldies and hunt and fish, Thomas did not smoke, drink or swear. He lived in a poor rural area near the hamlet of Grapevine, too far out of town to have many buddies. His father died of cancer when Thomas was 9, and his mother remarried, then divorced. Two years ago, his grandfather, terminally ill with cancer, committed suicide with a pistol shot to his head. Since that time, Thomas had lived with his ailing grandmother, mostly to keep her company. Sometime between 10 and 11 P.M. on April 30, Thomas shot himself in the temple with a .45 semiautomatic pistol.

His mother had him buried in full ROTC uniform, his medals gleaming. "I hope people realize what it's like to lose a child," says Ura, sobbing. "He was the world to me. I'll never be able to hold him again. It ain't right—a mother should never outlive her children."

Each suicide was troubling, and the death of Jerry Paul "J.P." McCool seemed particularly incomprehensible. Popular, gregarious and good-looking, he wanted to be a game warden. McCool was so deeply religious, his friends nicknamed him "Preacher Boy," and some thought he might end up in the ministry. The night after Smith's death, says his mother, Jean McCool, J.P. said, " 'I can't understand how anyone would commit suicide—that was the coward's way.' He was mad about what was going on. He loved life too much, so he couldn't understand why they'd do it." That same night he called his girlfriend, Reneé Gordon, 16, whom he hoped to marry. "I love you," he told her. "I'll talk to you tomorrow." The next day he decided to stay home from school because a recent hernia operation was bothering him. Then at some point that morning, he went up to his parents' bedroom and took their fully loaded .22 caliber six-shooter out from under the bed. At around 12:30 that afternoon, while watching TV, he shot himself in the head. His family insists Jerry Paul's suicide was accidental, and given the boy's character, Saline County Sheriff Larry Davis does not rule out that possibility. "He was a good boy," he says. "But he did put the gun to his head and just pull the trigger."

With the dead buried, a period of mourning has begun in Sheridan. Recovery will not be easy; Police Chief Hooks cannot recall Sheridan ever having seen a murder, so four suicides have left a deep scar. Some kids organized a group called Students Against Suicide, but others rejected the efforts of the counselors brought in from across the state, preferring to be left alone with their grief. "It just pissed me off," says one. "They ought to let it just settle down." Meanwhile Sheridan's adults watched their children for signs of distress—and prayed that the dying was over. "When something like this happens, I guess all parents start to worry," says Ethel Ferrell, whose 17-year-old, Tammy, was in the classroom when Tommy Smith killed himself. "We're just going to go on with our Lives. But it's something she'll never forget."

—Montgomery Brower, Kent Demaret, J.D. Podolsky and Joseph Harmes in Sheridan


Among his teenage peers in Sheridan, Ark., Tommy Smith was a rueful clown. The 17-year-old was known to wear sunglasses and a black trench coat to class and jokingly referred to himself as "Norman Bates" or "Freddy Krueger." Rhonda Damron, 16, appreciated Tommy's "weird" ways, and the two had been friends since sixth grade, although they never dated. "He was different," says Rhonda. "He didn't believe in trying to be Mr. Popularity." Still, Rhonda sensed from their twice-weekly phone talks that Tommy's mordant style was a mask for his insecurity. So when he told her on the phone the night of April 29 that he was going to kill himself, she made him promise to come to school the next day, certain that his threat would prove empty.
Advertisement
Treat Yourself! 4 Preview Issues
The most buzzed about stars this minute!