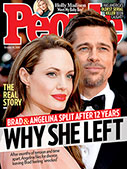 This Week's Issue!
People Top 5
LAST UPDATE: Tuesday February 10, 2015 01:10PM EST
PEOPLE Top 5 are the most-viewed stories on the site over the past three days, updated every 60 minutes
The Loss of His Legs Is No Handicap for Wiseguy's Jim Byrnes


Bent over a console in a cramped Vancouver studio, the band members are pleased with their recording session, especially the bluesy rendition of Irving Berlin's "My Walking Stick" that their lead singer is laying down. The song, however, strikes a particularly ironic note: The ponytailed vocalist reviewing the cut is standing on two artificial legs. Yet as Jim Byrnes, 41, best known for his role as Lifeguard in the CBS series Wiseguy, has proved, the 1972 car accident that cost him his legs has done anything but hinder him. Despite two swipes with death and a hard-knock life that included an episode in jail as an Army deserter, Byrnes has still managed to rack up an enviable string of credits, both on-and offscreen. "At first you whine," he says, "but then you realize that the way to get things done is to do them yourself."

For most of his life, Byrnes has been getting it done the hard way. The middle child of a St. Louis municipal accountant and a housewife, his first brush with last rites came at age 5, when a massive lung infection kept him hospitalized and sometimes comatose for three months. He recovered—a near miracle—and spent his adolescence digging music in a neighborhood that was home to Chuck Berry and where Ike and Tina Turner were the house band at a local blues club.

Two years into college, Byrnes dropped out to start "living on the road, doing the beatnik hipster thing. I was living in tepees, eagle feathers in my hair." When the draft clipped his wings in 1969, he responded by going AWOL repeatedly, spending most of the next 3½ years in Canada. "It was really hard on my parents," he says. "They were salt-of-the-earth people, and all of a sudden I was an outlaw. It tore 'em up."

On a visit home in 1969, Byrnes was arrested. After serving three months in an Army prison, he again fled the States and soon established himself as a singer and guitarist on the Canadian blues scene. In 1970 he and student girlfriend Annette had a daughter, Serene. "We didn't get married," says Byrnes, "but I had responsibilities, both fiscal and emotional."

To support his family, Byrnes worked as everything from musician to fisherman to shepherd. Then, during the stormy night of Feb. 26, 1972, Byrnes and a friend were driving outside Vancouver when their pickup stalled. Byrnes got out to push when he was picked out by headlights of a car approaching on the slick road. "The driver hit the brakes," says Byrnes, "but he was going about 28 miles an hour when he hit me. I remember being pulled out from under the truck, and my right leg was torn off. It was like watching a Sam Peckinpah movie." The next day, in a hospital, "this old Scottish doctor told me, "You've been in a very serious accident. We had to amputate both your legs.' I thought, 'Is this guy kidding me? This can't be.' "

In learning to accept the tragedy, Byrnes also rebelled against its limitations. "If you're in a wheelchair, people expect you to finger-paint and make dust cloths." Instead, he mastered the use of artificial legs, which he likens to "stilts—with a hinge in them—and big 16-pound weights [prosthetic feet] at the bottom."

After five years of odd jobs in the Midwest, Byrnes returned to Vancouver for good in 1977 and earned a place on the blues circuit. In 1983 he met Robyn Post, a waitress who had come to see his band at a local club. "Lord Byron was a handsome ladies' man, crippled with a clubfoot," says Post, "and I was the first person to tell Jim he was Byronesque."

Soon, Byrnes rekindled an interest in acting, a skill that dated from a teenage stint at a St. Louis rep company. At first, casting agents were a formidable barrier. "Even people who were supposedly hip would say, 'You can't be an actor. There aren't any crippled actors.' " But in 1987, on the 15th anniversary of his accident, Byrnes learned that a tryout had won him the Wiseguy part as undercover agent Ken Wahl's link to his FBI superiors. In the three seasons since the series debut, Byrnes's role has grown, both on-and offscreen. "I got a call from a guy at a veterans' hospital in Corpus Christi," says Byrnes, now an Easter Seals spokesman, "and he told me how great the disabled guys felt when they saw me on TV."

These days Byrnes uses his specially equipped vintage Mercedes to shuttle between band gigs and most acting jobs. (On May 20 he'll star with Meg Tilly in In the Best Interest of the Child, a CBS-TV movie about a woman protecting her child against a father's sexual abuse.) His other commitments include an ongoing relationship with his first daughter, who now lives in St. Louis. That sprint of a schedule leaves him little time at home with Robyn and their daughter, Caitlin, 19 months. But for Byrnes, who sounds like a man fulfilled, having to give up acting or music would be as inconceivable as "asking me which one of my daughters I love more," he explains. "I love them both, no matter how different they are. And I would hate to imagine the world without either one of them."

—Susan Schindehette, Michael Alexander in Vancouver


"If I ever left my house without my walking cane, that would be something I could never explain."
Advertisement
Treat Yourself! 4 Preview Issues
The most buzzed about stars this minute!