People Top 5
LAST UPDATE: Tuesday February 10, 2015 01:10PM EST
PEOPLE Top 5 are the most-viewed stories on the site over the past three days, updated every 60 minutes
Olivia D'abo, Teen Rebel of Wonder Years, Handles Fame and a Romance with Julian Lennon Just Like a Grown-Up


Not that anyone would be likely to confuse the fresh-faced young actress who portrays Karen Arnold on TV's The Wonder Years with Sunset Boulevard's withered has-been. But d'Abo is not quite the rebellious flower child she plays in the Emmy-winning ABC series either. Her house, bought with her cousin, actress and Bond girl (The Living Daylights) Maryam d'Abo, 28, was a levelheaded real-estate investment she made at the tender age of 19 to avoid "piddling my money down the toilet every month." And she's handling rumors of her engagement to rock-star boyfriend Julian Lennon (son of late Beatle John) with equal clearheadedness. "We're just close." she says. "I don't think either of us is ready for marriage yet, but we'll take it day by day. I think what's important is that at the end of the day, we both understand each other as artists."

D'Abo and Lennon were introduced by mutual friends at Olivia's 21st-birth-day party last winter (Julian's 27) and immediately hit it off. "When we met each other, we spent the whole evening playing different things on the piano together," she says. "I've never met anyone who was as much like me as Julian. He's like a male version of me." She thinks one of the reasons is the similarity of their childhoods. "We have the same background and influences, coming out of the 1960s from our parents," she says. "It's funny."

The daughter of English songwriter Mike d'Abo (the lead singer of the 1960s rock group Manfred Mann) and model-actress Maggie d'Abo, Olivia aspired to show business early. "She used to compose songs at the age of 3," recalls her father, now a BBC broadcaster, producer and radio talk show host in London. "I remember riding in the car and she would make up songs about cats." But until the family left England for an artists' colony in Taos, N. Mex., in 1976 (Olivia was 8 and her brother Benjamin 9), all those songs were in French. "I went to a French school, and it was more or less my first language," d'Abo remembers. "I didn't know how to read and write English until I came to this country."

It was in Taos that Olivia took an interest in acting, performing with her father in community theater productions of Fiddler on the Roof and Guys and Dolls. After her parents divorced and Maggie took the children to Los Angeles, where she sells real estate, Olivia decided commercials might be a door-opener for her. She did win a McDonald's gig—but her quick success backfired on her. "In the beginning, her natural talent worked against her because she felt she didn't need to prepare for auditions," Maggie says. "When she lost several roles because she had not done her homework, she finally realized that being an actress is hard work."

Still, by 16, d'Abo had co-starred in four movies, including Conan the Destroyer with Arnold Schwarzenegger. The experience helped mature her. "I was the only person on the set of Conan my age." she explains, "so I had to be on another level." And when her agent brought her the first script for The Wonder Years in 1987, her already practiced eye knew it was something special. "The script just had so much wonder and mysticism to it," she says. To win the part of Karen Arnold, she spent weeks researching the '60s and showed up for the auditions in tie-dyed duds and love beads.

On the set these days, d'Abo is known as a bit of a clown. "She's a kook," says Jason Hervey, who plays the bullying middle child, Wayne Arnold. "If you look into Olivia's eyes, you can see she's not all there, she ain't got all her dogs barking." But she has enough to give Fred Savage (the youngest child and hero, Kevin) a good case of puppy love. "She's the most unusual, most exciting and nicest person you could work with," he says. "If I were 30, she would probably be my type."

D'Abo has not yet given up on her own first love, music. She recruits Hervey and Savage for impromptu rap sessions and hopes someday to land a recording contract. "All my music is very simple, just piano and voice," she says. "It's like Carole King or Rickie Lee Jones, a lot of ballads and honky-tonk." While she won't be singing on Lennon's next album, she cautiously hints that they may collaborate in the future. "I listen to his stuff, and he listens to mine," she says. "I think things like recording together kind of come in time." Eventually, d'Abo wants to raise a family, but that will have to wait. "I really want to have a career first, before I have kids," she says. "I know there is an amazing mother inside of me, but I'll sacrifice that need until I know I can do it properly."

D'Abo is now awaiting the release of her newest film, Spirit of '76, a futuristic comedy in which she co-stars with Leif Garrett and David Cassidy, and trying her hand at an L.A. theater production of the British musical It's a Girl. "It's very easy to be on a series and cam money every week, but you really need to keep focused on why you are doing what you are doing," she says. "This play enables me to do music and singing and dancing, to really use my talents to the fullest." One of her favorite acting experiences so far was Beyond the Stars, a film she made last year with Martin Sheen. Even though the movie never played theaters and went straight to video, D'Abo says she learned a lot from her politically conscious co-star. "We would have long lunches together, talking about a lot of issues," she recalls. "It was strange because most girls my age would probably be, like, 'Oh, my God, what are your sons like?' "

But then, d'Abo outgrew her age ages ago.

—Cynthia Sanz, Vicki Sheff in Los Angeles


Outside the funky, half-million-dollar house near the Hollywood Hills, a ponytailed gardener waters a bed of flowers, a handyman lugs a ladder, and a crew of cleaning men unload buckets from a car. Cuddling her Labrador on the front porch, the owner surveys the action and smiles with satisfaction. "I like to have all these men running around," says 21-year-old Olivia d'Abo. "It makes me feel like Norma Desmond."
Advertisement
Today's Photos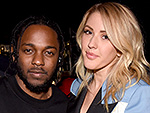 Treat Yourself! 4 Preview Issues
The most buzzed about stars this minute!