People Top 5
LAST UPDATE: Tuesday February 10, 2015 01:10PM EST
PEOPLE Top 5 are the most-viewed stories on the site over the past three days, updated every 60 minutes

Actresses KAREN ALLEN, MAR-GOT KIDDER and BROOKE ADAMS all have big eyes and husky voices, which apparently has caused some fans to confuse them. "People think I'm Mar-got Kidder all the time. I think Brooke gets it too," says Allen, 38, who, along with Adams, was at a benefit for the Second Stage theater group in Manhattan. "It's the three of us, and we all laugh at it. I just say, 'Oh, thank you so much. Superman [Kidder's film] was a wonderful experience.' " Adams, 41, is less amused. She says, "I actually get tired of hearing we look alike. I like Karen, so it has nothing to do with her, but it does get kind of annoying when people say, 'Oh, I loved you in that movie,' and it turns out to be Raiders of the Lost Ark [Allen's film]. I'm usually humorless about the whole thing. I say, 'That's Karen Allen and I'm not her,' and I walk away."

SELLING POINTS
The teen-dream music group, NEW KIDS ON THE BLOCK, is starting to cash in on its awesome popularity with licensed products ranging from calendars to water bottles. But one teen idol who has been there before, DONNY OSMOND, 32, has a warning for the New Kids. "When you blitz the market like that, you sacrifice longevity for success," says Osmond, whose own short-lived popularity in the '70s led to Donny pillowcases, dolls and lunch boxes. "Their career is based on, I don't want to say hype, but it's based more on them than on their music. The people around you take advantage of you and market you to the hilt," adds Osmond, whose comeback single last year, "Soldier of Love," was his first hit in 15 years. "That type of career is not very long-lasting nor legitimate. It's what happened to me. It's a sad scenario."

BLACK HUMOR
Actor CHARLES DUTTON, newly nominated for a Tony for his performance on Broadway in AUGUST WILSON'S Pulitzer-prizewinning drama, The Piano Lesson, says he adjusts his performance to suit an audience's racial makeup. "Predominantly black audiences are different from predominantly white audiences. I can't let my character be too funny, because if you tip the scale on the comedy side, the predominantly black audience won't let you flip back and get serious. The comedy is safe; they won't recognize the pain; they don't want to think about it," says Dutton, 39, who also plays a cop in the new movie Q & A. "Black people are probably the only people left on earth who still laugh at their own tragic history. I wish they would stop. It's nervous laughter, hiding pain."

ALL WARN OUT
Acclaimed Spanish filmmaker PEDRO ALMODOVAR, who unsuccessfully battled the Motion Picture Association of America over the X rating it stamped on his new film, Tie Me Up! Tie Me Down!, is now wrestling with another form of American interference. "I am very surprised by the American preoccupation with warnings and restrictions," he says. "Life here is enveloped in warnings, some of which seem pretty irrational to me. I was at a rock concert recently, and there was an enormous sign behind the stand warning against pregnant women drinking beer. It seems to me that a pregnant rock and roller has to be pretty stupid if she needs such a warning. Isn't it obvious she shouldn't be drinking at concerts in her condition? I was recently [carded] at a nightclub and had to show my passport and a credit card. Now, I'm flattered that they thought I was a 15-year-old boy, but I'm 38! I just don't understand it."


ABOUT FACES
Advertisement
Today's Photos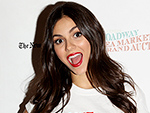 Treat Yourself! 4 Preview Issues
The most buzzed about stars this minute!