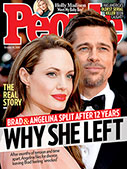 This Week's Issue!
People Top 5
LAST UPDATE: Tuesday February 10, 2015 01:10PM EST
PEOPLE Top 5 are the most-viewed stories on the site over the past three days, updated every 60 minutes
Send Pa Walton to Washington? Candidate Ralph Waite Finds the Road to Capitol Hill An Uphill Climb


Now. think politics. Following the lead of The Love Boat's Fred Grandy and General Electric Theater's Ronald Reagan, another TV actor. Ralph Waite, is trying to nab his share of the political arena. Specifically, the onetime resident of Walton's Mountain is hoping to scale Capitol Hill as representative from California's 37th district this fall. "I'm Ralph Waite. And I'm a Democrat running for U.S. Congress," he tells passing shoppers. "We need everyone's vote."

And how. The 61-year-old star of The Waltons (1972-81) and the quickly swamped 1983 series The Mississippi must first get his party's nod in a two-person primary June 5. A win would pit him against conservative four-term Republican incumbent Al McCandless in a district that includes the super-wealthy and the very poor, and where Republicans outnumber Democrats by 22,000.

That apparent mismatch doesn't faze Waite. He has faced difficult challenges before: leaving the ministry for acting, carving a successful career in Hollywood and battling the bottle. The intense, aspiring politician may describe himself as a "centrist." ' but he is also something of a Walton's Mountain idealist. What ultimately nudged him into the race was Czechoslovakian playwright-President Vaclav Havel's speech to the U.S. Congress this past February. "We've learned a lot from people who are not professional politicians," says Waite, a former social worker and ordained Presbyterian minister who has never held elective office. "Maybe actors and artists can sense when the winds arc changing."

He chose this tough run after deciding that McCandless was a nonpresence in the district. "I'd go to meetings concerned with the environment. education. and he never showed up," says Waite, who lives in the affluent community of Rancho Mirage with his third wife. Linda, 37. "The longer I observed this, the more adamant I became—somebody should run against this fellow.' " (Counters McCandless: "I'm kind of a hands-on-in-the-district type....I don't come out of hiding and make myself visible every other year because it's a campaign year.") Waite's agenda is heavy on social issues; if elected, he says he'll introduce legislation on the environment, traffic, education, child care and AIDS. His style reflects his platform: folksy and accessible. "Ralph has the ability to interact with farm workers and the wealthiest people in town," says Sam Maestas, executive director of El Progreso del Desierto. a nonprofit health center.

Waite has not always found a natural balance between his political aspirations and his showbiz career. He lost out on a starring role in an as-yet-unsold TV series, Appearances, about an urban working-class family, when the producers got word of his political aspirations. "Just as my agent was telling me how lucrative this contract was," says Waite ruefully. "They backed off." Such experiences affect his income—a sore loss to a candidate who needs $500,000 to finance his campaign.

Then, a week after Waite announced his candidacy, one of his TV movies, 1976's The Secret Life of John Chapman, ran on the local CBS affiliate, stirring one of Waite's opponents in the Democratic primary, John Pearson, to demand equal time. Within days of the demand, however. Pearson died of a stroke. But the equal-time issue stayed alive. The local NBC affiliate offered another Democratic candidate. Jeffrey Jacobs, equal time before airing an episode of the new series Shannon 's Deal, in which Waite guest-starred as the lawyer-hero's lather. And after the 1982 specials Wedding on Walton's Mountain was rebroadcast on a local station, Jacobs again demanded and received airtime.

Even with the aggravation, the fact that Waite is known to a large segment of his community as levelheaded John Walton is a plus to the campaign. Fewer, perhaps, know that Waite has been a recovering alcoholic (as is Linda; they met in an alcohol-recovery program) for 18 years and that he heads the board of directors of the ABC Club, a residence for drug-and-alcohol addicts in Indio. Calif. "I would be very surprised if anyone made anything negative of it," says Waite, whose drinking intensified when his 9-year-old daughter by first wife Beverly Hall died of leukemia.

Waite's alcoholism isn't what his Republican opponent intends to make an issue of; it's his lack of experience. "I've met Ralph, and he's a personable individual," says McCandless, a former Cadillac salesman. "But I have a knowledge of the nooks and crannies of public works."

Waite has countered by building a base of support among Mexican-Americans and the district's large gay community, but that may not be enough. "He has to run a wonderful campaign, and I don't know if he has the money and staff, the stamina and personal style to do that," says Ron Leveredge. a political science professor at the University of California at Riverside. "To beat an incumbent is not a game for amateurs."

If Waite does stage the upset, who will get the credit—the candidate or the TV character? "People trust John Walton." Waite concedes. "Everywhere I go, people reach out their hands. They're ready to like me. It's a very big plus."

—Joanne Kaufman, Lois Armstrong in Rancho Mirage


The man with the wide, gap-toothed smile, silvery hair and comforting baritone voice busily pressing the flesh outside a Von's supermarket in Hemet, Calif, (about an hour away from Palm Springs). looks vaguely familiar. Think television. Think Depression. Think mountain. Think big family of children with two names: John-Boy, Jim-Bob, Mary Ellen. Think calm, sapient, shaggy-browed paterfamilias of big family.
Advertisement
Treat Yourself! 4 Preview Issues
The most buzzed about stars this minute!