On Newsstands Now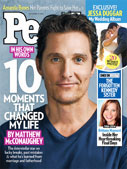 Matthew McConaughey: In His Own Words

Jessa Duggar's Wedding Album

Brittany Maynard's Final Days
Pick up your copy on newsstands
Click here for instant access to the Digital Magazine
People Top 5
LAST UPDATE: Tuesday February 10, 2015 01:10PM EST
PEOPLE Top 5 are the most-viewed stories on the site over the past three days, updated every 60 minutes
After Divorce, Therapy and 12 Years Off from Weekly Tv, Carol Burnett Returns to Please One Person—herself


"That's the usual reaction I get when I'm Lana Turner," says Burnett. "Laughter."

It's also, thankfully, the same reaction she gets when she's Carol Burnett. At 57, 12 years after she retired as doyenne of the top-rated Carol Burnett Show (1967-78). she is making a risky professional reprise with a new Saturday night series, NBCs Carol & Company. On the air just two months, the show is making regular appearances in the Nielsen Top 20 and has been picked up for next season as part of the network's Saturday night lineup.

For loyal fans of the daffy Duse, it's not quite a case of déjà view. In The Carol Burnett Show she created screwball, bolts-loose images of American comedy that still burn bright: wearing a dress made out of velvet drapes, complete with the drapery rods, as Miss Starlet in Went with the Wind: sporting NFL-issue shoulder pads and the maternal warmth of Medea as Joan Crawford in a skit called Mildred Fierce; putting her Shirley Temple dimples into overdrive to warble "On the good ship Lolli-pop."

Unlike the rather strict formula of The Carol Burnett Show—audience Q & A, a movie parody, a song, perhaps a spoof of commercials—Carol & Company is an anthology. Drawing on the support talents of a five-member rep company and an occasional guest star, the program offers a single story per week. Shows so far have centered on a broad range of characters, from a fed-up mother who decides to sue her children for ingratitude, to a man with a sex-change operation who shows up at his (or is it her?) high school reunion.

The anthology format, rarely successful on TV, was a gamble for Burnett. Several network execs turned down her idea. But Carol remained convinced she was right. "She's a strong presence, not afraid to try new things." says Anita Barone. one of Carol & Company's company. "Just coming back after 12 years proves that." And if things don't go quite as Burnett would like, she's not afraid to go away again for another 12. "I want to play with people who are fun to play with.'' she says. "I think I've earned that." '

This is not the talk of the old Carol. It's the assertive talk of someone who not only has a new show but also a brave new outlook. To understand this, you have to understand her childhood—a period of poverty and uncertainty, with an absent alcoholic father and an unpredictable alcoholic mother (her parents' history must account in part for her famous suit against the National Enquirer and her determination to clear herself of charges that she was publicly drunk). Since childhood. Burnett had been afflicted with an ailment she calls People Pleaser's Disease. It means, says Burnett, being "nice and quiet, walking on egg shells and following all the rules. By the time I grew up. I was awfully scared to make any comments that would sound 'aggressive.' " Instead she would either bury her anger or prevail upon former husband Joe Hamilton (executive producer of The Carol Burnett Show) to do the dirty work. "That kept me out of any problem, as I saw it. of hurting somebody's feelings."

Actually, the MO didn't keep Burnett out of all problems. She says her refusal to show distress or anger contributed, at least partially, to the 1982 breakup of her 20-year marriage. "I always wanted the children to see us as Ozzie and Harriet.' " says Burnett, who still keeps in touch with Hamilton. "And that was wrong. I lived with it. and at the same time it nagged at me. But mostly I ended up living with it. thinking that was the way it should be."

With some therapy, both one-on-one and group. Burnett has come to the conclusion that "nobody is going to drop dead if I tell them I don't like something. There's a way to explain how you feel in an honest, straightforward way, instead of stuffing your feelings. I'm finally learning to say 'I don't want to' or "I'm not happy with this.' "

And not a moment too soon. As the star of a show and head of her own production company. Burnett has come to realize the importance of walking tall rather than walking on eggs. "Now. by necessity, just as I've had to learn to set a VCR. I've had to speak up when I used to swallow things." Not long ago. for example. Carol permitted herself some anger over a technical glitch (a jukebox abruptly stopped playing during her dance) on the show. She wasn't sure if what happened was an accident or a case of the crew's making a change without checking with her first. Turns out it was an accident, and Burnett was quick to forgive and forget. "I used to clam up and not say anything," she admits. "That's part of what I've been working on these past few years."

Regrettably. Carol doesn't have anybody special on whom to practice her new social skills. She goes out on dinner dates, but that's about it. She hasn't exactly taken a vow against another recitation of wedding vows. "Maybe." she allows, "if he lived next door and we could have a little tickle and a squeeze now and then and go on dates. Kinda sexy, don't you think?"

Until he comes along, the man she loves. Burnett will reserve her fond glances for "the postcard." That's Carol's code for the view from her Honolulu hideaway, a three-bedroom house that looks onto the Pacific and is decorated with island-flavored furniture and Japanese paintings. The front porch sports a reed-framed couch given to her by her friend up the road. Jim Nabors.

Burnett frequently has the place to herself. Her three daughters by Hamilton are on the mainland pursuing show business careers. Carrie, 26, an actress who has won a long, hard battle against drugs, recently guested on her mom's show. Jody, 23, is looking for work as an entertainment manager. Erin, 21, a guitarist and singer, is putting together her own rock band.

Burnett may be alone, but she says she's not lonely. It helps that her sister. Christine—the two refer to each other as "Sissy"—has been living in Honolulu for the past four years. "She's so real," Chris, 45, says of her older sister. "People can identify with Sissy as a person who has overcome obstacles—and I've seen her do that from the beginning. She hasn't had anything handed to her."

Not by a long shot. Burnett grew up in a run-down Hollywood boarding house, cared for less by her parents than by a loving, eccentric grandmother. Movies were the great escape; Carol and her "Nanny" took in about six a week. Those days of living on welfare and fantasy haven't been forgotten. Burnett's people-pleasing is one remnant. Her need to be compulsively neat, she says, also stems from her precarious childhood. "I love being organized and knowing where things are. Maybe that's what I'm doing—cleaning up Room 102 [the cluttered room she shared with Nanny]."

During a recent warm-up session on Carol & Company, a child in the audience asked Burnett what she would be if not an actress, "I thought about it," remembers Burnett, " 'and then I realized I could have been one of the best executive secretaries. I know how to type, how to make reservations, how to talk on the phone, how to treat people."

Maybe Burnett would enjoy the Monday through Friday 9-to-5 life. But her fans want her on a Saturday night 10-10:30 basis. And they don't want her to take dictation. They want her to take a bow.

—Joanne Kaufman, Lois Armstrong in Honolulu


The ticket clerk at the Contemporary Museum in Honolulu is hyperventilating. "I've always wanted to meet you," cries the fan. "We have a videotape of me laughing hysterically for 20 minutes watching you play Lana Turner."
Advertisement
Today's Photos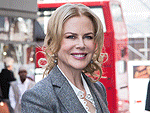 Treat Yourself! 4 Preview Issues
The most buzzed about stars this minute!