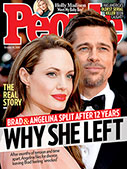 This Week's Issue!
People Top 5
LAST UPDATE: Tuesday February 10, 2015 01:10PM EST
PEOPLE Top 5 are the most-viewed stories on the site over the past three days, updated every 60 minutes
Wilson Phillips, a Trio of Purebred Pop Progeny, Claim as Parents One Mama, One Papa and a Beach Boy


Sometimes. But Chynna, Carnie, 22, and Wendy, 20—the latter two are daughters of Beach Boy founding genius Brian Wilson—know that while their family names help, monikers alone aren't what made the trio's debut single, "Hold On," a radio hit or sent their Wilson Phillips album into Billboard's Top 20. The trio's trump cards are crisp harmonies and Chynna's video-perfect beauty. "I'm so damn proud of Wendy and Carnie," says Brian, 47, who has been under 24-hour psychiatric care for much of the past decade and rarely sees his daughters. "I've been following their record's chart position like I used to my own songs when I was their age. I haven't called to congratulate them, probably because I know I was awkward as a parent and I'm a little nervous. But God, they make me proud."

Which is different parental reaction than the girls got four years ago when they announced plans to form a group. "Our parents thought, 'Oh, how cute!' " says Wendy. "This was nothing new," adds Chynna, who remembers when she and the Wilsons, friends since infancy, used to lip-synch ABBA tunes before a captive family audience. "It was always 'La la la, here we are, pretending to be singers.' "

By 1986 they had gotten serious. "It was nothing like what we are now," says Chynna. "Our voices sounded chipmunky." But showed promise. "We had a natural thing," says Carnie. "It worked perfectly with Wendy singing high, Chynna in the middle and me at the bottom. The first time we sang [Heart's] 'Dog and Butterfly,' we thought, 'God, this sounds really great.' "

Unlike many neophyte groups, the girls were able to arrange an immediate audition with a successful producer—Phillips family friend Richard Perry, who signed them to make a demo, which eventually brought them a contract with SBK Records last year. The trio, who entertained such group names as Pretzels with Mustard and Zen Girls before settling on Wilson Phillips, got cold feet in the studio. "I was so nervous, I was crying," says Wendy. "I would get frustrated and go into the bathroom and cry," echoes Chynna. "We had to live up to everybody's expectations." But the studio wasn't angst central for all: "It was the funnest place," says Carnie.

All three were born in the late '60s, when their parents were at the hip height of fame, and grew up in West L.A., where they attended the same Montessori school and ballet classes and watched their parents do similar splits. Divorced since 1969 and living on opposite coasts, John—who endured a lost decade or two on drugs—and Michelle maintain good relations with their daughter. Beset by emotional problems long before his daughters were born, Brian Wilson, divorced from wife Marilyn since 1979, has been an absentee dad for years. "We don't really associate with our father," says Carnie. "He calls twice a year. It makes us sad."

Little of which creeps into the trio's cheery little love songs. "Get three girls together and that's what they talk about—love and men," says Carnie, who has been dating the same guy for five years. "It's hard not to write about love," agrees Chynna, who, like the others, is secretive about her beau. "I met my little angel at the recording studio," she says of a 31-year old musician named Michael. Wendy has been dating a girlfriend's former crush, an actor, for several years. "She wasn't mad," Wendy insists.

The trio, each of whom lives in L.A., admit to frictions, but none explosive enough to split the group. "We're like sisters," says Carnie. "We fight and argue, like when one has her period or something. We're girls. What do you want?"

—Steve Dougherty, Maria Eftimaides in New York City


Rock and roll bloodlines don't get much bluer than those of Chynna Phillips and Carnie and Wendy Wilson. But the three, who harmonize together as the Wilson Phillips group, insist mightily that they aren't simply cashing in on the credibility of pioneering parents who founded two of the defining American pop groups of the '60s, the Beach Boys and the Mamas and the Papas. "We could never do what they did; they could never do what we're doing," says Chynna, the 22-year-old daughter of Papa John and Mama Michelle Phillips. "Not that it doesn't matter—we wouldn't be able to sing if it weren't for our genes. I mean, usually doctors' kids become doctors, right?"
Advertisement
Treat Yourself! 4 Preview Issues
The most buzzed about stars this minute!