People Top 5
LAST UPDATE: Tuesday February 10, 2015 01:10PM EST
PEOPLE Top 5 are the most-viewed stories on the site over the past three days, updated every 60 minutes

When MEL GIBSON goes on location for a movie, he doesn't travel lightly. Gibson, who co-stars with GOLDIE HAWN in the romantic comedy Bird on a Wire, brings along his wife, ROBYN, and their six children (ranging in age from 5 months to 9 years old and including a set of twins). "I couldn't concentrate otherwise," says Gibson, 34. "I get more done when they're around, because I know where everyone is and I can relax. But you do need your own time, and you have to extract yourself from them—shut the door and tell them all to get lost or shut up, because they're wild animals." Gibson says his 5-year-old son, WILL, has already informed his dad that he wants to be an actor when he grows up. "I asked him, 'Why do you want to do that?' He said, 'So I can take your place when you die.' He was quite serious. It was rather sweet, and cracked me up."

YOUTH MOVEMENT
At age 65, LAUREN BACALL says America is suffering from the same old story. "America is so guilty of dismissing the elderly, so youth-conscious that it makes you sick to your stomach. When a woman reaches 26 in America, she's on the slide—downhill all the way," Bacall told Paris Passion, an English-language monthly published in Paris. Bacall, who is in France to film a love story opposite ANTHONY QUINN, 75, said it is refreshing to be doing an autumnal romance. "What's surprising is that I can really feel the way I felt when I was a kid. It's not that we all want to be 25, just that if you have the vitality and maintain curiosity about life, all kinds of surprises can constantly happen. Look at me, for chrissakes—here I am at 65, making my first French film."

NAME OF THE DAME
BIANCA JAGGER, who has been divorced from rocker MICK JAGGER for 10 years now, doesn't see a reason to drop her household name. "I don't think that my celebrity has anything to do with the Jagger name," says Bianca, 45, who, as an aspiring filmmaker, has enrolled in film courses at New York University and the School of Visual Arts. "If it were as ephemeral as—as simple as—giving up the last name, I would do it. I'm divorced from Mick, but I don't see this big dilemma over the Jagger name or whatever. To start with, my real name, Bianca Pérez Morena de Macías, would be too long for anybody to ever call me that. [Besides], to people, I'm Bianca more than Jagger. Bianca is what people respond to."

SIBLING REVELRY
The Fox network's new hit comedy show, In Living Color, is a family affair, since the show stars not only KEENEN IVORY WAYANS but his brothers DAMON and SHAWN and his sister KIM. But Damon, 29, says just being one of the 10 Wayans kids doesn't necessarily guarantee a spot on the show. "The ones in the family who are not comedically talented know it, and if they don't, Keenen and I will tell them," Damon says laughingly. "There's brutal honesty in my family—we don't pretend. We tell our other brothers and sisters who want to be on, 'You're not good enough, but keep trying.' My younger brother MARLON, who I think is the most talented in the family, wants to be on it, but he's not ready. He thought, 'Oh, Keenen's got the show set up, and now all I have to do is finish school,' but you can't make it that simple because they won't appreciate it."

BRUSH ASIDE
Former disco diva DONNA SUMMER is into different strokes these days. "I've been painting for years," says Summer, 41, who recently exhibited her neo-primitive paintings and lithographs at the Circle Gallery in Beverly Hills. At this and previous shows, Summer, who still sings, has sold 75 pieces for as much as $38,000 each. "I never talked about it, I just did it. It was a very private thing. I never really wanted or expected an art exhibition, but after several artists and art critics came to my house and saw my stuff, they convinced me I was good enough to have a show. So maybe it's not such a bad thing disco died when it did."


KIDDING AROUND
Advertisement
Today's Photos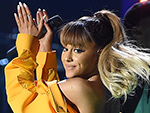 Treat Yourself! 4 Preview Issues
The most buzzed about stars this minute!