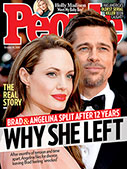 This Week's Issue!
People Top 5
LAST UPDATE: Tuesday February 10, 2015 01:10PM EST
PEOPLE Top 5 are the most-viewed stories on the site over the past three days, updated every 60 minutes
Out with Another Presumed Blockbuster Novel, Scott Turow Is Counting His Blessings—but Cautiously


Turow, 41, says that he and his wife, Annette, an artist, have also made every effort to "live the life-style that we would have if I were merely a very successful lawyer." They still live in the four-bedroom home they bought when Turow was a $60,000-a-year public prosecutor—though they have added a sunny study so that Scott no longer has to write in the basement. Turow has also bought himself a new Acura. "It's the nicest car I've ever owned, by a long shot," he says, but certainly not the nicest he could afford. "I didn't want to go over $30,000," he says.

In fact, the only real luxury Turow has allowed himself is time. When he wrote Presumed Innocent, Turow was working 70 hours a week as an assistant prosecutor in the U.S. Attorney's office and writing fiction nights and weekends. It took him eight years to complete the book. Since then, he has switched to private practice, and in 1988 he asked his colleagues at Sonnenschein Nath & Rosenthal to make him a half-time partner so he could focus on his second novel. "That's the major change," he says, "My schedule is different." And it is often tightly regimented to accommodate two careers. Turow hits the word processor at 6:15 each morning and stops at 7 to make breakfast for Eve, 3, and Gabriel, 7. (Rachel, 10, gets up later.) Then he returns to his writing until 10. Between 10 and noon, he practices law, mostly on the phone, before heading into the office, editing his morning's fiction on the train. "I have this one gift," he says modestly. "I can keep the paragraph on the screen, have a half-hour phone call with a client, put the phone down and go right back to it."

Among his fellow lawyers, Turow's capacity for concentration is legendary. "He's the most intense person you'll ever want to meet," says Julian Solotorovsky, who worked with Turow in the U.S. Attorney's office. "When things aren't going well, his skin turns yellow."

Since Presumed Innocent, though, things have been going almost too well. There was a time in 1986, says Turow, when the novel had just been sold to the movies, he had started a new job at the firm, and Annette had announced that she was pregnant with their third child. "There was just such an unbelievable amount going on in my life," he says. "There was just too much joy for a guiltracked and neurotic person like me."

It is never easy, after all, to see your childhood fantasy come true. "When I was growing up, I never wanted to be anything but a writer," says Turow, who grew up in Winnetka, north of Chicago, the son of David Turow, an obstetrician, and his wife, Rita, a children's book writer. His sister, Vicki, a psychologist, remembers young Scott "sitting at a desk, so busy pounding away that he refused to be part of my teasing."

He majored in English at Amherst College, then took a master's degree in creative writing at Stanford University and stayed on for three years to teach. During that time, "I killed myself on a novel," he says. But he couldn't sell it. Discouraged, Turow decided at 26 to enter Harvard Law School. "I didn't become a lawyer out of financial need," he says. "I am drawn to the kind of conflict that's central to the legal profession." The discipline of making a case, he found, is similar to that of constructing a narrative. In both instances, "It's a question of how much you're going to have to explain before the reader or the jury accepts it."

Ironically, Turow got his first book contract to chronicle a year at law school. One L appeared in 1977 to great reviews. "A wonderful book," declared a reviewer for the New York Times; "I found myself resenting the hours I had to be away from it." But Turow was not lured from the law. He threw himself into his job at the U.S. Attorney's office in Chicago, exposing corruption in the Illinois legal system. He also labored after hours on Presumed Innocent, his spellbinding, tightly plotted whodunit about the murder of a woman prosecutor. In 1986, Annette persuaded him to take three months off between jobs to finish the book—and one by one the dreams began coming true.

The one that has proved most gratifying, Turow says, is having a family. That was another of his childhood fantasies, he explains, and "the ultimate meaningful-ness of it obviously far exceeds other kinds of success." His new book, in which Sandy Stern, a character from the first novel, must unravel subtle, psychological truths about his wife and children, reflects Turow's more mature understanding of the pleasures and pitfalls of adulthood. "What I am trying to say about families is that they are the center of our existence and yet incredibly difficult places to live," says Turow. "My only ambition is that I really hope to be married to the same woman in 10 years."

—Ken Gross, Barbara Kleban Mills in Chicago


It is already lunchtime and the corporate types are long gone when one vaguely distracted lawyer boards the commuter train in affluent Wilmette, Ill., heading for his firm in downtown Chicago and poring over a sea of fine print. But Scott Turow isn't drowning in legalese—he's simply reading over his fiction. In his white shirt and sober business suit, you wouldn't pick him out of a crowd as the daring author whose first published novel, Presumed Innocent, sold nearly 4 million copies and will reach the big screen this summer starring Harrison Ford. Nor would you peg him as the multimillionaire whose second novel, The Burden of Proof, will be published this month with a first printing of 800,000. Despite the big numbers, Turow is hanging on to his day job. "First and foremost," he says, "I'm a lawyer."
Advertisement
Treat Yourself! 4 Preview Issues
The most buzzed about stars this minute!