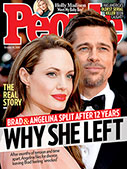 This Week's Issue!
People Top 5
LAST UPDATE: Tuesday February 10, 2015 01:10PM EST
PEOPLE Top 5 are the most-viewed stories on the site over the past three days, updated every 60 minutes
Low-Impact Aerobics, High-Impact Romance: Jane Fonda and Ted Turner Find a Common Cause—each Other


A natural, say cynics, for mutual capitalization—he'll get a boost from her celebrity, she'll use his cable network as a political platform. "That's bizarre," protests Fonda, tooling about the kitchen of her Santa Monica home. "Did it ever occur to people that we are human beings with hearts and emotions?"

True enough, but it wasn't long ago—when a conservative young Ted was piecing together his TV empire and a hotheaded Jane was crisscrossing the States speaking out for feminists, Black Panthers and Native Americans, among others—that a love affair, even & friendship, would have been out of the question. What's truly astonishing is that media mogul Turner, 51, and actress Fonda, 52, somehow landed on common ground and are now setting an almost unsurpassable standard for power liaisons in the '90s.

Though Turner has squired his lady Jane to the most public of events—the Oscars, CNN's 10th anniversary—the Mouth of the South is uncharacteristically reticent about their relationship. "It's hard to have your dating life dissected," he says uncomfortably, ruminating at his CNN office in Atlanta. He leaves it to Fonda to explain why the couple clicks. "Ted can keep up with me," she says, laughing. "He's a very, very funny, lovable, complicated person." In Jane's liberal-minded book, Ted—whose net worth is somewhere around $1.4 billion—undoubtedly scores points for driving an unpretentious Ford Taurus, bending down to pick trash off the streets and touting his Ten Voluntary Initiatives, which include stamping out nuclear weapons and overpopulation. "More than anybody," she says, "he has changed the world into a global culture. He has tremendous vision."

Turner first saw Cupid in the air when reading the news last year that Fonda was calling it quits with fellow '60s radical Tom Hayden, her husband since 1973. As one colleague remembers, Turner put down the newspaper and said, "Now, there's a woman I'd like to go out with." With characteristic directness, he got his hands on Jane's number and called her up. "He wanted to know if I was available to date," recalls Fonda. "I think I said I wasn't feeling so hot, that he was an interesting guy, too, but I wasn't feeling peppy." Because Turner had just broken up with his longtime steady, pilot J.J. Ebaugh, Fonda says, "he sympathized. He knew what it felt like."

Within a few months, Jane did agree to see Ted—in L.A. and in Bozeman, Mont., where he owns 131,000 acres—but then she fell for Italian soccer jock Lorenzo Caccialanza. While Jane and Lorenzo played footsie, Turner reverted to familiar form, showing up with at least two different dates during the winter ski season in Montana. In Atlanta, he frequently escorted interior decorator Katherine Leach, 34, who designed his new penthouse atop the monolithic CNN Center.

Sometime around the beginning of the year, after the attentive Turner heard that Fonda and Caccialanza had split, he and Jane began a new series of quiet rendezvous. In March bug-eyed CNN staffers in Atlanta got the first sign that the courtship had turned serious when Fonda materialized for an overnight visit to company headquarters. Boss Turner personally lugged Fonda's bags into the building and gave her a grand tour of the studios, then they disappeared for the evening. Just days later the duo went network, cozying up for all the world to sec at the People's Choice Awards.

Turner also took his new sweetheart home for private inspection, introducing Fonda to his eldest daughter, Laura, 28, who lives in Atlanta, at Easter. "I think they're appropriate for each other," says Laura, who hasn't always approved of her father's dates. "They're both independent and exciting. Dad gets bored quickly."

An understatement, perhaps, considering Turner's long fascination with the female gender. As even daughter Laura notes, "Usually he needs a stable of women to keep up with him, but they're not always the brightest." In 1959, while Jane was just getting acquainted with roguish director Roger Vadim, whom she would later marry, Ted was getting suspended from Brown for profligate partying at a nearby women's college. He was booted altogether the next year, when school officials discovered a girlfriend in his dormitory room. "He pulled off pranks that were just unbelievable for that day and age," recalls a classmate. "Who would have predicted he'd become one of the 20 most powerful men in the country?"

As Turner took over his father's outdoor advertising business and began expanding into TV, he married and divorced Judy Nye, the mother of Laura and Ted IV, 27. In 1964 he married Janie Smith and fathered three more children—Rhett, 24 (as in Butler), Beau, 22, and Jennie, 21. When their marriage ended in 1988 and Turner had taken up with J.J. Ebaugh (when he first hired Ebaugh as his pilot, he had no plane), he signed over a reported $40 million to Janie, believed to be one of the largest divorce settlements in Georgia history.

The free-spirited, sporty Ebaugh, 33, who still lives on one of Ted's farms and works on programming for TBS, says Turner is "extremely demanding" but appealing because "he lives for romance. He's a King Arthur type. Ted has set about unifying the world, like Arthur did. That song Lancelot sang all the time, Ted goes around singing, you know, the one from Camelot—' "C'est moi, c'est moi, 'tis I.' "

Though she has been dethroned as Turner's queen, Ebaugh is charitable toward the new couple. "He's serious about this—very serious," she says. "They have a lot in common, and they're crazy about each other." Still, Turner seems reluctant to drop his Casanova image, insisting, "Both Jane and I are dating other people," which Fonda confirms. Turner has in fact recently stepped out with decorator Leach on his arm. To at least one regular of the Atlanta social scene, however, it appears that "Ted has pretty much dropped the stable. Jane seems to have ascended to No. 1."

Ted does admit that he and Jane "see each other as much as we can. Fortunately, I have a fair amount of business in L.A. We've been doing a lot of different things—going to the movies, bicycling, working out." Aerobics guru Fonda showing yachtsman Turner how to make it burn? "Yeah, I've been working out some since I've been seeing Jane. It's true, the more vigorously you exercise, the better you feel."

Occasionally they get out for Ted's type of exercise—fly-fishing and turkey hunting. Says Jane admiringly: "Ted is extremely knowledgeable about wildlife." Is that one word or two?

—Jeannie Park, Michael Mason in Atlanta, Jacqueline Savaiano in Los Angeles


At first it sounds like another one of those mythical movieland romances involving beautiful people, epic egos and oodles of money. Jane Fonda and Ted Turner? Hanoi Jane and Captain Outrageous? The Bohemian meets the Billionaire? Unbelievable as this coupling might seem, think about it: Each is an attractive, athletic, twice-married, media-savvy, politically active, environmentally conscious very rich person with an aborted college education who went into his or her father's business. As Fonda herself says, "The relationship is a natural."
Advertisement
Treat Yourself! 4 Preview Issues
The most buzzed about stars this minute!