People Top 5
LAST UPDATE: Tuesday February 10, 2015 01:10PM EST
PEOPLE Top 5 are the most-viewed stories on the site over the past three days, updated every 60 minutes
A Motorcycle Grandma from Michigan Takes a Little Ride—14,312 Miles Solo to the Tip of South America


Considering who she is and what she was up to, Rambeau's sudden appearance in one or another of hundreds of Latin American cities and villages was somewhat like an apparition. Here she was, a 54-year-old grandmother from Michigan who preferred to travel with the wind in her face and whose taste for adventure would lead her to become the first woman to motorcycle 14,312 miles—alone and vulnerable—from the U.S. to Tierra del Fuego at the farthest tip of South America.

Rambeau's astonishing odyssey began Dec. 11, 1988, in Lantana, Fla., and finished a year and eight days later at the remote Argentine town of Ushuaia. On her trusty "Mojo" (a contraction of moto rojo, or "red motorcycle"), she followed the Pan American Highway ("Ha! In some places it's merely a one-lane dirt road," she says) down the Pacific Coast, a route that took her across mountains, deserts, jungles—and a string of guerrilla war zones. "The State Department advised that this trip was an extremely bad idea. But I'm not stupid," says Rambeau, who, despite a similar name, was never tempted to take Ramboesque chances.

There were unnerving moments, of course. She counted more than 200 burned-out vehicles along a 100-mile stretch of Honduras and thought, "Nah, I don't need to be here." And in El Salvador and Nicaragua, "I could always hear helicopters and shooting. I saw men missing an arm or a leg and the sadness in children's eyes." She was forced to make a flying detour around Panama because the Noriega crisis was then heating up. And on an occasion when she encountered a machine gun-toting figure in Guatemala, Rambeau smiled her best grandmotherly smile. "I couldn't tell if he was a guerrilla or a national policeman, but he became very protective." Mostly, though, she remembers the kindnesses shown her all along the way, such as the mechanic in Colombia who refused money for fixing Mojo's drive chain, saying, "Some work you do from the heart."

Rambeau avoided saddle sores by clocking no more than 120-150 miles a day "if the road was good; 70-100 on un-paved roads." (She averaged 50 miles to the gallon.) Typically she would be on her way by 7 each morning, breaking for coffee at 10, and lunch, usually bread and a huge bowl of soup, at 1. She tried to end each day's jaunt by 3 P.M. to search for a hotel room costing less than $4 a night, "hopefully, one with a shower." Afternoons, she'd hangout with the locals in the town square, and then, after dinner at 8, it was to bed to read and write in her diary, which she hopes will be the basis of a novel rather than a travelogue.

Always active and outgoing, the Pennsylvania-born Rambeau moved at age 9 with her family to a rural area outside Detroit, where her father, now deceased, worked as a technical writer for the auto industry. She attended the University of Michigan for two years before leaving to marry and then to raise a son. Rambeau and her husband, an advertising copywriter, divorced in 1967, and Catharine supported herself in a variety of public relations and writing jobs. (She also bought her first motorcycle, a used Triumph, which she learned to ride in a Sear's parking lot.) In 1978 she latched on with Detroit Monthly Magazine, becoming its managing editor in 1980; two years later she joined the Detroit Free Press, where she became the film critic.

She moved to Florida in 1986 to take the job of movie editor of a start-up magazine, but the publication was never launched. That left her with severance pay and the chance of a lifetime. "My first thought was an around-the-world ticket," she says, "but then I thought, heck, I'll save that for my 80s. I love traveling, I love motorcycling, and I'm good at both."

Counting on her classroom Spanish to get by, she headed south on a bike loaded with a sleeping bag, a minimal wardrobe, two cameras, a tape recorder, a pocket album of family snapshots, spare parts, maps and a 1,440-page South American Handbook. Rambeau also packed a makeup kit. "I always wore lipstick so I would look like a lady," she explains.

"I did this trip one day at a time," she says, and understandably her most satisfying one was the 373rd: her day of victory. "I got into Ushuaia at 10:30 at night, and I was so damn happy," she remembers now, still weeping in pride. "I called my mother to tell her, 'I did it!' Then I drank a whole bottle of white wine and ate a lovely fish dinner." Her total expenses for the trip: $6,800.

"This was not an easy-rider thing, and I didn't do it to find myself," she says in retrospect. "I wanted to take a risk, a chance. If I can get through this, I can do anything. And if my granddaughters never know anything else, they will know that I did something tough."

(Catharine Rambeau's biking marathon continues. In March she flew back to Michigan for a reunion with her octogenarian mother, Elizabeth, and family (including Rambeau's son, Lewis Colon, daughter-in-law Marian and granddaughters Nicole, 6, Trisa, 4, and Michelle, 2). Then she flew to Buenos Aires and was in Rio de Janeiro last week aboard her faithful Mojo on the return trip up the Atlantic side of South America, planning to be home before year's end or early next year.)

—Dan Chu, Julie Greenwalt in Detroit


The elderly Indian woman in Guatemala stared in openmouthed disbelief. It wasn't every day that someone in a fake-leather jacket with a rhinestone Motown patch on the back came riding into the village on a red Honda motorcycle. Clearly the stranger with road dust caking her honey-blond hair was a foreigner—and female. "At first that Guatemalan woman looked shocked," Catharine Rambeau remembers. "Then she smiled and said, 'Milagro!' ('It's a miracle!')"
Advertisement
Today's Photos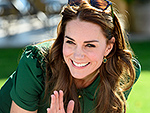 Treat Yourself! 4 Preview Issues
The most buzzed about stars this minute!