People Top 5
LAST UPDATE: Tuesday February 10, 2015 01:10PM EST
PEOPLE Top 5 are the most-viewed stories on the site over the past three days, updated every 60 minutes
This Is a Harried Mom? No, This Is Hollywood, and Problem Child's Amy Yasbeck Hits It Big Against Type


A strong neck and a light touch, says co-star Ritter. "She's the funniest woman I've ever worked with," he declares. "She would always make my jaw drop." Adds young Oliver: "She's nice. She even made a sweatshirt for me."

Unfortunately, along with Yasbeck's first meaty role in a hit movie ($10 million at the box office its first weekend) has come some unsought media attention. Before Problem Child hit the theaters last month, a tabloid linked her romantically with Ritter. Both Ritter, the husband of actress Nancy Morgan and the father of three, and Yasbeck vehemently deny the rumors. "I don't want to be a potty mouth," says Yasbeck. "But it's total bulls—-."

Yasbeck knows that tangling with the tabs goes with the Hollywood territory. After all, the 27-year-old actress lost her showbiz illusions long ago. The Cincinnati-born fifth child ("the caboose") of butcher John and housewife Dorothy Yasbeck (the name is Lebanese), Amy was chosen in 1968 by a toy manufacturer to grace the box of its kid-size stove. The 6-year-old showed up at the photo session just in time to see "an actual chef baking these cakes for display in an actual-size oven," says Yasbeck. "It was like when Dorothy discovers who the Wizard of Oz is."

But the cake fake didn't faze young Amy. "I just loved it," Yasbeck says of her first brush with fame. "I couldn't believe you could actually get off from school for something like that."

After attending a Catholic girls' school, Yasbeck enrolled in the theater program at the University of Detroit. Before her sophomore year, her father died of a heart attack at age 60. For her, "it was a crushing, crushing heartache." She left school a year later and set off for New York City. "I was having a brave moment," she says. "I act on those because if you're going to be chicken, you might as well be chicken in a new city where you can reinvent yourself."

But "one year, six months and 10 days" after her father died, her mother passed away from lung disease. Amy returned to the Big Apple after the funeral and within two months had snagged an agent; he had noticed her at the restaurant where she was a hostess. "I guess he liked the way I showed him to a table," she says.

Yasbeck moved to L.A. in 1985, joining Arsenio Hall in a comedy troupe that did bits for the revival of Love, American Style. Her next role was as an adulteress on Days of Our Lives. "They couldn't decide if my character was good or bad," she says. "So they shot her."

But Yasbeck was reincarnated in the Daryl Hannah mermaid role in the 1988 TV movie sequel Splash, Too. There she was romanced by a tiger shark. "I had an orange tail, I looked like a giant lox," she says. "[The shark] was swimming around with capers and cream cheese just waiting for me to come into his territory."

Soon, Yasbeck was working steadily and landed a role as the wife of Richard Gere's attorney in this year's blockbuster romantic comedy Pretty Woman. This fall she'll be in an ABC TV movie, Dillinger, with Mark Harmon. Meanwhile, her friends are encouraging her to throw her cap of red curls into the ring for the female title role in the upcoming CBS TV movie Lucy and Desi: Before the Laughter. Getting the part "would be an honor," she says. "But it would be very hard to come across as believable." Her ultimate showbiz fantasies are doing stand-up comedy and "singing in front of a big band, Doris Day style, with a silk dress and a flower in my hair."

To Yasbeck, who ended a five-year romance with L.A. real estate broker Jay Ginsberg last year, life at her two-bedroom L.A. condo is now a single sensation. She seems a little burned by romance but is certain that "there's somebody out there who will love me as much as Dad, in that unconditional way." When she ventures out, Yasbeck enjoys dancing and dining at vegetarian restaurants. She spends a lot of her solo time painting and composing songs for the guitar.

Parenting Problem Child's home-wrecking Oliver hasn't discouraged Yasbeck from wanting her own children someday. Flo "has absolutely no mothering instincts, so I just denied all of mine," she says, adding, "I know I'd be a great mom." And she doesn't think the movie should turn off other prospective parents. "It's just entertainment," she says. After all, "they made a movie called Airplane! and people are still flying."

—Mary H.J. Farrell, John Griffiths in Los Angeles


She has a body like a young Jane Fonda, a mouth like Henny Youngman and a shtick as endearing as that of another flame-haired comedian, Lucille Ball. Good thing, too. Amy Yasbeck needed that arsenal of talents to go quip-to-quip with Michael Oliver, 8, the adopted son from hell in this summer's slapstick flick Problem Child. Yasbeck's Flo is a suburban princess who, along with husband Ben (John Ritter), adopts Junior (Oliver) to keep up with the kid-rich Joneses. Flo is wild for leopard prints and sports a mound of shellacked hair that would buckle Marge Simpson. "I think they were looking for an actress with a very strong neck," she cracks.
Advertisement
Today's Photos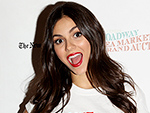 Treat Yourself! 4 Preview Issues
The most buzzed about stars this minute!