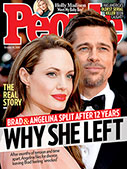 This Week's Issue!
People Top 5
LAST UPDATE: Tuesday February 10, 2015 01:10PM EST
PEOPLE Top 5 are the most-viewed stories on the site over the past three days, updated every 60 minutes
Her Uncertain Future Settled at Last, NBC's Jane Pauley Discovers There Is Real Life and Normal Life After Today


At that moment, says Pauley, "I realized for the first time in my career I probably could have anything I wanted, short of a Jacuzzi in my office. But I've never asked for anything." Finally she gave in to Davis's entreaties, saying, "Maybe I could use a little microwave oven."

And now a little oven sits near her desk, offering a high-tech testimonial to her newfound clout. Remarkably, just eight months ago, even the microwave seemed in doubt. People wondered if there was going to be a tomorrow after 13 years of Today for the quiet and self-effacing Pauley. She has since proved to be one of the highest-flying birds at the peacock network and just about the most popular broadcaster in America. The pilot episodes of her newsmagazine show, Real Life with Jane Pauley, have dominated their time slots—last month's premiere, in fact, garnered the highest ranking ever for a news special. She has been subbing regularly for old friend and former Today host Tom Brokaw on the NBC Nightly News, and an often-denied but persistent rumor has her co-anchoring with him. "It's exciting." she says, "but I haven't lost my sense of proportion."

Perspective can be hard to retain these days, with Ladies' Home Journal dubbing her "an American icon," humorist Art Buchwald devoting a column to missing her in the mornings, and Esquire calling her one of the 100 best wives of all time (an honor, Pauley notes with pride, that she shared "with Blondie and Wilma Flintstone"). When an NBC-TV executive gestured to Pauley at a recent meeting of station managers and called her a megastar, she acknowledged the olés with a gracious wave but later joked. "Is megastar below superstar?" Mega, she has since decided, "is probably above super but below mondo. Mondostar is someone like Robert Redford. It's all preposterous." Says Brokaw: "Jane has never had Stardust in her eyes. Or in her mind."

Indeed, Pauley does not trade on her fame, and the current hoopla has given her a spasm of celebrity shock. For a while after leaving Today, she says, people treated her as an invalid. "It's like if people don't see you on TV every day, they think you're in cryogenics somewhere." Now Pauley works harder than ever to keep her feet on the ground. "I've tried to deliberately lead a normal life," she says. "But it would be unfair for most ordinary working women to measure their lives against mine. I have a flexible work schedule, and I will give myself credit for marrying the right one [Doonesbury cartoonist Garry Trudeau, 42]. There haven't been marital stresses, and he's ready to do his 50 percent or better in child rearing [for twins Ross and Rachel, 6, and Thomas, 3]."

Pauley's trust-me personality comes across on the small screen, says her friend and former Today producer Steve Friedman, because "she is not acting. When she communicates warmth and understanding, you are seeing Jane Pauley."

Because of the vast audience affection for Pauley, her exit from the dawn patrol became a pop cultural event. The continuing attention, she says, "seems to be coming in inverse proportion to my exposure on TV." Viewers have rebelled at what they saw as Pauley's exit in favor of the blond ambition of Deborah Norville, who now sits in Pauley's old chair next to Bryant Gumbel. In a kind of national TV referendum, some 785,000 watchers have voted with remote controls, many switching to rival Good Morning America on ABC. In the process, Today has suffered a disastrous 17% ratings drop. Pauley, who says with a smile that she has "an almost pathological need to be nice," feels "guilty to the degree that any of it was my doing."

Leaving Today has fostered personal changes for Pauley. Before the move was announced, life at her Manhattan apartment was in turmoil. Throughout the lengthy talks with NBC, she says, "Garry didn't get a lot of work done. He would be at his drafting table, and I'd be on the phone. Garry would put his pen down and wait for me to report the conversation."

The daily routine has changed for the better. For one thing, Pauley no longer has to be at the studio at 5:30 A.M. She gets to the office at a reasonable 8:30, and, she says, "Garry can sleep in once in a while now instead of always getting up with the kids." And being there for family and school events, a near impossibility on the Today schedule, has become a priority. But, she notes, "I'm still trying to be sensitive and not interfere with cherished aspects of Garry's routine with the kids."

Mom's working regular hours allows the kids to visit her at the office occasionally. To clean little fingerprints from her expensive, new, all-glass desk, Pauley keeps a bottle of Windex next to her Emmy statuette.

Although she doesn't miss the hours, after the years of red-eye camaraderie, Pauley still has warm feelings for old Today colleagues. Because of their schedules, she rarely sees Gumbel now, but admits that they have "a special bond. Most of his friends are guys, and guy friends are different. I'm in a special category."

Pauley recently met with Norville as well. Last fall, says Pauley, Garry advised her that most people "would have left tire tracks on Deborah's back." Instead the two women recently had a long and amiable chat in Pauley's new office. One painful subject was a remark that an ex-boyfriend of Norville's made to the media. He said that Norville quipped about Pauley as a competitor, "I give the midget six months." Says Pauley: "We talked about that. It could not have happened the way he said it did. But I wouldn't say we laughed about it." But then she cracks, "I'm not that short!" (She's 5'4".)

Her stature at NBC, though, has never been higher. Network execs may be salivating over the prospect that their hot new star might co-anchor the third-place Nightly News, but Pauley says that she has not been offered the position and would not accept it if she were. Before another crisis could brew, she met with Brokaw to tell him so directly. In essence, she says, the kids have given her the word: We want you home at night. "I choose to have a job and a career and a family," she says. "Today was great with tiny children, any work hours were adaptable. But now they're in school. I can't do two shows."

Real Life with Jane Pauley should be enough for anyone. Despite at least 15 previous attempts since 1961, the network has never launched a successful prime-time news vehicle. Quirky and provocative, Real Life may be the one. While focusing on "how we live in the '90s," it avoids the hysterics of Geraldo and the seamy simulations of A Current Affair. Recent segments explored the harried schedules of middle-class parents, frustration over operating VCRs, and the search of an adopted daughter for her mother.

"I've never had more fun in television than I am having now," says Pauley, kicking off her shoes. "I would like to prove that on TV, everyday lives can be as compelling as the life-styles of the rich and famous. Especially lives that we catch at extraordinary moments." Much like, say, the life of Jane Pauley.

—J.D. Reed, Alan Carter in New York City


Snuggled against the pillows of her office couch, Jane Pauley is marveling at the wraparound accoutrements of her spacious new lair. "I have three windows," she says with a smile, "and this almost perfect panoramic view." When she first saw the space last winter, she was happy to move right in. But Today show producer and buddy Allison Davis advised the former queen of the morning to stop being so nice and start making some demands on the NBC brass. "What do you need?" asked Davis. "I don't need anything," Pauley replied. "You'd better ask them for something anyway," Davis cautioned, "to let them know you're here."
Advertisement
Treat Yourself! 4 Preview Issues
The most buzzed about stars this minute!