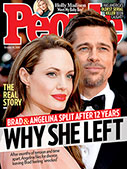 This Week's Issue!
People Top 5
LAST UPDATE: Tuesday February 10, 2015 01:10PM EST
PEOPLE Top 5 are the most-viewed stories on the site over the past three days, updated every 60 minutes
What Does a Man Want? Just Ask Best-Selling Author Barbara De Angelis


The moment proved prophetic. Though De Angelis didn't know it, the me decade was dawning, and the equivalent of a Ph.D. in love (in her case a B.A. in communications, a Ph.D. in psychology from Columbia Pacific University and plenty of workshops on intimacy) would soon be not only possible but a smart career move as well. Today De Angelis, 39, has built a one-woman empire on her self-created role as a "love teacher" (which appears on the license plate of her Mazda RX7 as LOVTCHER). She owns the Personal Growth Center in West Los Angeles, where she leads monthly seminars on "Making Love Work." She has a local radio talk show, where she spends two hours a day dispensing amorous advice. Best of all, her second book, Secrets About Men Every Woman Should Know, spent 13 weeks on the New York Times best-seller list. "I've always just wanted to make people feel good," says De Angelis, whose first book, How to Make Love All the Time, was also a big seller. "And here I am, making a living at it. It's amazing."

Her line of work, and her success in it, is particularly amazing, given her own romantic history: De Angelis has been married four times. One of those marriages was annulled: the other three ended in divorce. But far from serving to prove the old maxim, Those who can't do, teach, her poor track record, she believes, is evidence of her accumulated wisdom. "I've made every mistake I wrote about in Secrets" she says. "If I had married my high school sweetheart and been living happily ever after, I don't think I'd have so much compassion and understanding."

Secrets is chock-full of both. It differs from the hundreds of other manuals directed at women and their romantic lives, De Angelis says, in that "it's not one of those men-are-jerks books of the '80s. I wanted to write a book that says men and women are just different, and we cannot expect to get along unless we understand that difference." Nor is it, she insists, an antifeminist, meet-your-man-at-the-door-wearing-Saran-wrap tract à la Marabel Morgan. "I'm a complete feminist," De Angelis says. "The book is about how women tend to pander to men and don't think about their own needs."

What may better explain its sales advantage over competitors, however, are the chapters on men's needs—their sexual ones in particular. Chapter Six, "Men's Top 20 Sexual Turnoffs" (example No. 20: "Women who wear ugly underwear"), offers X-rated advice.

De Angelis was born and raised in Philadelphia, where her father, Sidney, practiced law and her mother, Phyllis, was an office manager. Her parents divorced in 1962, and Barbara remembers her adolescence as tumultuous. "I was very dramatic, internal and intense," she says. A perfect candidate, it turned out, for transcendental meditation, which she took up in college. "TM helped me connect with a wisdom and peace inside me," she says. "It changed my life."

She left college, studied with the Maharishi Mahesh Yogi in Europe, then returned to the States to teach TM. She switched courses only after her first two marriages—very briefly to a TM disciple and then to renowned Broadway magician Doug Henning, who sometimes sawed her in half onstage—collapsed. "I thought, meditation isn't helping me," she says. "I have this great relationship with God and no relationship with men. Something's wrong."

Entering therapy, getting a master's in counseling and opening her own practice did little to improve her relationships. But she developed her "Making Love Work" seminars with husband No. 3, who still teaches his own brand of personal growth. By the lime husband No. 4, a nutrition counselor, was out of the picture, she had written her first book and begun making radio and TV appearances. "I realized I had been giving 90 percent to the person I was with and 10 percent to me," she says. "I didn't realize how much men had held me back."

Not that she has given up on them, of course. When she isn't teaching or working on the book "about compatibility," for which she just signed a seven-figure contract, De Angelis likes to relax at her comfortable Brentwood, Calif., home with her latest love interest, chiropractor Jeffrey James, 28. James, who also teaches "Accelerated Personal Growth" at De Angelis's center, just may be Mr. Right. "I've never felt so loved in my life," De Angelis says. "When I split with my last husband, I made a list of every mistake I had made. I read that list 100 times a day. So far, this relationship is totally different." Could it be that another best-seller on romance is in the making?
—Kim Hubbard, Leah Feldon-Mitchell in Los Angeles


One day in 1969, when Barbara De Angelis was a freshman at the University of Wisconsin, a friend asked what she was planning to major in. De Angelis hadn't a clue. "But I knew the thing I cared more about than anything was relationships and intimacy," she says. "As a joke, I said, 'I don't know, I just want to get a Ph.D. in love.' "
Advertisement
Treat Yourself! 4 Preview Issues
The most buzzed about stars this minute!