People Top 5
LAST UPDATE: Tuesday February 10, 2015 01:10PM EST
PEOPLE Top 5 are the most-viewed stories on the site over the past three days, updated every 60 minutes
Philly's Flip, Hip Will Smith Takes on Hollywood as TV's Fresh Prince
Fresh Prince
—seems decidedly unimpressed by his new kingdom. "It's like that Spago's," he says, referring to L.A.'s long-reigning celebrity eatery. "I'll never understand that. What do you go there for? Avocado pizza? No way! You'll never catch the Fresh Prince eating an avocado pizza! I'd rather go to McDonald's."
As the limo glides past a row of expensively landscaped homes, Smith, 21, lets loose with a few more sparks of Philadelphia-bred street attitude. "My theory is, just don't try to adjust," he says. "When you try to do that, that's when you have problems. Let L.A. adjust to me."
So far the town is adjusting to His Royal Naughty-but-Niceness just fine, to say the least. Only five months ago he had nary an acting credit to his name, save for some music-video clowning as half of the Grammy-winning duo D.J. Jazzy Jeff and the Fresh Prince. Today he stars in his own custom-created NBC sitcom,
The Fresh Prince of Bel-Air
(Mondays, 8 P.M. ET), playing, basically, himself: a street-smart East Coast kid suddenly plunked down on the lush Bermuda grass of L.A. Though the series premiered just last week, vanquishing its competitors, the network's hype machine has been whirring for months. "Will has this very infectious personality, with a great spirit." says NBC entertainment chief Brandon Tartikoff. "Whatever he has, you can't teach. I think the Eddie Murphy comparison is there."
Although the 6'2" Smith carries himself with a rapper's swagger, the constant mentions of Murphy, a childhood idol, make him sweat. "Give me four or five years, and let me practice," he pleads. "I am nowhere near Eddie Murphy. I just want to give him a call and say, 'Eddie, I didn't make all those comparisons. It was Brandon, man! Talk to Brandon!' "
Brandon? That this gangly kid has managed to get on first-name terms with a top industry exec might not surprise his schoolteachers back in West Philly, who nicknamed him the Prince because he always charmed his way out of trouble. Smith, who turned down an MIT scholarship to pursue music instead, says that his dad. Will, a refrigeration engineer, and mom, Caroline, a school board employee, taught him and his three siblings that education could be found outside the classroom. "When I was about 7, we drove cross-country and saw Yellowstone and Mount Rushmore and the Alamo and the Grand Canyon," he recalls. "You see something beautiful, bigger than you, it mellows you. changes your attitude for life." Last month, when eight hometown friends came to visit him in L.A., Smith insisted they drive out so that they might have the same experience.
A rapper by age 12, the precocious Smith met Jeff Townes, a/k/a/ Jazzy Jeff, at a friend's party in 1981. Musically they hit it off instantly, but their partnership, says Townes, 25, wasn't cemented until a few weeks later. "I bought this canned fart spray and sprayed it at a party," says Townes. "We just cracked up. When I found Will was down with the same humor, that was when we really clicked."
Their collaboration proved to be no practical joke. By 1989 they had spun out two platinum albums. He's the DJ, I 'm the Rapper and And in This Corner. Last fall Smith, eager for new challenges, bumped into Benny Medina, a Warner Bros. Records exec, and mentioned that he was interested in acting. As it happened, Medina, born in Watts but taken in as a teen by a wealthy family in Beverly Hills, had been trying to pitch a show based on his life. It took Smith just one audition with NBC brass to sell the idea. As Medina recalls. "Will read the script, put some of his personal nuances in it, and right after that everybody was shaking hands, hugging and kissing."
In
Fresh Prince
, Smith's character moves in with rich relatives, who often ignore their own humbler roots. "What I am happiest about is that I can be a role model and give people something to think about," says Smith. "It's important to have a black show that's positive. Television has been controlled by white America, and they've had a tendency to put their own on."
Smith takes his TV mission seriously, inspecting the scripts for moves that might be out of character and fretting over his delivery. But he does chill on occasion, mostly with girlfriend Tanya Moore, 21, whom he met in 1988 while performing at San Diego State University, where she was majoring in business. Moore recalls that Smith, with typical verve, "came up and said I was the girl of his dreams." For the past year they've been inseparable, and Moore, now studying for a real-estate license, shares Smith's Burbank apartment. "We just hang out." says Smith. "What's good about Tanya is that she thinks like a guy, so I don't miss my buddies. It's like, I can't relate to somebody crying because she broke a fingernail."
As much as Smith relates to Moore, he refuses to take a vacation from work. "My motivation is that I hate not being on top," says Smith. "I get mad by being creative." Irked that rappers Kid 'N Play have already appeared in a hit film—House Party ("No matter how good a movie I do, it will always be the second," he sighs)—he has just signed a reported $750,000 film deal with 20th Century Fox. He's also working on a new album with Townes. who still lives in Philadelphia. "I am a rapper," Smith avows, "and I will always be a rapper."
As the clock strikes 2, Smith declares he's hungry for lunch, and the limo pulls into a Century City mall. With no McDonald's in sight, he struts into an upscale deli and orders a hamburger and fries. After a couple of bites, though, he frowns. "Know what?" he says, eyeing the burger suspiciously. "This isn't white bread. This is wheat bread, man!" Scowling, he picks out the meat and pushes the offending bun aside.
Funny, you'd think the last thing Smith would ever want is more white bread.
Jeannie Park, Craig Tomashoff in Los Angeles
Contributors:
Craig Tomashoff.
Slouched in the back of a limo for his first cruise through the posh streets of Beverly Hills, rapper and acting tyro Will Smith—better known by his nom de tune,
Advertisement
Today's Photos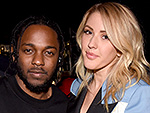 Treat Yourself! 4 Preview Issues
The most buzzed about stars this minute!