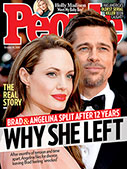 This Week's Issue!
People Top 5
LAST UPDATE: Tuesday February 10, 2015 01:10PM EST
PEOPLE Top 5 are the most-viewed stories on the site over the past three days, updated every 60 minutes
For Star Trek's Marina Sirtis, Love Is on the Launching Pad


"I asked, 'Why?' And she said, 'There are certain things that one expects of a TV person, and one thing is that they should have a bed.' "

Thanks to Star Trek, which returned recently for its second year, Sirtis now certainly qualifies as a fully furnished TV person. She plays the half-human, half-Betazoid psychologist Deanna Troi, a creature who possesses the ability to read minds and emotions but has human features. Her features last season seemed in fact a little superhuman; her revealing costume, in the words of supervising producer Rick Berman, made Marina look like a "cross between a cheerleader and a waitress at Denny's"—and caused some consternation among the show's female fans. This season's costume, says Sirtis, "is much sleeker, and we lost the cleavage. I got so many letters last season about my cleavage. It seemed to be a hot topic of discussion among Trekkies. To get a cleavage like that, you have to wear a certain bra. Nobody's boobs do that without help. I think a lot of women felt I wasn't doing my bit for women's lib by wearing that. So I'm glad it's gone. Besides, my body looks better in the new costume."

It's unlikely that all the tongue-clucking letters had much to do with her pleasure in the costume change; she's been bucking other people's opinions of her since childhood. As a little girl growing up in North London, the elder of two children (her brother, Steve, plays pro soccer in Greece), Sirtis entertained fellow bus passengers with her song-and-dance routines. Others may have applauded, but not Marina's mother, Despina, a tailor's assistant, or her father, John, who passed away in 1982. Émigrés from Greece, they saw the theater as something not quite respectable, certainly not something for their daughter. But Marina had differing views on the matter. She secretly applied to the Guildhall School of Music and Drama, informing her parents only when she was accepted.

Marina had her secret plans; Mr. and Mrs. Sirtis had theirs—arranging a marriage for their wayward daughter. "I came home one night," says Marina, "and there were some people leaving the house. This woman, a matchmaker, turned around and said, 'We've found a lovely boy for you. He's very well educated, he's very attractive.' And I said, 'Now, excuse me, do you think I'm ugly?' And this woman said, 'Oh, no, you're lovely.' And I said, 'Well, don't you think I can find my own husband?' My mother was so furious. She just threw me into the house. But they never tried it again."

After graduation Sirtis worked with various repertory groups throughout England and appeared in such films as The Wicked Lady and Death Wish 3. Looking for greater career opportunity, she left London for L.A., but not before an experience that foreshadowed her future on the Enterprise: She saw a UFO. "I was walking home from the theater one night with someone, and we looked up into the sky, and there was this big orange thing. I wasn't scared. It was just kind of interesting. Other people in the area saw it too. It looked like the size of a Goodyear blimp, but farther away. It was too far away to be a blimp or a balloon. And it was really bright, it was really shining."

Almost immediately after touching down at LAX in 1986, she landed a guest spot on Hunter. Then came the Star Trek job. "It's the most amazing thing to ever happen to me," Marina says of her luck. "It's like a fairy tale come true. Yes, Cinderella, you shall go to the ball."

Her personal life, however, has been less than charmed. For the last five months, she's been involved with Michael Lamber, 25, lead guitarist in Turk, the band fronted by Sirtis' close friend, actress Ann Turkel. "I'm optimistic, but not certain," says Marina. "Michael and I fight a lot. I get very resentful if I have to do all the housework. Michael doesn't live with me, but he spends a lot of time here, and it's very difficult. There's a part of me that's Greek, that feels it's a woman's job and I should be doing it. But there's another part of me that says, 'I'm working 15 hours a day, and I don't want to spend my weekends cleaning up after somebody.' So it's difficult. I have to remind myself sometimes, when I get very self-righteous, that maybe I'm a bit tough to live with."

But Sirtis sees hope for the union. "I've really had to reexamine myself because this relationship is very important to me," she says. "I feel I'm making a lot of compromises, having to rethink a lot of my values. I think that a lot of women don't want to commit, and it's very easy to blame the man. The L.A. woman's anthem is that you can't find a man who wants to commit. I had to reassess myself recently, and I discovered that maybe I always went for guys who didn't want to commit, so that I could blame them."

In other words, there's no need to beam her up, Scotty. She's handling the situation fine on her own.

—Joanne Kaufman, and Michael Alexander in Los Angeles


If Hollywood furniture salesmen had been counting on actress Marina Sirtis to buy up their stock, they would have gone out of business long ago. The comely, English-born star of Star Trek: The Next Generation has been in Los Angeles for two years, but for most of that time her interior-decorating style was, well, minimalist at best. "I'm a bit of a ditzy," admits Sirtis, 28, looking around her two-bedroom apartment in West Hollywood. "It had never occurred to me to buy furniture. I mean, I didn't buy a bed until six months ago. I had a futon. Then one day my ex-roommate took me by the hand and said, 'Marina, you've got to stop living like a hippie or a student, and you have to buy a bed.'
Advertisement
Treat Yourself! 4 Preview Issues
The most buzzed about stars this minute!