People Top 5
LAST UPDATE: Tuesday February 10, 2015 01:10PM EST
PEOPLE Top 5 are the most-viewed stories on the site over the past three days, updated every 60 minutes
Robin's Sad Song
Actress Givens, Feeling Misunderstood, Insists Her Marriage to Mike Tyson Was Just a Mistake, Not a Gold-Digging Plot

And we shall have snow,
And what will poor Robin do then, poor thing?
—Old Nursery Rhyme

In this winter of her vast unpopularity, Robin Givens sits in her empty Hollywood home, seeking shelter from the people's cold condemnation. "The other night I was out with some cast members," says the 24-year-old actress, who used to be best known for her role as a spunky high school kid on the ABC sitcom Head of the Class, "and a woman just walked up and said, 'I don't like you.' "

Such public panning, of course, is not a comment on Robin's thespian talents, but rather on her role as co-star of a tempestuous marriage with heavyweight boxing champion Mike Tyson, 22. "I 'bothered' the champ," she says, explaining the sin for which she is being pilloried. That's what people yell at her on the street, she says: "Stop bothering the champ!"

"That's why I can't go back to New York," she says unhappily. "It's dangerous. Michael's friends from Brooklyn would tear me limb from limb because I 'bothered' the champ." She clenches her hands in frustration. "I'm one of the nicest, most fair people I know," she protests—then quietly adds, "especially recently."

But Givens has made it clear that she has her own precise notions of what is nice and what is fair. There was, for instance, the now infamous Barbara Walters TV interview at home in Bernardsville, N.J., when Robin depicted her husband as a dangerous manic-depressive. Compared to that public humiliation, Robin's recent $125 million libel suit against Tyson is a love tap. It was a counterpunch, she insists, thrown in answer to one of Tyson's cross-country jabs at her and her mother, Ruth Roper. In a November newspaper interview, Tyson accused them of trying to steal his money and called them "the slime of the slime." The insult, claims Robin, not only subjected her to "public contempt, ridicule and embarrassment," but put her mother in the hospital, where Roper was treated for a chronic, stress-related heart ailment. "He literally broke her heart," says Givens. "I have no interest in the money. None. It will all go to charity. I just don't want him to talk about me that way. He knows better!"

She smacks the kitchen table. "We were a family!" she cries, looking around, as though in search of proof, at the bare walls of the house in Laurel Canyon that Tyson bought with her last April. There is nothing there that bespeaks domesticity: not a picture, not a trifle, not a trace. "Really, I want to scream and tear my hair out and make people understand," she says. "Why can't they understand? I'm normal. I got caught up in something that I didn't mean to get caught up in. It was a mistake." She is referring to the marriage, now irretrievably broken.

Many who do not know Givens, and some who do, believe her marriage to Tyson was less a mistake than calculation. The way they see sultry, sophisticated actress contrived to wed the naive young athlete purely for the love of his money and was banking on divorcing him from the very beginning. Her apparent haste to establish residence in California did nothing to dispel such suspicions: In this community-property state, the law presumes her entitlement to 50 cents of every dollar Tyson made while their matrimony endured.

Though this dim view of Givens is widely shared, it can be difficult to sustain in her presence. While coffee brews in the kitchen, she wanders forlornly into the unlived-in living room: There is a gray felt art-deco couch but no other furniture. She and Tyson wanted to keep the room bare so they could roll around on the thick, gray pile carpet, she says. "We liked to wrestle," she explains, staring back at the kitchen, struck by a sudden memory.

"I remember once Michael was cooking breakfast," she says wistfully. "He was making eggs, bacon. All of a sudden, the housekeeper, Lucy, screamed, 'A rat!' When I looked up, Mike was on top of the counter. One quick leap. You see, that was what made him so endearing—he had this vulnerable, very sweet side. Big, strong heavyweight champ, afraid of a rat!"

She laughs, then the house falls silent again but for the murmur of a TV off the entryway. Mike Shafshak, a stony Israeli bodyguard, is watching a football game. There is no one else home. "This is not going to be my favorite Christmas," says Givens. "When all this happened, our home was in New Jersey and we were deciding where to put the tree and how to decorate. Now we have no place to put a tree. It would look so lost out here. Mom is just out of the hospital. I don't know where we'll spend Christmas. Or how."

Others may remember the Tyson marriage as a bizarre public spectacle, verging on violence; Givens chooses to talk about the good times. "Mike just fit in like one of the family," she says. "He'd walk around in his underwear and wrestle with my sister, Stephanie. Talk to Mom all night. When we were on the plane coming back from Tokyo after the [Tony] Tubbs fight, where we had some major disagreements—he wanted to go to a Tina Turner concert, and I wanted to stay in the hotel—he laid his head on Mama's shoulder and said, 'If we get a divorce, will you still be my mom?' He loved Mom as much as he loved me. More."

Givens says she cannot understand the nasty tone that the divorce fight has taken or why she and her mother have been portrayed as a pair of gold diggers, preying on the champ for his fortune. "We never stole any money," she protests. "Why would we? We had money. I wanted to protect Michael from all the people who wanted a piece of him. Maybe I was wrong to try to protect him. I know this: If I had it to do over again, I'd let him do whatever he wanted to do. I refused to let [promoter] Don King in the house. Now I would just turn away. I would not say a word if Michael stayed out for three or four nights, which is what he did. Michael cannot sleep and goes for four days at a time. I would not say a word. One of my problems is that I am too honest. Mama says I should sugarcoat things. I guess that's what I have to do."

Her relationship with Tyson went badly, says Givens, because it began with a fundamental misunderstanding: She did not appreciate what it meant to marry the heavyweight boxing champion of the world. One day, she remembers, he came to the set in Burbank where she was taping One Day at a Time.

"You could hear them whisper up and down on the set, 'It's Tyson! It's Tyson!' " she says. "Then he just moved his finger and said, 'Come with me,' and because it was Tyson it was all right, I went with him. Walked out in the middle of taping and it was fine." As they walked off the set, she says, the champ turned and whispered in her ear, "You're my woman!"

"Oh, that was very heady stuff," she says now. "That was thrilling, seeing that amazing power. That effect he had on people." As Tyson himself has said: one President, one Pope, one heavyweight champion. Robin's own fame and career were eclipsed in her husband's great shadow.

Physically, too, he dwarfed her. "He grabbed me on our first night together," she recalls. "Picked me up and carried me to his apartment. When I tried to break away and go, he wouldn't let me. He just put his arm between me and the door, and then he picked me up and shook me." (Tyson's recollection of that first date may differ, but he could not be reached for comment.) "Let me tell you, that man is strong. I don't mean like he can beat me in an arm-wrestling contest or he can lift a heavy couch. I mean he can break down a door, he can do anything." As actresses will, Givens grows theatrical, swept up in a dramatic reading of her own story: "His arm was so solid, so sturdy—a great tree, not an arm—it felt like you could depend on an arm like that forever."

Tyson could be as gentle as he was strong, she says. "I was charmed. Sitting with [their neighbor, former Congresswoman] Millicent Fenwick in a quiet parlor sipping tea, I remember how polite and clever he could be. That was a sweet, lovely time. And then he would have his friends from Brooklyn over to the house. I would come down and see these big, rough guys in our living room. I could contend with that. After all, he has to have friends. But the other sides of his personality were very difficult to take. His need. His dependency. He had to have me on hand every minute. He had to know where I was, who I was with. He had to be able to whisk me away whenever he felt like it."

Last June, on a delayed honeymoon in the Bahamas, Givens says she began to realize she was in over her head. She alleges that one night, after a lot of drinking, Tyson suddenly turned on her. She claims he threw her up against the wall of their room and began swinging and screaming at her in a rage. "Hotel security had to be called, and Michael just frightened the hell out of them," she recalls. "He can be very frightening. It was there that I began to see that this thing was not going to work."

Following the noisy breakup of the marriage, Givens sought solace in her work, she says, and was treated sympathetically by the cast of Head of the Class. "After everybody realized I was basically the same—whatever that is, obnoxious, whatever you want to call it—I was fine and it was fine," she reports. Now in the middle of a five-year contract, Givens has no intention of leaving the show, though she is feeling restless. "I am getting a little old for the part," she admits. "They give me less and less to do. I know that this is a very important time in my life, and I like to keep busy." To that end, she recently sought and won the lead role in an ABC movie, Penthouse, which will require her to miss four episodes of her sitcom beginning next month.

The year has not been an easy one for Givens, and she concedes there are scars. "I'm not as happy-go-lucky as I used to be," she says. "The accusations about greed have hurt me. I've seen the changes already. I was in Dallas visiting Stephanie. We took a cab in from the airport, and the driver took a wrong turn and got us lost. I thought that he should have turned off the meter, but he didn't, and at the end of the ride he charged us $65. I told him, 'You got us lost, we're not going to pay that.' He turned around and said to me, 'I knew you would give me a hard time—I know who you are.' People are always going to think of me that way—'the bitch'—and I have to be doubly careful. It affects me, but I can't let it change me too much."

Two things that have not changed, Givens insists, are Mike Tyson's underlying affection for her—and hers for him. She claims that even now he often telephones her in the still of the night. "Last night he called, and he was sober, and he asked me, 'How did we get into this?' " she says. "I told him I didn't know. I talk to him, and I comfort him, and I know that he loves me, and I know that I love him. People don't believe that, but I do. I love him."

Tyson is in training for next year's fight in Las Vegas with England's Frank Bruno, which Robin believes will never take place. She relates the story of a late-night call in which "he told me that he was up to 255 lbs. He said, 'I'm not going to fight anymore. I'm going to spend all my money, all my time, all my energy fighting you.' I told him that he has no fight with me."

She sighs. "God, it's so unfortunate. I think he's complicated, but I think there's something about him that's just wonderful, you know? And I think he's probably going to turn out to be the all-American tragedy. There's something about Michael that's dangerous. As we all know, that's part of the attraction. It's like enjoying scary movies or roller coaster rides. It's so unfair. I just wanted to save him and his money."


Advertisement
Today's Photos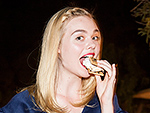 Treat Yourself! 4 Preview Issues
The most buzzed about stars this minute!