Archive Page - 12/1/12 39 years, 2,079 covers and 53,260 stories from PEOPLE magazine's history for you to enjoy
On Newsstands Now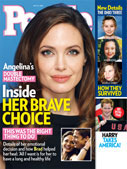 Angelina: Inside Her Brave Choice

New Details on the Ohio Three

Prince Harry Takes America!
Pick up your copy on newsstands
Click here for instant access to the Digital Magazine
People Top 5
LAST UPDATE: Sunday May 19, 2013 01:10PM EDT
PEOPLE Top 5 are the most-viewed stories on the site over the past three days, updated every 60 minutes
When Teen Sailor Robin Lee Graham Came Home from His Epic Voyage, the Really Rough Weather Began


"There are times when I fantasize about that trip," admits Graham, now 39. "The people I met were wonderful. The ocean was awesome." Dressed in jeans and work shirt, he is a less dashing figure than the bare-chested "teenage sailor" whose diary delighted National Geographic readers and inspired the 1974 movie The Dove. Though Graham still clings to part of the dream that once propelled him—the desire to live in a natural way—life beyond the ocean has not been smooth sailing. Since his trip, Graham has suffered depressions, watched his marriage nearly unravel and been close to suicide.

That fate could not have been imagined two decades ago, when Robin stood golden on the bow of his boat. He started sailing at age 10, after his father, Lyle, a Morro Bay, Calif., building contractor, gave him an eight-foot dinghy. When Robin was 13, Lyle sold his home and business to take his family on a 13-month sailing jaunt through the South Seas. It was no surprise when Robin, back in school in Honolulu, found his books boring. After Robin attempted to run away, Lyle says, "I figured if I didn't help him to do it right, he'd do it on his own in a leaky boat." He bought the Dove and outfitted it for the voyage that would expose Robin to such experiences as a Tongan religious ceremony, a Polynesian pig roast and a Blue Lagoon-style romance with Patti Ratterree, a globe-trotting California girl he met in Fiji and married in South Africa. Alone at sea for as many as 38 days at a stretch with just two kittens for company, he survived dismastings, hurricanes, circling sharks and a near collision with a freighter.

A boy when he left, Robin came back in April 1970 a 21-year-old married man and expectant father (Patti, then 26, delivered Quimby seven weeks later). A dutiful son at the start, he now harbored a resentment of Lyle for urging him to finish the trip. Always a quiet kid, Graham came back from his "adventure in loneliness" even more withdrawn. And when the cameras stopped clicking and the prizes had been proffered—a Maverick from Ford, a scholarship from Stanford University—what remained was "an extraordinary inferiority complex," says Derek Gill, who collaborated with Graham on two memoirs. "Robin knew how to do one thing—get a small boat over a vast ocean. But it wasn't any good to him anymore. He was a mess psychologically."

Gossips said that Graham was unable to adapt to civilization. He started to drink heavily. He smoked pot. He grew disillusioned with Stanford and alienated from his father, who had opposed his marriage because it might interfere with the voyage. Three months after returning, Patti found Robin sitting on a chair overlooking the Long Beach marina. He had a gun in his lap. Patti threw it into the water.

The despair began to recede when he attended some charismatic church services. "I found a purpose for living," he says. Still dedicated to the notion of a simple, self-sufficient life, the Grahams took their infant daughter to Kalispell. "I had no desire to be around the ocean," Robin recalls with a laugh. In Kalispell, the Grahams found wilderness—and anonymity. When The Dove came to the local movie house (Joseph Bottoms played Robin), few knew that the real-life star lived in town.

In 1972 the couple traded their mountain paradise for land closer to town. Robin began work on an ambitious log house, two stories high and framed in the shape of a cross. During the five years it took to complete, the financially pressed family lived in a bleak basement that flooded continually. The Grahams found their marriage dangerously strained.

"We both wanted so hard to stay married," says Patti. "We began to make an extra effort. We prayed." The answer came: By the time Robin had finished the cathedral ceiling, he had the skills needed to become a house builder, carpenter and woodworker. He has now built more than a dozen houses and started a furniture-making business. Daughter Quimby, a freshman at Montana State University, often returns to enjoy what Robin calls the family's "quality of life."

"Robin loves living on the edge of adventure," says family friend Judy Selzer. "If he's skiing, he likes the steepest descent. If he's windsurfing, he likes howling wind." From time to time, he even likes the pounding waves. In 1982, Robin helped skipper a 37-foot boat named Spirit from Hawaii to Dana Point, Calif. His father was part of the crew, and the trip cemented a reconciliation that began when Graham Sr., came to Kalispell to help Robin build his home. "He always had the best intentions," says Robin. "He thought it would be good for me to finish the trip. And it was." Lyle's resistance to Robin's marriage ended, he says, when "I realized they were very good for one another." As for his son's odyssey and its aftermath, Lyle admits, "I was worried quite a bit during the trip. I'm glad he did it, but I'm glad it's over."

The Grahams confess to an occasional yearning for tropical breezes, but their hearts are in the house they built. "We had some struggles, but I'm thankful for every log in this house," says Patti. Moments later, Ben walks into the kitchen with an eight-foot windsurfing board. "I like competing a lot," the boy offers. Would Robin let his son do something as crazy as sail around the world? "If that's his dream," says Graham. "It's important to pursue dreams. You might not make it, but you tried. Or, you might make it and find it doesn't quite match what you thought it would be. But you're still glad you did it."

—Susan Toepfer, and Nick Gallo in Kalispell


Snow swirls past the lighted windows of a log home set deep in the conifer forests surrounding Kalispell, Mont. (pop. 11,890). Inside, Robin Lee Graham sits with his wife, Patti, daughter Quimby, 18, and son Ben, 11, studying a question from Global Pursuit Geography is something Robin knows better than most. Not formally—a high school dropout, he never excelled academically. But in 1965, as a scrawny boy of 16, Graham sailed out of San Pedro harbor in a 24-foot sailboat called Dove to begin a voyage that would make him famous. It was five years—and 30,600 nautical miles—before he returned, the youngest person ever to sail alone around the world.
Advertisement
Treat Yourself! 4 Preview Issues
The most buzzed about stars this minute!